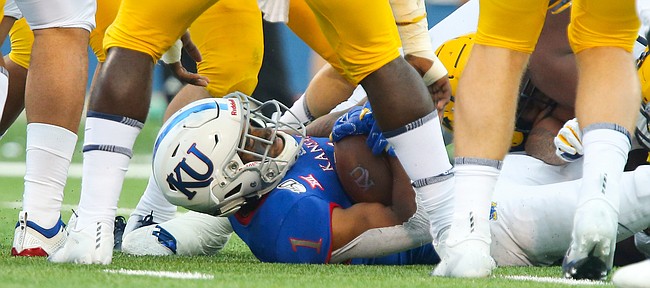 Whether it was shortcomings with his game plans, individual instruction or in-game play-calling — or some other reason — that cost former Kansas football offensive coordinator Les Koenning his job, head coach Les Miles didn't choose to share that information Monday afternoon, during his first press conference since firing Koenning.
"I thought the initial hire (of Koenning) was the best hire, OK," Miles replied, when asked what led him to replace the OC and quarterbacks coach with Brent Dearmon during KU's bye week. "And I felt like that there needed to be change, and I think Les did a strong job. I think he worked hard. We just needed a change. And change philosophically as I saw it."
Asked to clarify what wasn't working out with Koenning six games into the season, Miles didn't provide any details.
"Nothing. Nothing was not working out," Miles said. "I just felt like there was an opportunity to be better."
Even before Miles hired Koenning this past January, the first offensive coordinator KU's head coach brought in was Chip Lindsey. But after Lindsey signed on to become Miles' OC and QBs coach in early December, he bolted to become the head coach at Troy a little more than six weeks later.
If Miles considered hiring Dearmon as the OC at that point, he apparently would rather not say.
"Again, I don't want to kind of continue to go over what happened what seems to be a year ago," Miles said, when asked whether he considered Dearmon as Lindsey's replacement. "We hired the best guy that we felt like that could put us in position to win, and then we turned to Dearmon. I think it's going to work out really well."
No Prox return in sight
If inside linebacker Dru Prox is going to play again this season, it won't be this week at Texas, according to Miles.
Asked whether Prox, who has missed the previous two games with what appeared to be a shoulder injury suffered late in KU's loss to West Virginia, had practiced or was expected to play this week, Miles replied: "Yeah, I do not see Dru Prox being available to us this weekend."
A junior linebacker who redshirted in 2016, Prox made 39 total tackles in his first four games this year.
KU started true freshman Gavin Potter in Prox's place in losses to TCU and Oklahoma.
Happy Columbus Day
Back when Miles coached at LSU, one of his quirky press conference moments involved an October holiday — and not the one you may expect.
"I just want to remind everybody that it's Columbus Day," Miles said roughly six years ago, "that all those of you that know Italians and like Italians are the people that might venture onto a ship and travel to explore and find new lands: This is your day. So it's not St. Patty's Day. That's a different day entirely."
With his press conference this week falling on that holiday, a reporter asked Miles whether he had anything else to say about Columbus Day, drawing a chuckle from the coach.
"Well, I can tell you again that it's a favorite day of Italians, because Columbus certainly was Italian, Magellan was Italian. There's a lot of Italians that enjoy Columbus Day," Miles said. "And again, to paraphrase a quote from a wise old coach, this is not St. Patty's Day, this is an entirely different day altogether. St. Patty's Day is generally more festive, though, and is celebrated with green, which green is just the only color that we don't have. That's as good as I can do on short notice."
KU homecoming kickoff set
The Jayhawks' homecoming game this year, Oct. 26 versus Texas Tech, will be a night game at David Booth Kansas Memorial Stadium.
The Big 12 announced Monday the matchup will kick off at 6 p.m. and air on FOX Sports 1.
The Red Raiders are currently 3-3 overall and 1-2 in conference play.