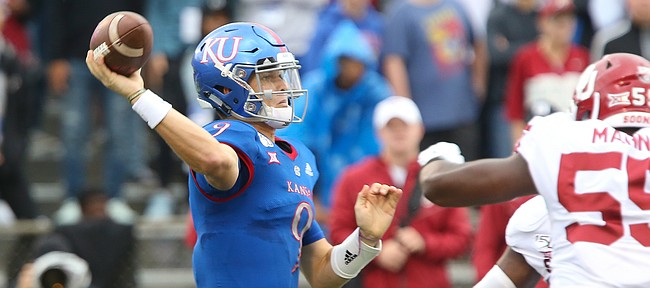 Carter Stanley doesn't consider himself a skilled basketball player. The senior Kansas quarterback has spent most of his time since about eighth grade focusing his athletic conquests on football, after all.
During the past week, though, when Stanley runs the Jayhawks' offense in practices, under the guidance of new coordinator Brent Dearmon, the QB can picture himself as a distributor on the hardwood.
"It's like drawing and dumping in basketball. I almost kind of feel like a point guard at times," Stanley said of the RPO plays Dearmon has called, and how they allow the QB to set up other skill players for success.
"Going based off a defender I'm putting the ball here or here," Stanley said. "It feels like you can't really be wrong, which is a really good feeling. Whether we're running the ball or passing the ball, I'm really just excited for our guys."
Dearmon, who is also KU's quarterbacks coach, has authored multiple instructional coaching books on the run-pass option offensive scheme that he ran as an NAIA head coach at Bethel University (Tenn.) in 2018 and offensive coordinator at Division II Arkansas Tech from 2014-17.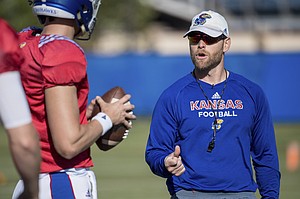 Stanley thinks Les Miles' decision to hand the offense over to Dearmon should benefit top playmakers such as Pooka Williams Jr. and Andrew Parchment as well.
Now that Dearmon, promoted on Oct. 6 from senior offensive consultant to OC after Miles fired Les Koenning, is involved with coaching Jayhawks at every offensive position, Miles sees the transition going well.
"I think he's got a great relationship with the team, or certainly starting a great relationship with the team," Miles said. "I think there's opportunities to throw and catch, and I think any time there's opportunities to throw and catch, the receivers kind of like to hear that from the guy that's calling the plays."
And while that may be true, it is hard to picture any player being as fired up about the change as Stanley. Now in his fifth season at KU — he redshirted in 2015, upon joining the program from Vero Beach, Fla. — Stanley first began running RPO plays as a high school freshman.
The 6-foot-2, 198-pound senior repeatedly has stated this season how comfortable he is running those types of plays — which also happen to be Dearmon's specialty. Now that it appears there will be more of an emphasis on RPOs with Dearmon in charge, Stanley explained how that could heighten his skill set.
"A lot of the plays that we ran last week," Stanley said Monday afternoon of KU's three practices during its bye week, "it didn't even feel like new stuff to me, to be honest. It was all stuff that I've been comfortable with and feel really good about."
During the first half of the season, Stanley (102-for-157 passing, 1,175 yards, 12 touchdowns and four interceptions) threw for 195.8 yards per game (seventh in the Big 12) with a 148 passing efficiency rating (fifth in the Big 12).
His head coach said Monday afternoon at his weekly press conference that he expects Stanley's play to improve as the Jayhawks head into their next six games.
"We just want him to play like he played at Boston College," Miles began, referencing a Week 3 outing in which Stanley completed 74.1% of his 27 passes and threw for 238 yards and three touchdowns.
"He's getting better and better," Miles added. "That's the style of leadership that we want. Yeah, I think he'll prove to have a back end as strong as some of the front end games that he played well in."
With a midseason coaching transition heading into that final stretch of the schedule, Stanley shared that the offense feels different to him now that Dearmon is in charge.
"Tempo for sure," Stanley said of the most noticeable contrast. "Throughout practice just moving around, and always running on and off the field, every position. Just the pace."
And the QB thinks his teammates have handled the transition "really well."
"We kind of had like a small scrimmage on Thursday," Stanley said. "I think that was really good for our guys just to get a feel for the flow of just moving the ball under Coach Dearmon, and seeing what plays he'll call in certain situations."
According to Stanley, Dearmon has infused some energy to practices, too, while getting KU's offensive players acclimated to his approach and philosophies.
"He's talking to everyone on the offense at any point in the practice," Stanley said, "getting all the guys ready for a play and what we're about to do."
Kansas (2-4 overall, 0-3 Big 12) visits No. 15 Texas (4-2, 2-1) on Saturday (6 p.m., Longhorn Network).