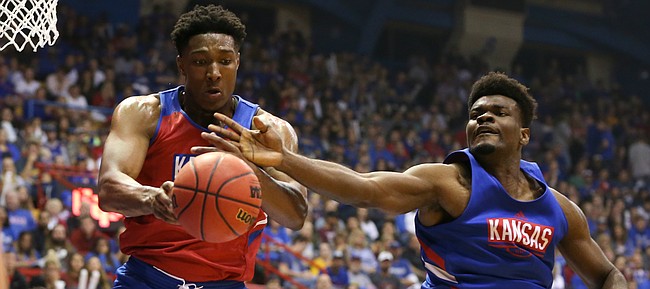 Although the official roster still lists him at 7 feet tall and 270 pounds, the word around the Kansas basketball program is that senior center Udoka Azubuike has dropped some serious weight.
"He's lost (about) 40 pounds since the beginning of the summer," Kansas coach Bill Self said recently during an appearance on 610 Sports Radio. "His body just looks terrific and he's so much more confident now in large part because he's in such good physical condition."
Azubuike, who was listed at 280 pounds on the KU roster during his freshman and sophomore seasons, and 270 a season ago, said on Day 1 of practice a couple of weeks ago that he was down to 261 pounds, which, as much as anything, is an indication of how heavy he had gotten while recovering from the wrist injury that kept him out of the final 27 games of the 2018-19 season.
Although Azubuike spent time on the bike and running on his own during practice, it was not until this summer, when he was fully cleared to return to basketball activity, that he could truly begin to make up for lost time.
"This offseason I was really focused on my body, getting myself in shape and getting my mind and body right," he said recently. "It was pretty much just running. I did a lot of running and eating healthy. I did a lot in the weight room during the offseason.
"I've been working out, losing a lot of weight and I feel like I'm ready and I'm in great shape."
That showed last Friday at Late Night, when Azubuike had no trouble getting up and down the floor with the rest of his teammates during the 12-minute scrimmage that gave KU fans their first look at the 2019-20 Jayhawks.
Not only did he keep his wind throughout the scrimmage, but Azubuike even flashed what his lighter, leaner frame could mean away from the basket when he went coast to coast with his dribble after a rebound for a two-handed monster dunk.
Self said Azubuike's dedication to all aspects of his health has paid off in a big way and represented yet another step in the senior center's maturation.
"He hasn't to date, up until then, been the most disciplined eater or those sorts of things," Self said. "He never looked really heavy to me at all. He always just looked like maybe he could get in a little bit better shape. He looks tremendous. And he's more explosive now than he ever has been and he seems to be having a lot of fun. He's going after balls with reckless abandon, which we need him to do."
With his injury history being as much a part of his KU career as his record-setting field goal percentage and triple-digit dunks, Self said there still is extra attention paid to keeping Azubuike healthy at all times.
But in a contact sport like basketball, and especially for a big man like Azubuike, bumps and bruises are going to come. What Self has enjoyed seeing the most is that Azubuike has not shied away from any of them.
"Every time he goes down, he's popping up quicker, but still though you get nervous," Self admitted. "But you've got to practice, you've got to play and he has worked so hard."
Azubuike said his willingness to stand his ground in the paint, no matter what has happened in the past, comes from his main focus heading into the 2019-20 season.
It's not scoring, rebounding or earning style points that matters most to Azubuike this season. Instead, he's focused on bringing something to the lineup that the Jayhawks have not consistently had for the past couple of years.
"Being a good shot blocker," he said. "I'm just focused on being really aggressive on defense and being that defensive presence in the paint. I've just got to have that mindset all the time."