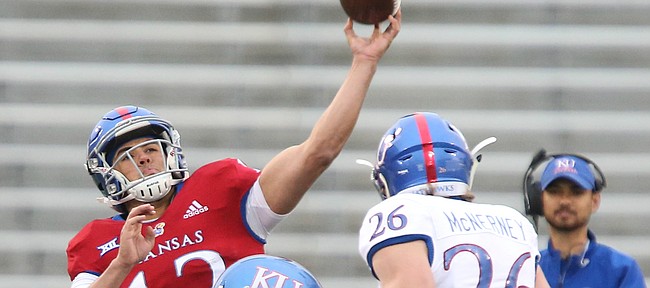 Though his impact this season has proven minimal, a man who knows Torry Locklin better than most observers outside of the Kansas football program thinks highly of the young athlete.
Head coach Les Miles reiterated Monday that Locklin will not play in the Jayhawks' finale so that the 6-foot-2 freshman from Rockdale, Texas, can use 2019 as his redshirt season. But it remains to be seen exactly where Locklin, currently listed as a quarterback, will line up next year.
"We'll have to see how that goes," Miles responded, when asked whether Locklin will return to playing quarterback exclusively once the season ends.
Locklin's KU debut came at Texas, in the Jayhawks' seventh game of the season. He lined up at QB twice and ran for short gains upon receiving the snap each time. Though he played some against Texas Tech and Kansas State, it wasn't until KU's trip to Iowa State this past weekend that Locklin registered another carry, which only went 2 yards.
Notably, at ISU, Locklin checked in at running back on a handful of occasions.
"He's a talented man. And we enjoyed his play," Miles said of what will go down as Locklin's redshirt year. "He's going to be a good player."
Rated as a two-star dual-threat QB by Rivals in the class of 2018, Locklin led Rockdale High to the Texas 3A state championship in 2017. Locklin arrived at KU as a grayshirt, enrolling in the spring of 2019.
Miles appreciated relatively faster start
Slim though it was, the Jayhawks scored first at Iowa State this past weekend, marking the first time KU could claim that since before its first bye week. Texas, Texas Tech, Kansas State and Oklahoma State all struck first before the Jayhawks ended the trend with a 3-0 advantage early at ISU.
Miles, who has emphasized the need for faster starts through much of the season, called it a nice change, while also noting KU took too long to get into the end zone — which didn't occur until the final minutes of the third quarter.
"I think the defense played awfully hard," Miles said of a key factor in a competitive game. "I think another year in the program will make a difference to them as well."
Miles also applauded special teams work and kick coverage from the Jayhawks in their road finale, a 41-31 setback.
"It was an offense, defense, special teams, working together to complement one another, and that's how a team is put together," Miles said.
BU QB cleared to play
After a fourth-quarter hit ended Baylor quarterback Charlie Brewer's day early this past weekend against Texas, his status for the Bears' regular-season finale was unknown.
However, BU coach Matt Rhule said Monday during his press conference that Brewer has been cleared to play against KU.
"He's fine to go," Rhule said of Brewer, a 6-1, 206-pound junior. "He also rolled his ankle, so he's been kind of gimping around a little bit. But I'm sure Charlie will be ready to go."
Rhule also described offensive line starters right guard Xavier Newman and center Jake Fruhmorgen as questionable for the Saturday game at KU (2:30 p.m., ESPN).
Robinson TDs piling up
A breakout performer for the KU offense this season, junior Stephon Robinson Jr. heads into the season finale with a chance to have one of the more productive receiving years in program history.
Robinson's fourth-quarter TD catch at ISU marked his eighth on the season, giving him the fourth-best total in KU's record books, and tying him with Kerry Meier (2008 and 2009), Quintin Smith (1989) and Bruce Adams (1972).
KU's all-time record holder in the category is Dezmon Briscoe, who had 15 in 2008. But Robinson could potentially climb as high as second with two or more trips to the end zone versus BU. Marcus Henry ranks second (10 in 2007), while Briscoe also ranks third (nine in 2009).