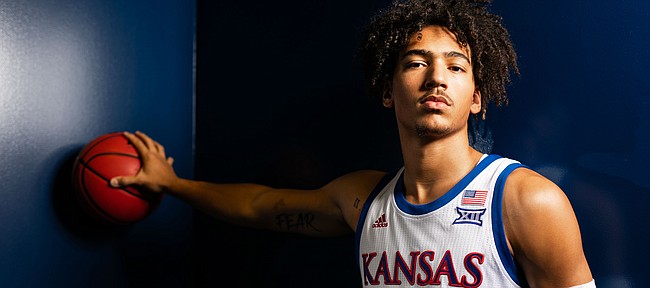 Kansas freshman Jalen Wilson broke his left ankle during his 27 seconds on the floor in Friday's 74-62 Kansas victory over UNC Greensboro at Allen Fieldhouse.
Shortly after checking into the game midway through the first half, Wilson came up lame after running to the corner with the Jayhawks on offense.
Limping toward the sideline after hearing a "pop," Wilson made his way toward KU coach Bill Self and told him to call timeout.
Photo Gallery
Kansas basketball v UNC Greensboro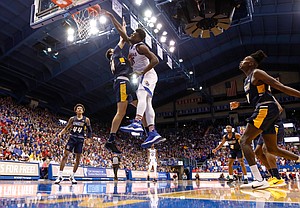 View a gallery of images from Friday night's game between the Jayhawks and Spartans at Allen Fieldhouse.
"I'm like, 'Coaches can't call timeout in the first 38 minutes,'" recalled Self after the victory. "But I didn't know he was hurt as bad as he was, and he didn't either. But he said he felt it pop."
After a stoppage in the action, Wilson promptly checked out and made his way to the end of the bench, where trainers began to examine him. That lasted mere seconds and the 6-foot-8 guard from Denton, Texas, was quickly helped back to the locker room for further examination.
Sporting an air cast on his lower left leg, Wilson made a brief appearance on the bench during the second half of Friday's victory, but was not there until the end.
"It's a bad one," Self said. "He broke it and it requires surgery early next week and the time table on a return will be close to three months. I'm not going to tell you that he'll for sure sit the rest of the year, but the likelihood of that is pretty strong."
News of the injury spread quickly to Wilson's teammates, who were noticeably upset about the diagnosis.
"That's tough," KU point guard Devon Dotson said. "That's my guy. I know how hard he works and how much he cares. So when I heard that that kind of set me back. I just feel for him."
Dotson said he talked to Wilson briefly after the game, adding, "It's hard. I wouldn't know how to react in that situation and I'm going to be the best supporter and make sure he's all right, whatever he needs."
Added fellow freshman Tristan Enaruna, who said Wilson told teammates that he took a wrong step and heard the pop: "We never want things like this to happen, but he's strong mentally and he's positive so he'll come back strongly. You could see that obviously he was kind of sad to go out like that. But I think he's really pumped at the same time for his recovery. He's a mentally strong dude."
The absence of Wilson — along with Mitch Lightfoot and Dajuan Harris planning to redshirt and the Jayhawks already with an open scholarship after the departure of Issac McBride — leaves the Jayhawks with just nine healthy players.
Despite that fact, Self said Wilson's injury did not inspire him to reconsider redshirting Lightfoot.
"Yeah, that's not enough," he admitted of the nine-player scholarship reality. "But if you get Mitch it doesn't help our situation. Now you've got four 5 men as opposed to three. That's not going to help us defend on the perimeter. … I don't think that's going to play a factor right now."
Even with a limited lineup, there are plenty of ways the Jayhawks can make up for the minutes that might have gone to Wilson.
Continuing to work with two big men in the game is one of them. David McCormack and Silvio De Sousa combined to play just 17 minutes in Friday's victory.
And getting more minutes for freshman Christian Braun is another. Braun played just two minutes on Friday.
Next up for Kansas is another home game against Monmouth next Friday.