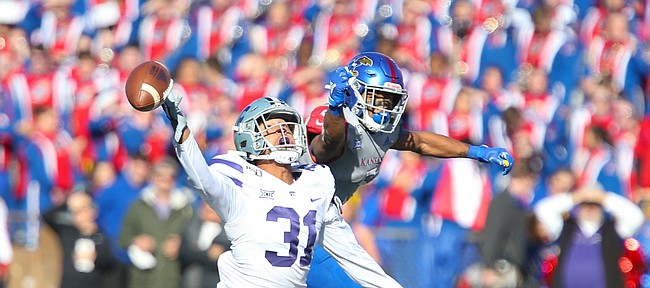 Kansas football players aren't exactly accustomed to playing in front of a packed house in Lawrence.
"When I first ran out of the tunnel, it was beautiful," senior receiver Daylon Charlot said of the crowd awaiting the Jayhawks at David Booth Kansas Memorial Stadium for Saturday's Sunflower Showdown.
With a sellout crowd of 47,233 watching on a picturesque fall afternoon, the rivalry game against Kansas State featured an atmospheric first for the current Jayhawks, who weren't around on game days a decade earlier, when such crowds regularly filled the venue.
"Playing football here for five seasons now, I've never seen that," senior KU quarterback Carter Stanley said. "That meant the world to us as players."
Of course, the Jayhawks left the stadium after it emptied out filled with regrets, because the buzz and momentum they created heading into the game couldn't be reignited during a 38-10 loss to K-State.
"It's just crushing that we didn't put on a better show for them," Stanley said. "But the support means a lot."
KU hadn't reported a sellout crowd since its 2009 home finale versus Nebraska, when 51,525 filled the stadium. KU used to list its capacity at 50,071, but after the athletic department added the "Field Goal Club" to the north end, it lost seats to the new on-field fan space. What's more, the club area also took away sight lines for more seats directly behind it. KU's new capacity number is 47,000. Before Saturday, KU hadn't even sold 40,000 tickets for one game since the end of the 2013 season, when the Wildcats' fans helped make that possible by making their presence known during that year's showdown.
Photo Gallery
Kansas football v. Kansas State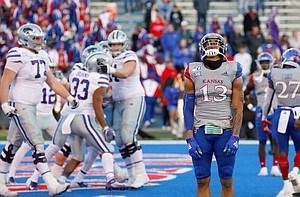 View a gallery of images from Saturday's game between the Jayhawks and Wildcats at Memorial Stadium.
And although K-State fans again deserve some credit for selling out KU's venue this time around — approximately a third of the crowd showed up in purple to back the 'Cats — it remained a pro-Jayhawks crowd.
"When we were on defense," linebacker Jay Dineen said, "we could hear them, and it was pretty quiet when we were on offense. We fed off their energy."
For Dineen, a Lawrence native and Free State High graduate, the scene reminded him of KU home games in 2008 and 2009, when fans routinely showed up to support KU during the height of Mark Mangino's tenure, when Todd Reesing still quarterbacked the Jayhawks.
"It was like this. You had to sit in your own seat," Dineen said. "Disappointed we couldn't give them the outcome they deserve for showing out — they came and they were screaming and they were loud the whole game."
The crowd inside David Booth Kansas Memorial Stadium looked unrecognizable in comparison to those that bothered going to games last year, when KU reported fewer than 16,000 people attended each of its final three home games, during the last weeks of head coach David Beaty.
Even with the excitement surrounding the hiring of Les Miles in November of 2018, KU's home attendance numbers didn't reach 40,000 in any of the first five games in Lawrence this season.
Miles' debut on Aug. 31 against Indiana State featured a crowd of 32,611. This year's previous high mark came on Sept. 21, when the Jayhawks faced West Virginia in front of a crowd of 35,816. Only 31,036 attended KU's victory over Texas Tech on Oct. 26.
Various Jayhawks learned shortly before Saturday's game that the crowd for the K-State game would put those numbers to shame. As much as that knowledge may have magnified the opportunity they had to deliver a marquee victory over a ranked rival, Stanley said they couldn't think in those terms.
"Whether it's one person, whether your mom and dad are the only people out there or 50,000, you can't really think about it," Stanley said. "Yeah, obviously you want to make your fans proud and put a good product on the field, but we didn't do that today."
After KU struggled offensively and defensively against K-State, it could prove difficult to fill the stadium again this season.
Following a bye week, KU (3-6 overall, 1-5 Big 12) plays road games at Oklahoma State and Iowa State, before closing the November calendar with a Thanksgiving weekend matchup versus Baylor, currently 8-0 and ranked No. 11 in the country.
Will the Jayhawks have to inspire their fans to come back for the home finale on Nov. 30?
"Definitely," junior receiver Andrew Parchment said. "I could see why fans would be reluctant to come back. So we've just got to continue to put in work and get ready for Oklahoma State."
Similarly, Dineen said the Jayhawks need to prove that their performance against K-State was a fluke.
Stanley hopes KU fans will show up in droves again in a few weeks, regardless of what happens in the Jayhawks' next two games.
"But obviously we only have one more home game left. We've got to gain their trust and their respect back," Stanley said.
KU enjoyed home crowds of at least 50,000 in five of its six home dates in 2009, for what proved to be Mangino's last year as head coach. The largest crowd in program history also came that year, when KU announced 52,530 people attended its home opener against Northern Colorado, with the Jayhawks coming off back-to-back bowl victories.
Unexpected debut
Junior quarterback Thomas MacVittie made his KU debut on Saturday, but not in the fashion most would have expected.
On the first offensive snap of the second half, the Jayhawks sent Torry Locklin in at quarterback for a "Jayhawk" formation — KU's version of the wildcat.
MacVittie, who hadn't subbed into a game at any point this season, was on the field too, lined up wide right in the formation, in the space typically occupied by a receiver.
Locklin handed the ball to Pooka Williams Jr. for a 1-yard gain, and Locklin and MacVittie returned to the sideline for the next play, as KU went back to its normal offensive packages.
A 6-foot-5, 225-pound QB from Cincinnati, MacVittie still hasn't recorded a stat at KU. He transferred in from Mesa Community College (Ariz.) this past January.
Wildcats on roll in showdown
K-State beat KU for the 11th year in a row, tying the longest streak by either team in the rivalry series.
The run of 11 Sunflower Showdown victories in a row ties the Wildcats' 11-game streak from 1993-2003.
It was also the sixth consecutive K-State win in Lawrence, a new high mark for the series.
The Jayhawks last defeated the Wildcats in 2008, when KU won, 52-21, in Lawrence.