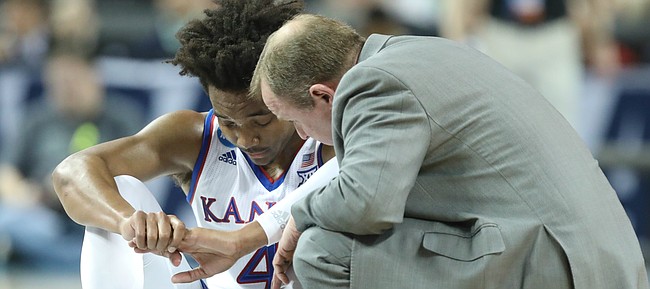 Forty Kansas Athletics employees specializing in sports medicine are now reporting to actual doctors and medical professionals instead of KU administrators.
Through a collaboration with The University of Kansas Health System and LMH Health, Kansas Athletics on Wednesday morning announced the launch of Kansas Team Health, a third-party healthcare group that will be charged not only with providing KU's student-athletes with the best care possible but also with overseeing the practices and procedures utilized by KU's sports medicine professionals.
The new model, which impacts KU employees in the fields of strength and conditioning, training, nutrition and mental health, went into place on May 1 and, according to a news release, is believed to be the first of its kind in major college athletics to incorporate strength and conditioning into the model.
"I don't think we're motivated by being first," KU athletic director Jeff Long said during a conference call with reporters. "I think we're motivated, in this case, by making sure that we provide our student-athletes the best healthcare possible."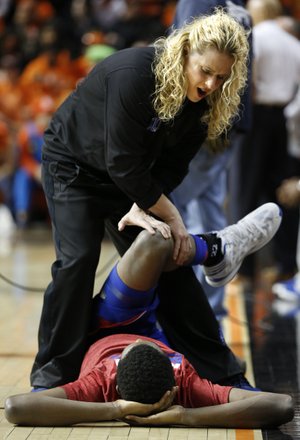 While there were many reasons for KU to move to the new model, establishing "true medical oversight and compliance" sat at or near the top of the list.
Rather than reporting to KU's athletic administrators, the university's sports medicine staff now will be monitored, supported and held accountable by medical professionals.
That, Long said, becomes particularly important in the area of strength and conditioning, with KU's strength coaches, including Andrea Hudy with men's basketball and Zac Woodfin with Les Miles' football program, having prolonged and significant contact with KU's student-athletes on a regular basis.
"Strength and conditioning coaches spend an immense amount of time with our student-athletes and they're doing some of the more demanding things on our student-athletes' bodies," Long said. "Whether that's conditioning them through running or the lifting and strength training they're actually doing, that was evident to us as we looked at this."
Last May, at the University of Maryland, offensive lineman Jordan McNair died after suffering heatstroke during a team conditioning workout. An independent investigation into McNair's death produced a 74-page report that included 27 recommended changes the university's medical staff and athletic department should implement to avoid similar tragedies in the future.
Incidents like the one involving McNair, and others before it, served as part of the inspiration for KU, including Chancellor Douglas Girod, a surgeon himself, to create the Kansas Team Health model.
"Clearly, we have not had those problems here," Long said. "We have outstanding strength and conditioning coaches who have national reputations. So it's not a result of concerns we have for our strength and conditioning staff, but it is out of concerns from what we've seen happen across the country. And we think this model provides the safest environment for our student-athletes to train and prepare for competition."
Added Girod in a news release: "At KU, our student-athletes have received outstanding care, and we have not had issues related to supervision and adherence to best practices. That said, we knew we had a special opportunity to be innovative and get ahead of the curve. As a result, I believe we can tell all current and future student-athletes that they're getting the best care and training in the country at the University of Kansas."
Midway through the collaboration, The Aspen Institute, which includes in its mission the task of "exploring critical issues in health policy, health care and sports," released research, data and a recommendation that all colleges and universities in the United States begin efforts to create a model similar to the one KU now has with LMH Health and The University of Kansas Health System, which also provides healthcare for the Kansas City Royals and Kansas City Chiefs.
"That really was a validation for us," Long said.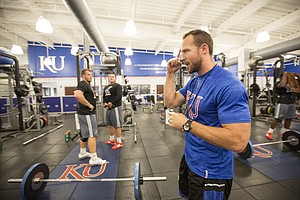 The new model does not come without its challenges.
Long said KU administrators did their best to keep staff members who would be affected by the change in the loop as the process played out and conceded that there were questions and concerns.
Most of those, Long said, had to do with issues involving pay, benefits packages and things of that nature.
As for the cost, Long said Kansas Athletics Inc., no longer will pay the 40 sports medicine salaries but instead will pay Kansas Team Health, under The University of Kansas Health System, as a third-party for the services provided by the former KU employees.
"Over the long term, we hope there'll be savings," said Long, noting hospital purchasing power as one potential economic advantage. "But I want to be clear that the reason behind this is not to save resources for the institution. It's really to provide the best quality healthcare that we can."
Long also said the day-to-day duties of these employees and their impact on KU's student-athletes would not change.
"Strength and conditioning coaches will continue to have that day-to-day interaction with the coaches and coaching staff and athletic trainers," Long said. "It will just be that their training regimens and such will be overseen by medical professionals and approved and OK'd by them."
KU's news release also noted that the Kansas Team Health model eliminates potential conflicts of interest that some critics of university-sponsored healthcare have been able to point to in the past.
No longer, Long said, can anyone suggest that KU's medical staff is doing what's best for the university instead of what's best for the student-athletes.
"This model clearly defines for them that they are in charge when it comes to medical issues and no one else," Long said of the medical professionals and sports medicine staff.
That idea lines up perfectly with the mission of KU's two partners in this endeavor.
"At The University of Kansas Health System, our success is driven by putting the patient at the center of every decision we make," said Bob Page, president and CEO of The University of Kansas Health System. "Kansas Team Health is putting the student-athlete at the center of the structure we are putting together and future decisions we will make."
Added LMH Health President and CEO Russ Johnson: "Like the student-athletes, we live, work and play in this community, and our relationship with Kansas Athletics spans years of celebrating triumphs, caring for injuries, and assisting in recovery. … Our team and The University of Kansas Health System share the highest standards for performance, quality and safety, and we are passionate about delivering excellence in sports medicine and overall health for Kansas Athletics."