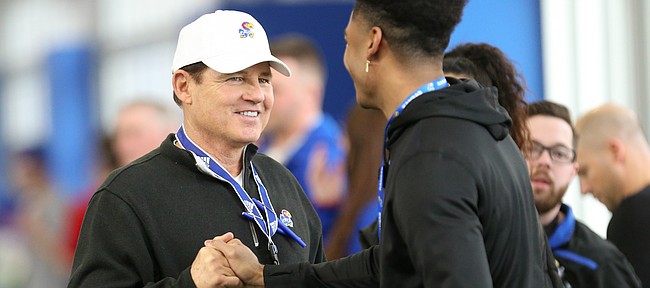 From the day he first flew to Lawrence and was introduced as the new head football coach at the University of Kansas, Les Miles made clear his intention to recruit as much in-state talent as possible.
His plan of attack, Miles shared months later, after KU signed three high school standouts from the Sunflower State in its 2019 recruiting class, was to identify local recruits as soon as possible.
"When I first got to town, before I hired my staff, I looked at 15 of what were the best prospects that there were here in Kansas," Miles said. "Three of those are on our signee list. So we went first to Kansas."
Miles had only been on the job for three weeks when Jayden Russell, a safety from St. Thomas Aquinas, and Mason Fairchild, a tight end from Andale, became in early December the first high school players to commit to the former LSU and Oklahoma State coach.
In February, Blue Valley North running back Amauri Pesek-Hickson signed with KU, giving the new head coach three in-state signees even though he and his just-assembled staff were in scramble mode on the recruiting front.
"We got a nice start from this state and this area," Miles would say during his National Signing Day press conference, describing Russell as a versatile defensive back with a long body, Fairchild as a big tight end who can run and catch, and Pesek-Hickson as a big back.
Miles and his staff have remained at work in what the head coach has dubbed "the Kansas footprint" while piecing together KU's 2020 recruiting class.
In late March, the Jayhawks picked up nonbinding verbal commitments from Shawnee Mission South tight end Will Huggins and Topeka quarterback Da'Vonshai Harden Jr.
Even before those recruits pledged to one day sign with KU, Miles spoke of the importance of winning over local and in-state prospects.
"In the past, they've not necessarily recruited high school players from the state of Kansas. And we felt like that was exactly what we needed to do for a bunch of reasons," Miles said during an appearance on his "Hawk Talk" radio show recently. "I think it was exactly the right thing. And we also ended up with — I don't know that the team before us had taken that many guys from a high school team in Kansas for their entire time here."
In fact, it took Miles' predecessor, David Beaty, some time to pick up steam when it came to signing high school players from the state of Kansas. In 2015, the Jayhawks signed Bishop Miege QB Ryan Willis, originally a Charlie Weis recruit. The only in-state scholarship player for KU in that recruiting cycle, Willis transferred to Virginia Tech after two seasons.
In 2016, Free State High standout Bryce Torneden, now a senior defensive back, was KU's only scholarship athlete from the Sunflower State.
Finally, in 2017, Beaty and his staff began bringing in more recruits from their own backyard, with the signing of Derby tight end Kenyon Tabor, Wichita offensive lineman Joey Gilbertson and Wichita linebacker Cooper Root. Though Beaty repeatedly described Tabor as one of the most talented recruits KU had signed, the coach said back issues stopped Tabor from participating in football activities. And by the summer of 2018, it was deemed that Tabor's condition would keep him from ever being cleared to play football at KU. Presently, according to 247 Sports, Tabor has entered his name in college football's transfer portal to find a new opportunity.
In what proved to be Beaty's final recruiting class at KU, the Jayhawks signed Wichita fullback Mac Copeland, hometown Free State O-lineman Jalan Robinson and Wichita linebacker Nick Channel (as a walk-on).
It hasn't taken Miles nearly as long to make inroads within the state, a strategy that has benefited KU's rival, Kansas State, for years.
This year, KU signed three of the top 15 rated prospects in the Sunflower State, per composite rankings from 247 Sports, while rival Kansas State, also transitioning to a new head coach in Chris Klieman, signed four.
The K-State signing class included two standouts from Lawrence, Free State High's Keenan Garber and Jax Dineen. While Miles and his staff tried to get both Garber, a three-star athlete, and Dineen, a three-star fullback, to attend KU, multiple sources told the Journal-World that Dineen wasn't offered a scholarship, and instead was recruited as a walk-on.
Even though the two Lawrencians are headed to Manhattan and Bishop Carroll tight end Clay Cundiff, once committed to KU when Beaty was still the head coach, signed with Wisconsin, by signing Pesek-Hickson, Russell and Fairchild, the Jayhawks successfully recruited three in-state talents in Miles' first few months on the job.
The team's Junior Day events in February brought in numerous recruiting targets from within the state, coaches have recruited the Kansas City metro area, too, and Miles' staff has proven proactive in extending offers to top in-state and local prospects — the biggest of which is 2020 offensive tackle Turner Corcoran, a four-star prospect at Free State.
"I'm excited about the Kansas footprint," Miles said this past week, "and getting in those homes, and recruiting those young men and those families, because that family gets to come be at Kansas, too. What a wonderful advantage that is."
Top-15 in-state prospects who signed with KU, since 2002
[Per 247sports' composite rankings, these prospects were rated in the top 15 in Kansas as high school seniors. Each KU recruit is listed with his ranking among Sunflower State players that year. As a point of reference, the number of top-15 players signed by Kansas State each year also is provided.]
LES MILES
2019 — KU signed No. 6 Amauri Pesek-Hickson, No. 8 Jayden Russell and No. 15 Mason Fairchild. K-State signed four from the top 15.
DAVID BEATY
2018 — KU signed No. 5 Mac Copeland, No. 6 Jalan Robinson and No. 7 Nick Channel (as a walk-on); No. 2 Miles Emery would have signed with KU, but ended up at Butler Community College. K-State signed three from the top 11 and had another prospect go the junior college route, as well. (Only 11 in-state prospects ranked.)
2017 — KU signed No. 13 Kenyon Tabor, No. 14 Joey Gilbertson and No. 15 Cooper Root. K-State signed six from the top 15.
2016 — KU signed No. 12 Bryce Torneden. K-State signed five from the top 15.
2015 — KU signed No. 4 Ryan Willis. K-State signed seven from the top 15.
CHARLIE WEIS
2014 — KU signed No. 2 Traevohn Wrench, who ended up at Butler Community College instead, and No. 14 Joe Dineen. K-State signed one from the top 15.
2013 — KU signed No. 4 Jordan Darling, No. 5 Ben Johnson, No. 6 Montell Cozart and No. 14 Peter Gallo (as a walk-on). K-State signed three from the top 14.
(Only 14 ranked.)
2012 — KU signed No. 3 Brian Beckmann and No. 6 Tre' Parmalee. K-State signed three from the top 11. (Only 11 ranked.)
TURNER GILL
2011 — KU signed No. 4 Dreamius Smith, No. 6 Michael Reynolds, No. 8 Dylan Admire, No. 10 Victor Simmons, No. 14 Phil Ford and No. 15 Ben Heeney. K-State signed two from the top 15.
2010 — KU signed No. 7 Pat Lewandowski. K-State signed six from the top 15.
MARK MANGINO
2009 — KU signed No. 3 Darian Kelly, No. 4 Kevin Young, No. 6 Huldon Tharp and No. 8 Riley Spencer. K-State signed two from the top 14. (Only 14 ranked.)
2008 — KU signed No. 3 Tanner Hawkinson, No. 4 Darius Parish, No. 5 Kale Pick and No. 6 Duane Zlatnik. K-State signed two from the top 15.
2007 — KU signed No. 7 Ryan Murphy and No. 9 Steven Foster. K-State signed five from the top 15.
2006 — KU signed No. 1 Jake Sharp, No. 2 Jamal Greene and No. 5 Tyler Lawrence. K-State signed three from the top nine. (Only nine ranked.)
2005 — KU signed No. 1 Kerry Meier, No. 3 Caleb Blakesley, No. 4 Darrell Stuckey and No. 5 Adam Welty. K-State signed four from the top 14. (Only 14 ranked.)
2004 — KU signed No. 3 Mike Rivera, No. 7 Todd Haselhorst and No. 9 Scott Haverkamp. K-State signed six from the top 15.
2003 — KU signed No. 4 John Randle and No. 5 Brandon McAnderson. K-State signed four from the top 14. (Only 14 ranked.)
2002 — KU signed No. 2 Jerome Kemp and No. 5 Nick Reid. K-State signed six from the top 10. (Only 10 ranked.)