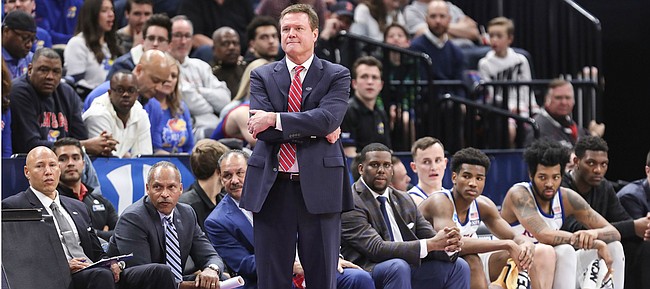 Salt Lake City — Saturday night, during the Jayhawks' 89-75 loss to Auburn, Kansas coach Bill Self elected to start four freshmen — and five first-time NCAA Tournament participants — for the 13th consecutive game, which, Self believed, put a little perspective on what the Jayhawks accomplished and endured during the 2018-19 season.
"I'm not going to say I haven't purchased Just For Men at some point over the last several months," joked Self of the popular hair coloring product. "But I do think that our place is a little different. We don't use youth as an excuse. So regardless of what's happened to us this year, if you're out there, you still have to deliver and perform and our guys have accepted that pretty well. We haven't played to the level that past teams have, but I also believe there's some reasons why we haven't and I'm not going to say youth is one of them."
In light of the heavy minutes handed out to four freshmen, who performed and have grown at varying levels throughout the season, Self this week tipped his cap not only to how those players produced but also to their mental toughness.
"I'm really proud of our guys and how they've handled me all year long," Self said. "I haven't been easy this year to deal with, in large part because frustration sets in when you think about things (that), to a coach seem so simple, but to a player may be the first or second time they have ever heard something. So that's (been) a challenge and they've handled it great."
Photo Gallery
Kansas basketball v. Auburn (NCAA tournament)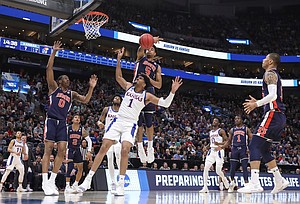 View a photo gallery from Saturday night's NCAA Tournament Round of 32 game between the Jayhawks and Tigers in Salt Lake City, Utah.
Tourney importance
Year after year, whether they've won the Big 12 regular season title, the Big 12 tournament title or both, Self has emphasized the value of winning tournaments to the Kansas program and the experience of playing basketball at KU.
This year, despite failing to win the regular season or conference tournament titles, that stance has remained strong.
"I've always thought you can win your league, win your conference, you can do whatever, but if you don't play well in tournaments, it's just a good year," Self said. "You have to do well in the tournaments to take it from good to great. And even though the year didn't go exactly as we had scripted it, I do think, in our fans' minds, and certainly in my mind, it takes the sting off of that totally if you perform very well in the tournament."
Big 12 love
Moments before Kansas and Auburn took the floor on Saturday night, the ninth-seeded Baylor Bears dropped a hard-fought game to top-seeded Gonzaga in the West region and saw their season come to an end.
As the Baylor coaches and players walked back to their locker room, many with tears in their eyes, several Bears, including head coach Scott Drew, took time out to wish the Jayhawks luck, handing out hugs and handshakes to KU's players, KU assistants Fred Quartlebaum, Kurtis Townsend and others.
Even the BU cheerleaders got in on the act, wishing the KU spirit squad good luck as they headed back to their locker room.
Baylor became the third Big 12 team — of six — to be sent home from this year's NCAA Tournament.
This and that...
Auburn now leads the all-time series with Kansas, 2-0, with both victories coming in the NCAA Tournament, the first back in 1985... KU's final record of 26-10 marks just the second time in Bill Self's 16 years at Kansas that the Jayhawks have lost 10 games in a single season. The other came during the 2013-14 season, which ended with a loss to Stanford in the second round. All the rest have featured single-digit losses... Saturday's loss snapped KU's streak of three straight Sweet 16 appearances and dropped KU to 24-11 in Round 2 games at the NCAA Tournament. KU finished 1-2 against SEC teams, losing to Auburn and Kentucky... KU is now 8-5 all-time as a No. 4 seed in the Big Dance. Kansas finished the season 6-2 in neutral site games, 16-0 at Allen Fieldhouse, 3-1 at Sprint Center and 3-8 in true road games... KU falls to 108-47 all-time in the NCAA Tournament, including a 38-15 mark under Bill Self, who is 48-20 all-time at the event.