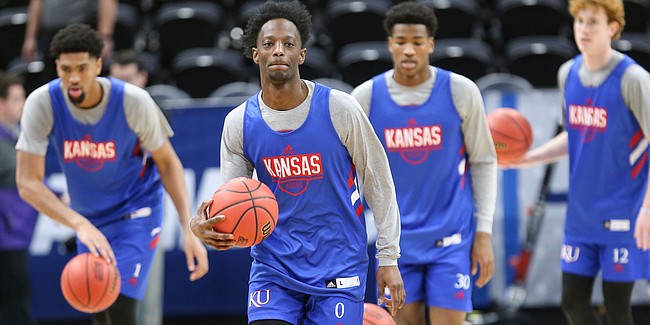 Salt Lake City — Kansas coach Bill Self hinted this week that he may be looking at tweaking his starting lineup ahead of Thursday's 3 p.m. NCAA Tournament opener against No. 13 seed Northeastern at Vivint Smart Home Arena.
But whether he switches things up or starts the same five he has for the past 11 games, Self can rest easy knowing he has a player on his roster named Marcus Garrett, who gives him maximum lineup flexibility, from the bench to pregame introductions and the backcourt to the paint.
Call Garrett an X-factor if you want, but Self has a different name for it. And, on Wednesday, he conjured up the name of a player from KU's past who earned the same title when talking about Garrett's impact.
"I think every team needs a blend guy or blend guys," Self said. "People say, 'Brady Morningstar, could he play?' Well, he was the best blend guy you could possibly have. He made the other four guys better just by being on the court, and I think that's what Marcus does, too."
That's high praise for the KU sophomore considering Morningstar started 67 of the 116 games he played in for the Jayhawks and was a part of four Kansas teams that won 33 games or more. But it's also fair, according to Morningstar himself.
In a phone interview with the Journal-World on Wednesday, Morningstar showered Garrett with love and talked for 10 minutes about how similar the two players were in one aspect of the game.
"Our strength is defense," Morningstar said before outlining what his role was as a defender with the Jayhawks. "Whether that's guarding on the ball or off the ball, the one similarity we really have is on the defensive end. When I first got in the game, my job was to keep my man under his average and make him shoot tough, contested shots if he catches the ball. I didn't need to score. And I think Garrett's the same way. I really like his game, and if people don't think he's a lockdown defender, he needs to show them that he is."
Unlike Morningstar, who redshirted during KU's national championship run in 2008 and enjoyed two full years of on-the-job training, Garrett has inherited a big role immediately.
As the first guard off the bench for last year's Final Four team, Garrett learned a few valuable lessons about playing at Kansas and competing at the highest level, but did so without so much as a hint of pressure. This year, as one of the few Jayhawks with real experience, Garrett has been looked to for more of a leadership role.
Members of the Kansas coaching staff had different thoughts about their expectations for Garrett when they recruited him out of Dallas' Skyline High, but there is no debating his importance to the program, particularly as the Jayhawks sit on the cusp of a clash with a small-ball squad like Northeastern that may bring Garrett's versatility onto center stage.
"I actually thought Marcus would have the role that he's had when we recruited him," said Self, likely referencing Garrett's role as an elite defender. "I think it hurt us more than people realize when he got hurt. We were a much different team with him injured, and I thought (the Big 12 tournament in) Kansas City was the first time where he showed signs of being close to 90 percent, and hopefully he'll be close to 100 because we need him."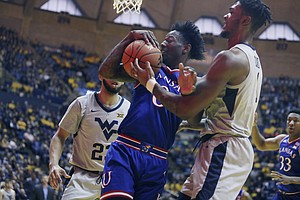 The injury Self referenced was a high ankle sprain on Garrett's left leg that kept him out of the lineup for five games in February and has left him hobbled ever since.
Garrett opened up about the injury in the KU locker room on Wednesday, saying his initial guess was that he would miss just one game.
"I'd never had an ankle injury before," he said. "So when I rolled it was like, 'Dang, I rolled my ankle.' But then, when I got up and I couldn't walk, I knew it must be serious. It was definitely a hard thing to go through, especially because you're trying and you really want to go out there and play, but you can't do too much. That was frustrating."
Garrett returned to the lineup on Feb. 23 and has been on a steady climb to full health ever since.
That last part — full health — is key, according to Garrett's teammates, who have learned to lean on the 6-foot-5 sophomore as the identity and inspiration for their defense and figure to do so a lot in their NCAA opener, whether the Jayhawks play big or small.
"Before he got injured, he was playing really well and that injury brought him back a little bit," junior forward Mitch Lightfoot said. "But if Marcus has a clean bill of health, he has an opportunity to be a factor, against anybody, not just an X-factor."
That reality could be crucial against Northeastern, a team known for its 3-point shooting and offensive prowess.
KU assistant Kurtis Townsend said Garrett likely would draw the game's toughest defensive assignment of checking Huskies senior Vasa Pusica, a 6-5 gunner who enters the tournament averaging 17.8 points per game on 40 percent shooting from 3-point range.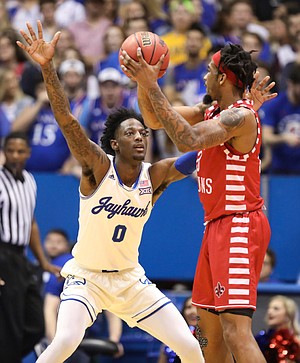 Garrett likes the matchup and said he's comfortable guarding all five positions, but would prefer to stay his size or bigger rather than having to guard a jet-quick point guard.
He also said his standing as a defensive stopper was with him long before he arrived at Kansas.
"A lot of people don't know that, in high school, I led the area in steals and I was known for defense in high school, too," Garrett said Wednesday. "It just wasn't the focal point because I almost averaged a triple-double."
That was during his senior season. But as a freshman and sophomore who played with the varsity squad, the former 4-star prospect who was ranked 41st in the Class of 2017 by Rivals.com, Garrett played a role very similar to the one he's had so far at Kansas.
That connection to his past has kept Garrett comfortable through it all and allowed him to fill a key role for the Jayhawks at a young age.
"He's very valuable, and he knows what we want defensively," Townsend said of Garrett. "He plays exactly how coach coaches. He's got that intensity."
Added Lightfoot of Garrett's importance in Thursday's 4-13 matchup, "He's huge. They've got four guards who can all really play, so if our two-bigs approach doesn't work, we have the ability to go to Marcus. So there's opportunity for it to be huge."
Whether you prefer the term "X-factor" or lean more toward Self's description of "blend guys," Garrett fits the part. More important than that, he also has a clear understanding of exactly what it is.
"I think an X-factor is somebody who can change the game," Garrett explained. "And change in the game in a lot of ways, not just by scoring. Defending, rebounding and doing little things."
Asked if he thought that definition described him, Garrett nodded.
"Yeah, it does," he said. "I feel like I can impact the game when I'm not scoring."
He's not the only one who feels that way. Although his college days are long behind him now and he's down in Texas working as an assistant coach at Texas Wesleyman, Morningstar still lives and dies with the team he grew up following all the way through his solid career.
And while he concedes that Garrett has the edge in athleticism — he gave himself the nod as a better shooter — Morningstar said that, even while watching on TV, he can feel the energy from those little things that Garrett brings to this team.
"Of course, they coach the principles and what they want in their system," Morningstar said of Self and the KU staff. "But it's hard to teach IQ to someone. And Garrett is definitely a strength for Kansas. When he's on the floor, I feel good about our chance of getting stops. Defense is a five-man unit, for sure, but when you take pride in really not letting your man score, it rubs off on everybody on the court."