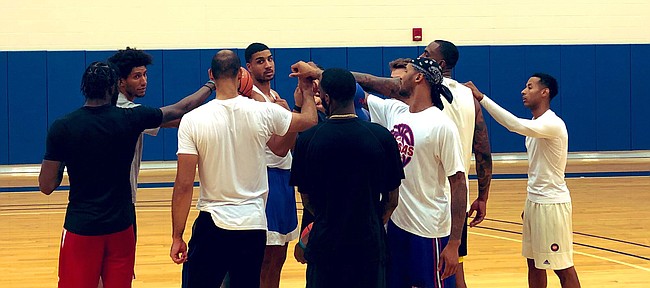 Station to station they went, running not jogging, knowing that any wasted time could cost them.
The faces and bodies have changed a little since their playing days at Kansas, but the players who make up this summer's Self Made squad appear to remember how to prepare.
Running through a 2-hour workout Monday morning at KU's practice gym — a venue that everyone on the team but veteran big man Darrell Arthur actually used while at Kansas — the Self Made squad looked every bit as serious about their task today as they did during their time playing for KU coach Bill Self.

The collaborative efforts of the former KU legends and leaders and their attempts to get everyone on the same page in time for Thursday's TBT opener — vs. Sideline Cancer at 6 p.m. at Wichita State's Koch Arena — made this practice session more of a meeting of the minds.
Organized by former teammate and Self Made head coach Brady Morningstar and his run-through-a-wall assistant, Chase Buford, the former Jayhawks talked their way through a variety of scenarios, yelled at and motivated each other like the good old days and did their best to install the offensive and defensive principles they hope will help them make a run during the next couple of weeks.
A few players brought NBA experience. Others have been overseas. And all of them needed the brief training camp to knock the rust off and get their minds and bodies right for what's ahead.
After one drill in which Buford was particularly physical with the players around the perimeter, Travis Releford walked to the back of the line and uttered, "Damn, he's playing real D."
Moments later, Morningstar could be heard calling out Tyshawn Taylor for a sloppy pass.
Not that he needed to. These guys, most of whom are close friends, have no problem getting on one another and holding each other accountable for every misstep.
And that's an important part of the process because things weren't all-perfect all the time in there. At least not the way you might expect from a group that includes seven players with Final Four experience, two who won championship rings.
No matter who was talking, everyone was listening. Even Self. And while the Hall of Fame KU coach was tempted to hop onto the court and offer his thoughts in certain situations, he spent the bulk of his time standing near midcourt, watching his former pupils like a proud papa.
At one point, Releford, with a sly smile looked toward Self, who was talking with former KU forward Darrell Arthur, and said simply, "Coach, you're interrupting practice."
Everyone laughed.
In those moments when Self did offer his input — try as he might, he could not stay quiet the entire time — you might as well have hopped into a time machine, back to 2008 or 2012, when these guys still played for him. With each lesson, the gym got quiet, all eyes were on Self and these players, many of them now fathers and professional basketball players, were still learning from their coach.
It's impossible to know how this team will fare in the next couple of weeks at The Tournament. They'll face tough competition. They'll be playing a different style of basketball. And, like at all levels, they'll need a little luck to get through to Chicago, where the eight teams still standing will battle for a $2 million prize.
But if they do fall short it won't be because of a lack of preparation. These guys got after it during the past week. Now all they have to do is go play.