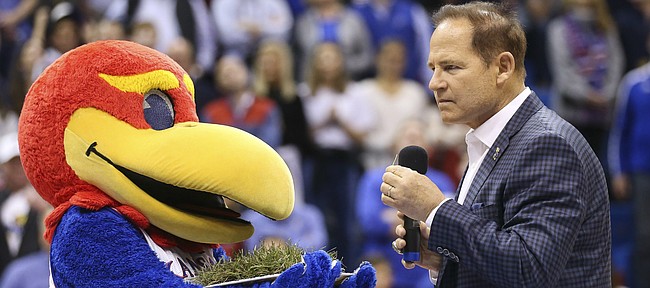 If Les Miles' sporadic dietary urges spawned a trend it was news to him.
The Kansas football coach, known through the years to grab a blade of grass or two from the playing field for a taste, didn't know that another prominent sports figure shared his eccentric habit.
At Big 12 Football Media Days earlier this week, one reporter asked Miles whether he saw Wimbledon champion Novak Djokovic polishing off his victory with a bite of grass this past weekend.
"Did he really?" Miles responded excitedly. "Well, you know what? I recommend that those people that enjoy a relationship with green grass to take a nibble now and then. I don't think we need a big bite, but I think a nibble now and then. Now if it happens to coincide with a championship so be it."
Now a five-time Wimbledon champ, Djokovic didn't just join Miles as a notable grass-eating winner. He noted to the BBC after winning the major in 2015 that the grass tasted "very, very good" that year.
"I don't know what the groundskeepers have done, but they've done a great job," Djokovic said at the time, after his third career Wimbledon title. "It's a little tradition obviously. As a kid I was dreaming of winning Wimbledon, so, like every child, you dream of doing something crazy when you actually achieve it — if you achieve it — and that was one of the things."
According to Miles, his affinity for grass took root during his childhood, as well. But it didn't have anything to do with tennis or even football.
"For me, it's I played right field," Miles shared of his time as a youth baseball player. "And if you guys know what that means, generally speaking, it's not a place where everybody hit the ball, you know what I mean?
"So at times I would get dry mouth and I would reach down and I would pick about a blade and I would bite, just get a little taste in my mouth. And it went pretty well. I mean considering I started that at about 11 or 12, it didn't come out national news until I was probably 58."
Now 65 and entering his first season as the head football coach at KU, Miles' association with consuming grass first gained notoriety, of course, when he was still at LSU.
"Yeah, it became famous after beating Alabama," Miles replied, when asked if it was a particular win that caught people's attention. "That's correct."
Miles shows off championship ring
With his jewelry occasionally thumping the table in front of him as he responded to countless questions at Big 12 media days, it became hard to ignore the giant ring on Miles' right hand.
Asked about the accessory several times, Miles said he only wears his national championship ring, a token of LSU's 12-2 2007 season that concluded with a victory over Ohio State in the BCS title game, on special occasions.
"I do not wear it around game week. But this is an experience that is shared with the guys that I coach," Miles explained. "So I thought about it this morning when I put it on. Do you put it on? Yeah, you do. You put it on and you tell them this is an opportunity. I promise you this: when I got into coaching I did not think I was going to win a national championship. I didn't think about it. It was all about preparation for the next game.That's not going to change. And this ring will not change me either."
Miles spent 11-plus seasons at LSU, going 114-34 with a 7-4 bowl record before LSU fired him four games into the 2016 season. His Tigers also reached the national championship game following the 2011 season, losing to Alabama.
Miles said he would have to give some thought to whether he will wear the championship ring on a KU game day this coming season.
But on the seldom occasions when the coach does put it on, he said he will do so with one purpose in mind.
"For the representation to the team that I'm currently coaching, period," Miles said.
Wise heading into first NFL camp
While Miles and the Jayhawks were in Arlington, Texas, they had the chance to briefly catch up with former KU standout Daniel Wise.
A Texas native, Wise hopes to stick around the Dallas area after signing with the Cowboys as an undrafted rookie free agent.
Listed on the team's roster as a defensive end, Wise will head into the Cowboys' training camp later this month wearing No. 64.
According to a post on the team's website, although the 6-foot-3, 279-pound Wise is listed as a D-end, he could end up fitting in better at tackle up front.
"We liked his movement, his toughness, his competitiveness, and he's showing it," Dallas defensive tackles coach Leon Lett said of Wise earlier this summer. "He's been showing up pretty good. Can't wait to get him into pads and get going."
The Cowboys' training camp, which takes place in Oxnard, Calif., begins July 27.