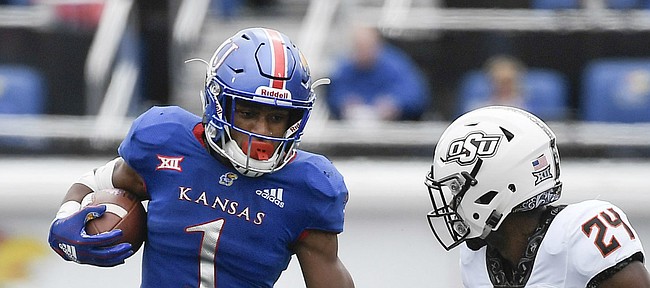 Arlington, Texas — It didn't take long Monday morning at Big 12 Media Days for Kansas football coach Les Miles to address the recently announced one-game suspension for high profile running back Pooka Williams, which was met on social media and other platforms with some backlash.
Less than a minute into his opening press conference at AT & T Stadium, Miles veered from pleasantries to offer his thoughts on Williams, who was arrested this past December and charged with domestic battery before reaching a diversion agreement.
"I know that there's an issue that we must discuss," Miles began. "First of all, there is no proper way to put it. There is no violence. Violence will not be accepted with women, period. Action was taken immediately. We felt like a strong point was made, not only with Pooka, but the team."
Miles suspended Williams from all team-related activities this past December before reinstating him this past week. Williams didn't practice with KU football during the spring, but he was in attendance at David Booth Kansas Memorial Stadium for the spring game, watching from the bleachers.
Podcast episode
KU coach Les Miles spoke to reporters Monday morning at Big 12 Media Days in Arlington, Texas.
The victim in the case told a KU police officer that Williams punched her in the stomach and grabbed her throat around 12:30 a.m. Dec. 5, when the couple was at Stouffer Place Apartments. During the interview, the officer found the victim had bruises on her arms and side, according to the affidavit. She also showed the officer text messages from Williams admitting to punching her in the arms.
The officer interviewed Williams, who reportedly said that he pushed the woman when he saw her in a room with other men at the apartment building. Both Williams and the victim said they were in an intimate relationship.
KU announced a week ago that Williams would be suspended for the Jayhawks' season opener versus Indiana State.
Additionally, the university's Office of Student Conduct and Community Standards has required that Williams be subject to probation until he graduates, attend monthly meetings with a university conduct officer, complete 40 hours of community service and complete a sexual violence accountability course through the university's Sexual Assault Prevention and Education Center.
"For seven and a half months," Miles said Monday, "Pooka was going through a process. He didn't have time to spend time with his team, going to the weight room, just be a part. Pooka went through a legal investigation with the legal community and proceedings that went through the conduct board at the university. He basically understood very much that if he did not meet the criteria that the board asked that (his football career at KU) would not last long. And he really met every criteria that he could."
Stipulations of Williams' diversion agreement with the district attorney's office require that he undergo a domestic violence offender assessment, complete an anger management course and fulfill 40 hours of community service.
Miles said Williams has "taken responsibility" for his offseason misconduct and has been "remorseful."
"He's learned from this experience as has our team," Miles reiterated. "We're thankful to have him back, and again, no violence against a woman is OK."
KU's head coach concluded the portion of his morning discussion regarding Williams and the running back's punishment by saying, "I did not make this decision, but I stand by it and see it as a right one."
Prior to Miles' time on stage at the home of the Dallas Cowboys, Big 12 commissioner Bob Bowlsby also fielded a question about the Williams incident and KU's punishment.
"First of all, I don't presume to know all the details about that," Bowlsby replied, when asked what type of guidelines the conference has in place. "It's not a domestic violence policy. It's a serious misconduct policy, so it covers domestic violence but also a wide variety of other things. The Kansas process followed what our misconduct policy describes and that is that the decision is made outside of the athletics department and within university higher administration. That's the level at which that decision was made."
Podcast episode
Kansas football beat writer Benton Smith is joined by Lawrence Journal-World sports editor Matt Tait and reporter Shane Jackson to discuss an eventful summer for Les Miles' program. Topics include: Pooka Williams' reinstatement, position strengths and weaknesses, KU's June recruiting haul and much more.
According to Bowlsby, the Big 12's misconduct policy "calls upon institutions to make sure that decisions on who plays and who evaluates those situations that they're made outside of the head coaching line, in the case of football it wouldn't be an assistant coach or the head coach."
KU athletics spokesperson Jim Marchiony told the Journal-World that Athletic Director Jeff Long reviewed Williams' situation with "senior KU leadership" and then made the decision on the one-game suspension.
Bowlsby said it is important decisions on such matters are not made solely by an athletics department.
"So institutions are left to do what they think is right, but it's going to be made at the highest levels within the university and we feel like if that's the standard, that universities can be counted upon to go through the right processes and come to the right conclusions," Bowlsby said.
During an afternoon interview session with reporters, Miles faced further questions on Williams' punishment. The coach called the one-game suspension a collective decision.
According to Miles, Williams has expressed regret in his actions during conversations with the head coach.
"There's three women in my family, two daughters and a wife. And if you think when you come to me that you think you're getting somebody who is sympathetic to your cause," Miles said of dealing with a case of domestic battery, "you are not if you've mistreated women. So that's been pretty comfortable for me and I think our kids and the general population understands that."
Additionally, Miles said he thinks his role as KU's head coach allows him to continually address domestic violence as a subject and educate his players. For example, Miles said he gives a big preseason talk each year.
"This year at Kansas will be the most receptive audience that you could possibly imagine," Miles explained. "Because they saw how quickly things changed (for Williams). One day, happy go lucky, enjoying life, and the next day out of the circulation."
Miles expects players will be willing to hear his message, and the coach said he plans to at some point have Williams address the team and explain what he could have done differently.