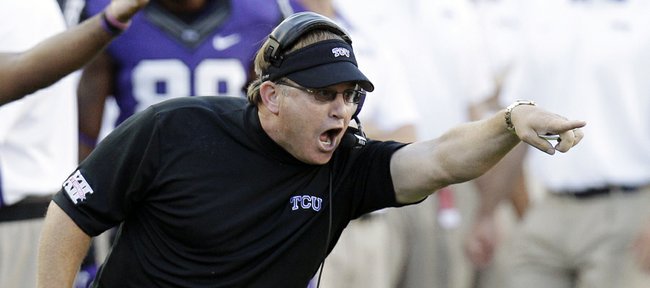 Arlington, Texas — Half of the head coaches in the league kicked off Big 12 Media Days Monday morning at AT&T; Stadium.
Les Miles of Kansas and Matt Wells of Texas Tech were the only new head coaches to step to the podium on the first day. Familiar faces such as Lincoln Riley (Oklahoma), Gary Patterson (TCU) and Mike Gundy (Oklahoma State) also took their turn at center stage in Jerry World.
Kansas State, Texas, Iowa State, Baylor and West Virginia will all take part in the second day of Big 12 Media Days on Tuesday.
As is the case most years in this league, the quarterback position was a hot topic for each coach during their respective press conference. With less than 50 days until the season opener, many Big 12 teams are actually still dealing with a quarterback competition.
Here is what the four opposing Big 12 coaches had to say during their respective press conference on Monday:
Gary Patterson, TCU
No team in the league has a quarterback competition quite like the Horned Frogs.
Patterson said that he has six different options at this point in the summer, though he'd eventually prefer to trim it down to three signal callers. Alex Delton, who transferred from Kansas State, figures to be in the thick of the battle to become TCU's starting quarterback this fall.
"I always found when you have a high competition level as a general rule you end up with a better product," Patterson said. "The best part about it is they all get along. They all want to be the guy and I don't think you want it any different than that."
While Miles has been coy about his offensive philosophy, Patterson may have shed some light on what KU fans could expect in 2019 when he was asked about the coaching turnover in this conference.
"I think the league has been changing a little bit anyway. I think you're starting to see people get bigger, a lot more tight ends, probably Kansas State does that," Patterson said. "I hear rumors that Les is getting back to tight ends, fullbacks, stuff he did, but we prepare for all that stuff anyway."
Mike Gundy, Oklahoma State
During last year's Big 12 Media Days, Gundy surprised the media by naming Taylor Cornelius the team's starting quarterback.
There was none of those type of bombs this summer, and Gundy didn't give a sense of when he will name a starting quarterback. Graduate transfer Dru Brown and redshirt freshman Spencer Sanders are the two players competing for that job.
"Whenever we're ready to name a starter based on him earning the job we'll do that," Gundy said. "I think if you look back at my history, we have named guys at times when people didn't think we were going to name a starter because we felt like they earned the job, gave our team the best chance to be successful and win games."
Gundy was also asked about the challenges of facing a new Big 12 coach, which includes Miles.
"The coaches that are new in the Big 12, they've been around," Gundy said. "We're pretty familiar with those guys. They've been successful at other schools. The one interesting thing in college football, to a certain extent, most teams are doing the same thing scheme-wise offensively and defensively."
Matt Wells, Texas Tech
The Red Raiders shouldn't have a serious quarterback battle during preseason camp.
Alan Bowman is expected to be under center after playing in eight games during his freshman campaign last season. Bowman threw for 2,638 yards on 327 attempts, tossing 17 touchdowns and seven interceptions.
Bowman's passion is the thing that stood out to Wells when he first took over at Texas Tech this offseason.
"He's got a great attitude," Wells said. (He was the) first player I met there about the minute we touched down in Lubbock and was wanting to watch cut-ups of Utah State and what we were going to do on offense."
Lincoln Riley, Oklahoma
Can the Sooners do it again?
That is the question after back-to-back Heisman-winning seasons from their quarterback. Jalen Hurts, who transferred from Alabama, will test that theory when he's likely handed the keys to Oklahoma's high-powered offense.
It remains to be seen if Hurts can replicate the ridiculous numbers by Kyler Murray and Baker Mayfield in 2018 and 2017, respectively.
"It's certainly been different," Riley said. "He brings game experience that Baker and Kyler did not have when they got here, but also doesn't have as much experience in the system. It has been quicker but it's been fun."