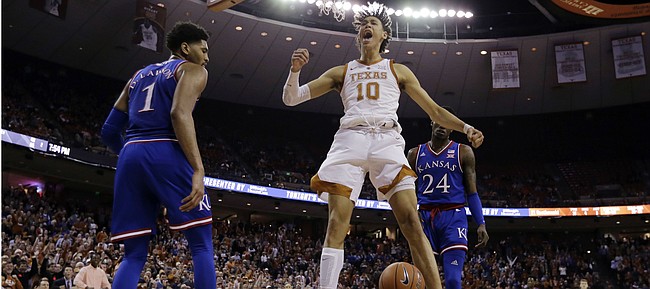 Austin, Texas — Losing at Kentucky is one thing. Losing at Iowa State is another.
But now this?
Behind a lackluster first half and another off-key offensive night in the city dubbed the Live Music Capital of the World, the 11th-ranked Kansas men's basketball team dropped to 1-5 in true road games this season with a 73-63 loss to Texas on Tuesday night at Frank Erwin Center.
Clearly disappointed and more than a little perplexed after the loss, junior forward Dedric Lawson demonstrated, in just a few words, how dire things have become for Kansas away from home.
"When we walked in the locker room, Lagerald (Vick) said, 'We suck on the road; we've got to do something different,'" Lawson recalled. "I agree. We definitely have to do something different. We have to find ways to win on the road. I don't know. Change shoes. We've got to try to do something — something different."
Texas is now 9-4 in its home gym this season, and the Jayhawks on Tuesday were unable to accomplish something that Radford, VCU, Providence and Texas Tech had done earlier this season.
Tuesday was just KU's 7th loss all-time in Austin, with the last setback coming during the 2013-14 season. Before that, you had to go back to 2008 to find the last time the Longhorns knocked off KU on their home floor.
Photo Gallery
Kansas at Texas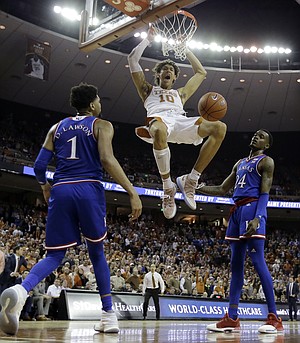 Texas head coach Shaka Smart reacts to a play during the second half on the team's NCAA college basketball game against Kansas in Austin, Texas, Tuesday, Jan. 29, 2019. Texas won 73-63. (AP Photo/Eric Gay)
That result never looked to be in doubt during this one. The Longhorns led for 37:42 of the 40-minute game and Kansas led for a total of just 9 seconds.
Asked after the loss where this one got away from them, Self smirked and said, "Where'd it get away? I don't know, probably, what time did we fly down (Monday)? I don't know that we were ever good tonight by any stretch."
Generally speaking, fast starts are a good recipe for road success. The Jayhawks did not even have an opportunity to test that theory on Tuesday night.
During its first six possessions, which produced just 2 points, Kansas had two shots blocked and turned it over twice, including a shot clock violation.
Texas coach Shaka Smart, who defeated Self and the Jayhawks for the first time since his monster win in the Elite Eight back in 2011 with VCU, said he thought Texas' close-call loss in Lawrence two weeks ago provided the kind of fuel the team needed to finish the job this time around.
"They had a real hunger, because we're down 2 with 8 or 9 or 10 seconds left and the ball (in Lawrence), and we didn't finish the way we wanted to up there," Smart said.
UT sophomore Jase Febres, the player who wound up with the ball in his hands and a chance to win in Lawrence, knocked in 4-of-8 from 3-point range on Tuesday and finished as one of four Longhorns to reach double figures.
Three Jayhawks reached double digits, but only Agbaji, who made the first start of his young career, matched the kind of offensive punch that the Longhorns had.
The freshman from Kansas City, Mo., led all scorers with 24 points and also tied for the team lead in rebounds with 7 in 35 minutes.
"He was really good tonight," Self said of the guard who started in place of Vick, scoring 10 points on 4-of-9 shooting in 23 minutes. "He (Agbaji) was arguably the best player in the game. We just didn't have any help for him tonight."
After the loss, Self described the Kansas offense as "so poor" and bemoaned the fact that the KU coaching staff has not found a way to get it going.
"The pieces just don't quite fit yet," Self said. "I've got to figure out a way to get the pieces to fit better. Because we've got good pieces. I've just got to do a better job of figuring it out."
Despite the gruesome beginning, a corner 3-pointer from Quentin Grimes allowed the Jayhawks to stay within a point heading into the first TV timeout. Texas' 3-of-9 shooting to open the game had something to do with that.
Out of the timeout, however, the Longhorns (12-9 overall, 4-4 Big 12) got back-to-back 3-pointers from Kerwin Roach Jr., and opened up a 12-5 lead midway through the first half.
Another Kansas shot clock violation followed — out of a timeout, no less — and the Longhorns responded to the energized effort on defense by opening up a 23-12 lead at the 5:56 mark of the first half.
Kansas, which finally got a bucket from Lawson at the 3:09 mark — appropriately on a tip-in of his own miss — closed the half on an 11-3 run and trailed just 26-23 at the break.
Texas responded to the Jayhawks' run with an 11-4 stint of its own over the end of the first half and start of the second, pushing the lead back to 8 points just 5 minutes into the second half.
That allowed the Longhorns to play most of the second half with a lead of at least 5. Kansas (16-5, 5-3) closed the gap to a single possession just once — 48-45 after a circus finish by Vick — and could not overcome the Longhorns' strong showing at the free-throw line down the stretch.
Texas, which entered the game at 68.7 percent from the free-throw line for the season, made 21 of 23 (91.3 percent) from the line to lock down the upset.
Even one of the two charity shots the Longhorns missed — a front end by Roach in the final minute — wound up benefiting them, when Roach took advantage of KU's failure to box him out on the miss and outraced Vick to the loose ball. He was immediately fouled and cooly hit the next two free throws to put Texas up, 67-61, with 41.5 seconds to play.
"That was not why we lost," Self said. "But that, and the next possession, (cost us any chance of winning)."
And so the Jayhawks, wrapped in ice and riddled with blank stares, filed out of another road venue with another tough loss, this time staring up at 2-loss Baylor and Kansas State ahead of them in the Big 12 standings.
There are still 10 games to play in the regular season, and, as Smart so eloquently pointed out after his team snapped a 10-game losing streak against Kansas, "This is a league where teams are going to continue to fight it out."
The question now for the Jayhawks, however, is how much fight do they have in them and where will it come from? Tough questions for any team to face as the calendar readies to flip to February.
"It's definitely fixable," Lawson said. "It's not the end of the season. We're in February. So we still have a month left before March to fix these things and become a better team."
Added Self, with just a hint more realism: "Based on where we're at right now, I think (calling it) a rut is too strong, but I don't think our ceiling is near as high as it's been in years past. That's not being negative. That's being factual."