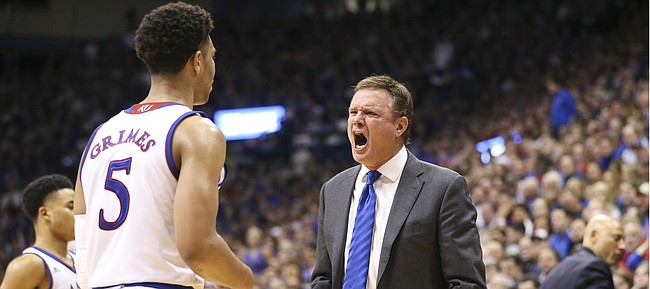 It begins, in its infant stages, each summer, when the new freshmen basketball players first report to KU for summer workouts.
And it gains steam each day, week, month and year from there.
They've attached a slogan to it — no pressure, no diamonds — and its intensity hits everyone from the seldom-used, four- and five-year program guys to the 5-star, one-and-done types.
No matter how talented a Kansas team is or how high the expectations are for the season, the thought of being on the team that ends KU's impressive streak of consecutive Big 12 titles is something that all Jayhawks endure at some point in their careers.
Photo Gallery
Kansas basketball v. Kansas State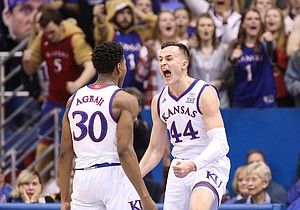 View a photo gallery from Monday night's Sunflower Showdown game between the Jayhawks and Wildcats at Allen Fieldhouse.
Occasionally, KU coach Bill Self will even address the idea, using the fear of failure as motivation or a rallying cry for better play.
That has not been the case with this year's team.
"I have not brought that up one time," Self said last Thursday when asked about the phenomenon. "Not one time this year. We have, with more experienced teams, brought it up, but I haven't even brought it up. I think all that would do would be just add some pressure to them. … I think the young kids are doing pretty good considering who we're not playing with. So there's no reason to add any pressure to what they're doing."
Junior forward Mitch Lightfoot has been around long enough to have seen both sides of the coin.
Although Lightfoot's role in his early days was much different than it is today, the lifelong KU fan always has been in tune with this idea, observing veterans fight it off and aiming to embrace it himself.
"There's a little bit of pressure," Lightfoot said recently. "At one point last year, people were thinking that the sky was falling, but that kind of comes with being at Kansas. Pressure's good. Pressure also brings out the best in people, and I feel like the younger guys have grown to understand that's kind of what happens when you're here. And they've done a good job with it."
Whether it's the anxiety of being on the team that might snap the streak or the responsibility of being charged with extending it each year, Lightfoot said KU's strong 14-year run is something that gets addressed, in some way, shape or form, every year. And he believes that's a good thing.
"I wouldn't say we talk about it a lot," he said. "We understand it. We understand it's there and you've got to take it one game at a time. … The older guys have been really stressing one game at a time. That's the only way we can keep it going and that's what we need to do."
Monday visitor
Allen Fieldhouse on Monday night was the site of the latest official visit for 5-star prospect Precious Achiuwa, a 6-foot-9, 215-pound power forward from Montverde (Fla.) Academy.
Achiuwa, who arrived in Lawrence on Sunday night, has become one of the more important KU prospects in the current class.
Ranked No. 16 overall by Rivals.com, the big, bruising forward is one of five undecided players in the Rivals Top 20 in the Class of 2019.
Kansas currently has two players signed in the 2019 class — 4-star guards Mackey McBride and Christian Braun — and is still heavily pursuing No. 7 overall prospect Matt Hurt, a versatile 6-9, 200-pound forward from Rochester, Minn., along with 4-star shooting guard Cassius Stanley, of Chatsworth, Cali., who is expected to announce between KU, Oregon and UCLA on April 17, the first day of the spring signing period.
Kansas falls to 15th
Although Monday night's result figures to impact their ranking again next week, the Jayhawks, at least temporarily, fell three spots to No. 15 in this week's Associated Press Top 25 poll, released Monday morning.
It marks the lowest the Jayhawks have been ranked in the AP Top 25 since the 2013-14 season and was the fourth time in the past five weeks that KU had fallen in the rankings.
A week ago, KU actually moved up two spots to No. 12 after putting together three consecutive wins over Oklahoma State, TCU and West Virginia. But last Saturday's 29-point loss at Texas Tech was enough to knock Kansas down a few pegs.
Tech, meanwhile, jumped three spots, from No. 14 to No. 11, and Monday's opponent, Kansas State, jumped seven spots from No. 23 to No. 16 ahead of Monday's Sunflower Showdown.
Those three are the only Big 12 teams ranked in this week's poll. Iowa State and Baylor are both receiving votes.
This and that ...
Monday's victory gave KU its 21st win, marking the 30th consecutive season that the Jayhawks have won at least 21 games. The streak dates back to the 1989-90 season ... KU also now has 10 conference victories for the 25th consecutive season, a streak that dates back to the 1994-95 season and is the nation's longest active stretch ... Kansas has now won 13 in a row over Kansas State at Allen Fieldhouse and is 30-6 against the Wildcats during the conference title streak ... KU also has now won 19 consecutive games at Allen Fieldhouse, dating back to the 2017-18 season, a stretch that includes a 16-0 mark in the building this season ... KU now leads the all-time series with K-State, 197-94, including a record of 49-14 in games played in Allen Fieldhouse ... Self now owns a 33-6 record against the Wildcats.