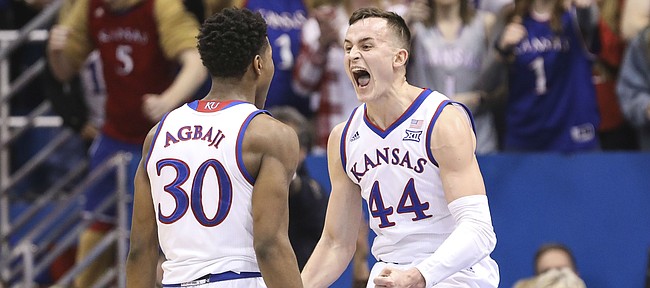 The Kansas men's basketball team's hope of extending its streak of 14 consecutive Big 12 titles to 15 in the next couple of weeks is alive and well.
And it's all because of a man named Mitch Lightfoot.
Monday night, during one of the biggest late-season conference games the Jayhawks have played during the 14-plus years of the streak, a 4-minute stretch from one of the Jayhawks' most experienced players helped turn a back-and-forth slugfest into a game the Jayhawks controlled the rest of the half and ultimately won with ease, 64-49, at Allen Fieldhouse.
Lightfoot's contributions to KU's season-saving victory began well before he first checked into the game with 14:38 to play in the first half.
During the pregame introductions, while KU's hype video was playing, Lightfoot was mouthing along with the words while staring intently up at the video board and swaying from side to side.
Photo Gallery
Kansas basketball v. Kansas State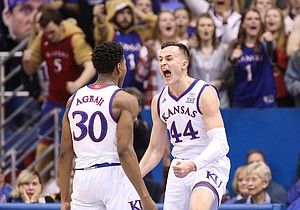 View a photo gallery from Monday night's Sunflower Showdown game between the Jayhawks and Wildcats at Allen Fieldhouse.
Larry Brown. Bob Davis. Bill Self. Lightfoot had all of their lines memorized. Like all true KU fans, he even paused to applaud after the clip of Mario Chalmers' miracle 3-pointer that tied Memphis in the 2008 national title game. He said after Monday's victory that he's got the whole thing memorized verbatim.
Toward the end of the video, Lightfoot returned to the lineup line and did what he has done so well during his first three years at Kansas — proved to be the perfect teammate.
Energy in the huddle, encouragement for freshman David McCormack, who started his fifth consecutive game at center, and an intensity and readiness that can only come from someone who realizes the program is far bigger than he is, Lightfoot delivered it all on Monday night.
And then he delivered on the floor, too. Big time.
"What Mitch did was probably the highlight of his career so far," KU coach Bill Self said after the victory. "He was great. Mitch is one of those guys that you can't help but love him. You've got to be so happy for him."
True to the form of a selfless, team-first type of player, Lightfoot talked most about what Monday's win meant for his team and very little about what it meant for him.
"I think it was big," he said. "We needed to get a win. The game against Texas Tech (last Saturday) taught us a lesson — it was a very humbling game — and I think we bounced back well."
The first notch in the junior forward's still-snug-for-now Big 12 championship belt was a strong post move on K-State senior Dean Wade, who picked up his second foul of the game and sent Lightfoot to the free-throw line.
Lightfoot, who finished with 9 points and 6 rebounds in 31 minutes, missed the free throw, but his work on that particular possession was done.
Allen Fieldhouse fed off of his heart and effort and, less than a minute later, freshman Quentin Grimes (12 points on 4-of-8 shooting, 3-of-6 from 3-point range) hit his second 3-pointer of the first half to put the Jayhawks (21-7 overall, 10-5 Big 12) up, 18-15.
Beyond that, Wade went to the bench with two fouls and remained out of sorts all over the floor until finally cracking the scoring column with a 3-pointer with 15:13 to play in the second half that pulled the Wildcats (21-7, 11-4) within 8 points.
Lightfoot wasn't done.
On K-State's second possession after his strong post move through Wade, the 6-foot-8, 215-pound Lightfoot did what he does best, digging in for position to take a charge on K-State's 6-9, 245-pound center. After initially appearing to have avoided the foul, the official near mid-court came racing in to wave off the basket and reward Lightfoot with another charge taken.
But, wait. Lightfoot still wasn't done. On KU's next possession, which followed the Under-8 media timeout, Lightfoot again scored on of a tough post-up to put Kansas ahead 20-15.
But, wait. You guessed it. Only this time, instead of doing his damage near the basket — Lightfoot also finished the game 4 blocks — the junior forward who grew up on this rivalry stepped into a rhythm 3-pointer at the top of the key that put Kansas ahead 23-17 and forced a K-State timeout.
"We said we were going to get on the floor more than we have all year long and we definitely protected the rim tonight," Self said. "Mitch had a huge role in that."
The junior from Gilbert, Ariz., played the final 14:38 of the first half and, in a crucial 4-minute stretch, tallied 8 points on 3-of-3 shooting, to go along with 1 block, 1 forced travel and all kinds of attitude and swagger.
"Yeah, I was feeling it," he admitted after the victory.
As if all of that wasn't already enough, Lightfoot started the second half, blocked three K-State shots in the first 2:08 — two of them on two different players on the same possession — and set off full-on party mode in the Allen Fieldhouse stands.
"We were embarrassed obviously from Saturday (loss at Texas Tech), and, gosh, showed a lot of pride," Self said. "Happy for our guys to have some success after Saturday. Our fans hung in there with us and they were terrific and our players did compete."
There were other big time Lightfoot plays in the second half, as well. These were of the more fundamentally sound variety, although both his leaning 3-pointer in front of the KU bench and one-handed alley-oop attempt midway through nearly fell.
A simple box out of Wade for a key defensive rebound on one end was followed by an offensive rebound and kick-out to Charlie Moore for a 3-pointer on the other end.
Self constantly talks about his guys worrying about the right things, playing the right way and for the right reasons, and Lightfoot did plenty of all three in KU's massive Big Monday win that pulled the team within a game of Kansas State in the Big 12 standings with three games to play.
Lightfoot was hardly alone in leading Kansas to victory in its second-to-last home game of the 2018-19 season.
Grimes got going, Devon Dotson set the pace and scored 16 points, Marcus Garrett (6 points, 4 rebounds, had a second straight strong outing after missing five games with an ankle injury and KU's leading scorer, Dedric Lawson, 18 points, 14 rebounds and 5 assists — his 17th double-double of the season — did all kinds of things Lightfoot couldn't do to keep K-State from having much of a prayer past the game's first 10 minutes.
Beyond that, K-State missed its first 10 shots of the second half taking a 10-of-22 first-half performance (45.5 percent) to 10-of-32 (31.2) in less than 5 minutes of game time.
As the Jayhawks battled their way to a double-digit lead for most of the second half, Lightfoot got his curtain call.
With a little more than 90 seconds to play, Lightfoot flapped his arms to the KU crowd, which responded with one final roar for the Jayhawks' strong effort just 48 hours after being bludgeoned by 29 points in Lubbock, Texas.
Lightfoot checked out for good with 47.8 seconds to play and received a roar that matched his play.
So the stage is set. Kansas stays within arm's length of the Wildcats in the Big 12 race and heads into the final three games on the regular season schedule with a chance that would not have been there if not for Monday's victory.
"There's a lot to play for, for a lot of reasons," Self said. "And we're still in the game. We can't afford another loss and we've got to have somebody beat K-State and Tech to have a chance, but the league's tough. Anything can happen. Now we've just got to go win out in order to have a shot."
KU is off the rest of the week and will play at Oklahoma State at 11 a.m. Saturday in Stillwater, Okla.