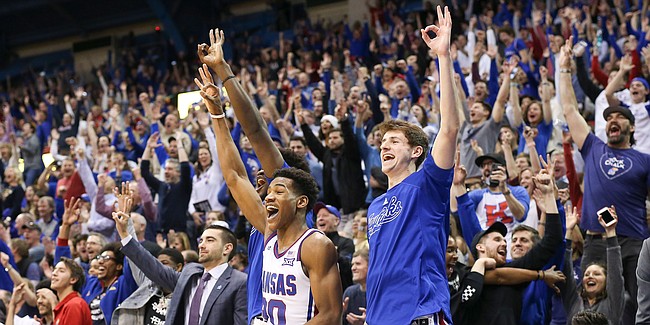 From Jan. 19 to Feb. 5, the Kansas men's basketball team, which opened the season ranked preseason No. 1 in the Associated Press Top 25, looked generally lost in dropping four games in a six-game stretch, with all four losses coming on the road.
Since then, the Jayhawks have responded with a three-game winning streak that has both restored hope and brought the Jayhawks back into the thick of the Big 12 Conference race heading into the final five games of the regular season.
While strength of schedule had something to do with each of those stretches — KU's 2-4 record in that subpar, six-game run came against teams with a combined winning percentage of .691 while the current three-game winning streak has come against teams sitting at .480 — the Jayhawks also have looked like a much different team during the past couple of weeks.
Their energy is up, the passion has returned and the positive vibes and genuine joy surrounding the program these days seem to be having a serious impact on how Kansas is playing.
"All the pieces are fitting," sophomore reserve K.J. Lawson said Saturday after scoring double figures for a second consecutive game. "Earlier in the season, we were trying to fit pieces where (they) didn't fit, and we kept trying and kept giving it a chance. Everybody's getting their role (now) and everybody's coming into that mindset that's the same on the court."
The Jayhawks, almost to a man, have a clear way of describing what Lawson referenced and the growth that has transpired during the past two weeks.
"I just think it's all coming together," junior leading scorer Dedric Lawson said after KU's home win over West Virginia last weekend. "Guys are playing more with a free mind, just playing to win and going out there and having fun. Guys are enjoying guys and (that's) carrying over from practice. I think that's been real big."
The phrase "it's all coming together" means different things to different people on this team, but to Kansas coach Bill Self, it has everything to do with the mental side of the game that can be so critical.
"I'd say as much as anything, (it's) attitudes," Self said Saturday. "We've never had bad attitudes, but there's a difference in having a great attitude and an average attitude. And our attitudes have been so positive and upbeat and everything."
And that's not just with the Kansas players.
Self said the energy from the home crowd, which has seen and contributed to two of the three KU victories during the current hot streak, also has played an important role in this team maturing and regaining its confidence.
"When we have struggled, I felt like the mood of our team and fan base was also down," Self said. "And that's normal. It doesn't take much to sink it or to turn it in a positive way. Of course, (the fans) want to see us win, but they want to see guys play hard and give unbelievable effort and play smart and play the right way, because they're such an educated group. They know what's acceptable and what's not. And I think they're starting to feel this is getting much better."
That connection, from improvement by the players on the floor to the enjoyment of the fans in the stands, is not uncommon at Allen Fieldhouse. But it is relatively new to so many key contributors on this year's team, many of whom are playing key roles at Kansas for the first time.
"Ochai (Agbaji has) come into his own, Devon (Dotson) keeps getting better and we're not having to go through Dedric every possession to score like we were earlier," Self added when discussing this team's recent growth. "I just think guys are just kind of coming into their own. And when you listen to the starting lineups and it's freshman, freshman, freshman, freshman, you would think it would take some time, especially when two of those freshmen didn't play until three weeks ago. So I think they're doing fine."
Their home record certainly reflects that. After all, despite already having have played six home games decided by single digits, which has kept the home crowd a little more on edge than is typical, the Jayhawks are still 14-0 at home this season, with two games still to play.
It's nearly been three full seasons since KU last went unbeaten at Allen Fieldhouse (2015-16), and the Jayhawks have finished perfect at home just six times in Self's first 15 seasons at Kansas.
"I just see it as being a family, just being a unit," freshman forward David McCormack said Saturday, explaining what "it's all coming together" meant to him. "Everybody has their own input, but once you hit adversity, you see who's truly a team and who's truly a family."
Added Self of the fun extending to places beyond the players on the bench: "It's imperative. If you're not having fun, I mean, why would you spend so much time working at your craft if you don't enjoy it? And what a better way to showcase your craft than to play in front of 16,000 people (who bring) energy in the building regardless of what's going on and (with) the weather. They show up to see you. I mean, you get so spoiled playing here. So I think it's imperative that we (have some fun)."