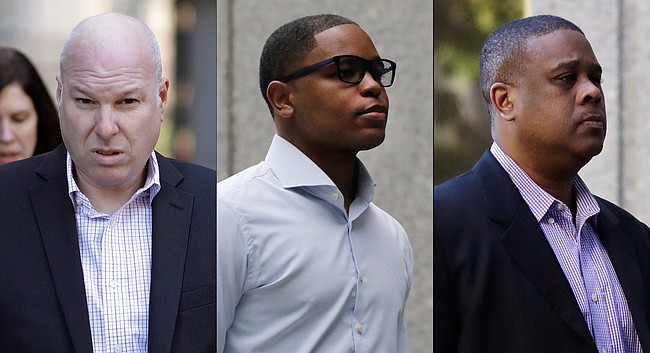 The three men who were convicted of fraud for their schemes in a college basketball recruiting scandal — which included the University of Kansas program — recently asked a judge to sentence them to probation rather than jail, according to documents filed in the U.S. District Court Southern District of New York.
In October, a jury found former Adidas executive James Gatto, business manager Christian Dawkins and amateur league director Merl Code all guilty of fraud.
The trial centered on whether the men's admitted effort to channel secret payments to the families of top recruits, luring them to major basketball programs sponsored by Adidas, including KU, was criminal. At stake was a fortune in revenue for the basketball programs and potential endorsement deals for the players if they went pro, both the prosecutors and defense have contended.
Attorneys for the three men filed separate court documents on Tuesday that requested they receive probation sentences rather than jail time. In all three filings, attorneys for the men argued they deserve mercy and leniency from the court, noting they did not intend to harm the universities but help them.
"Indeed, the government has never been able to show that Mr. Gatto sought to inflict pecuniary harm upon the universities," Gatto's attorneys wrote in his filing. "To the contrary, helping the Universities recruit successful basketball teams — which even the government's cooperating witnesses agree was the purpose of the alleged scheme — was understood by the scheme participants as one that could help the universities bring in tens of millions of dollars in annual revenue."
The three men are scheduled to be sentenced on March 5, according to the filings.
During the trial, testimony focused on KU coach Bill Self's relationship with government witness T.J. Gassnola. The former Adidas consultant testified that he paid the families of players to steer them to KU, including $90,000 to the mother of Billy Preston and $2,500 to the guardian of Silvio De Sousa. Gassnola testified that he never told Self about the payments. Gassnola is awaiting sentencing in a separate but related federal case.
The defense in the case argued that the coaches, including Self and KU assistant coach Kurtis Townsend, were aware of the payments to players. Despite the argument, the jury found all three men guilty of defrauding universities, including KU, by providing money to players' families to steer them toward certain programs.
Additionally, because of Gassnola's actions revealed in the trial, the NCAA announced earlier this month that De Sousa is ineligible to play for KU until the 2020-21 season. KU has said it is appealing that NCAA ruling.
— The Associated Press contributed to this report