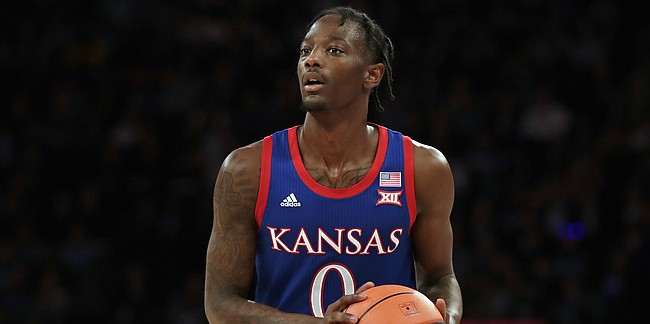 Junior guard Marcus Garrett has played 78 games in a Kansas uniform, likely has between 60-70 more before he's finished and already has earned some of the highest praise possible from KU coach Bill Self.
"To me, he's as fun a player as I've had to coach," Self said Thursday, when asked about Garrett's still-forming legacy at Kansas. "Here may be a little different, because you think of Tyrel Reed's legacy or Brady (Morningstar's) legacy or Travis (Releford's) legacy, you don't think of guys that scored a ton of points, you think of winners. And I think that will be his legacy, that he is a true winner."
Despite logging just 29 starts in his first 78 games — including all nine so far this season — Garrett has played key roles on all three of his Kansas teams, averaging 24 minutes per game for his career, including 20 a game during a freshman season that ended at the Final Four.
One of the biggest reasons for Self's early trust and high praise of the 6-foot-5 junior from Dallas' Skyline High is his defense. Garrett has long been known as one of the toughest matchups for opponents — no matter their position — and his steady demeanor, willingness to put the team above everything and knack for always seeming to make the right play have been easy to spot throughout his career.
But there's more to it than Garrett just always seeming to make the proper pass or be in the right spot on defense.
"I don't think I've had a better understanding with some player that I can think it, and I know he's thinking the same thing without saying it," Self said. "He sees it the same way I see it, and that's fun to coach."
That connection is not lost on Garrett's KU teammates, particularly the freshmen, who are still adjusting to college ball and continually picking up lessons from both Garrett and Self along the way.
"I would say Marcus is one of his favorite dudes of all time just because of the way Marcus plays and the way Marcus communicates," freshman guard Christian Braun said Thursday. "They're really close. And he values what Marcus says and Marcus' opinion. They click really well."
So well, in fact, that Braun said there have been several times already when Garrett has tipped him off to an adjustment or point of emphasis before the official word has come from Self.
"He can tell you what Coach Self is going to say before Coach Self even has to tell you," Braun said. "Marcus does a really good job helping everybody out, and you can tell that there's a lot of respect between the two. (Self) respects a lot of what Marcus says, and you can just tell that they both really feed off of each other."
Put another way, fellow KU freshman Tristan Enaruna said simply, "You always have a sense that they're on the same page."
Although cherished, this type of relationship is not altogether uncommon for Self. Throughout the years, he has had a handful of players with whom he has been in step on game night and in practices. But it's not a given that there will be one on every team or even in every recruiting class.
"I think Devonte' (Graham) was obviously close," Self said. "Josh (Jackson) may have been close. We've had other guys. Brady (Morningstar) was right there. Tyshawn (Taylor). I thought Tyshawn was ridiculously bright. He didn't always do what I was thinking, but I think he knew what I was thinking. Marcus actually tries to do what I'm thinking at least for the most part. Sherron (Collins) was that way, too. Sherron knew what the team needed."
Garrett does, too. And whether that's driving to the rim to get a tough bucket when the offense is stagnant, guarding the other team's best player, or grabbing a teammate and ripping into him when he's not executing the way he should, Garrett's willingness to do whatever is required offers a glimpse at what Self might be like if he were wearing a uniform instead of a suit.
"He just has a better feel for some of that than most players do," Self said. "He knows who to switch with, who not to switch with. He knows who should get the ball the next possession and where he should get it and if he's here I'm not going to throw it to him."
Those traits don't land Garrett on the cover of magazines or on SportsCenter's top plays. But they mean a lot to Self and Kansas. And they could lead to a long and lucrative career for Garrett after he leaves Lawrence.
"I think if he can tighten some things up, he could play this game for a long time, just getting in the right situation," Self said. "So I'm hopeful that this will springboard him into a nice (professional) career. All that remains to be seen. But I just love coaching him."
Self, Garrett and the second-ranked Jayhawks (8-1) return to the court at 4 p.m. Saturday, when they'll take on Kansas City at Sprint Center in Kansas City, Mo.