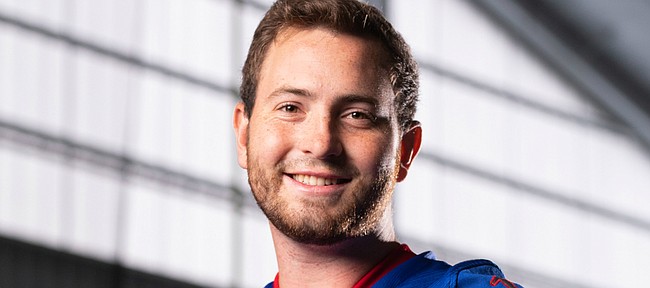 Coming into preseason camp, Kansas graduate transfer Manny Miles didn't really know what it would be like having his father, Les, coach him for the first time.
"And you respect him like he's going to run you after practice, even though he's your dad," Miles, a reserve quarterback and holder, said recently. "Then you get home and you think, 'Oh, he's going to turn into the dad now.' But the coaching never stops with him."
One day during camp, Manny said Les let the team off early, allowing for Manny and his brother, Ben, a sophomore fullback who also transferred to KU this summer, to go home. However, Manny was slightly surprised by what happened when the Miles family reconvened.
"The first thing he started doing was he started coaching my brother," Manny said. "I was like, 'Dad, come on man. Relax a little bit. Let us eat dinner.' But it's awesome."
Even though this will be the first season that Manny, who graduated from North Carolina in the spring, and Ben, who transferred from Texas A & M, have played on the same team ⁠— the brothers went to separate high schools back in Baton Rouge, La. — this won't be the first time they've competed with or against each other. 
"But every now and then, you'll forget that your brother's on the team, and you'll turn around to throw a pass or something and you'll see your brother's face," Manny said. "That's a cool experience, because for like a split second, you're just like, 'Wow.'
"But then you're with him all the time, too, so it kind of dies out after a little while."
Back when Les coached at LSU, Manny said the two sons would go with their father to summer and preseason camp at 6 a.m. each day. Manny and Ben would have to stay with dad all day, too, because their mom, Kathy, wouldn't pick them up.
Even at just 10 or 11 years old, Manny spent 10 to 12 hours a day at practice working out with the team and playing catch with his brother on the sidelines. 
"My dad's always had a family atmosphere around practice," Manny said. "I was playing ball on the side with my brother and whatever kids were over there. I was never a ball boy, because I wanted to throw the ball and play my own games on the side."
Manny emphasized the expectations that Les had for his players and how the long-time coach leads by example by working late hours in and out of season. That's something Manny has also gathered from the trio of coaches he's had during his college career.
Before KU, Manny spent four seasons at North Carolina under coach Larry Fedora and a month under Fedora's successor, Mack Brown, before transferring to KU to play for his dad. 
"There's a lot of different ways to run a college football program, and I think they're all pretty successful coaches," Manny said.
The success of Les, in Manny's eyes, comes from relating with his players and being able to connect as a mentor and leader.
"I think that, even though he's an older coach now, he's got a young heart," Manny said. "He comes in dancing to team meetings and he's not afraid to cut loose and hang out with a 17-year-old who just graduated high school and still not even ready for college football yet. He's still going to treat them like they're the starting quarterback that's a fifth-year senior and ready to go."
Now with the Jayhawks, Manny said it's been an easy transition to his next and final college football team. He said the group has been welcoming, especially the quarterbacks, who have reinvigorated his desire for competition. 
"The guys in the quarterback room are amazing, super competitive. When you get off the field, though, they're your best friends," Manny said. "And whoever goes out there week one, it doesn't matter whose name's on the back. It's been a collective effort as a whole room."
Especially given that the starting quarterback for Week 1 is still undecided.
"We made it very clear, very quickly: there will be no chance if you weren't (6-foot-2) or above, or if your last name or any name was Miles, you would have a better chance than if you didn't have a Miles associated to your name," Les joked.
But with that decision in the coaching staff's hands, Manny is just trying to enjoy his last season in college football while having the Miles family all in one place, even if that's been a difficult task.
"If we can ever get all four of them to show up at the same house, that would be good," Les said of his children.
For Manny, it's the little moments that matter, on the football field, or even back at the Miles family kitchen.
"Just like (Friday) morning, I got to go home, and my mom cooked us breakfast. I didn't get to do that, even at UNC," Manny said. "So, it's been pretty cool."