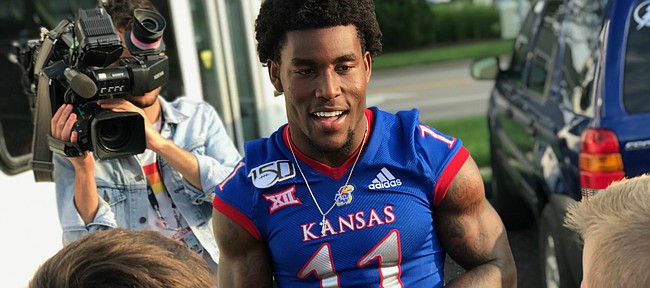 Prairie Village — Les Miles didn't have any grand announcements or bold declarations to make Friday night while addressing a large contingent of University of Kansas fans at the athletic department's annual KU Kickoff at Corinth Square.
Nor did the head football coach want to share any such information with a small group of reporters before he took the stage.
"They're still employing me if that's what you're asking," Miles joked, responding to a question about any updates he might have regarding starting jobs a little more than a week before the Jayhawks' season opener. "None to speak about at this point."
Miles and several KU players, including seniors Mike Lee, Bryce Torneden, Carter Stanley, Daylon Charlot, Khalil Herbert, Jelani Brown and Hakeem Adeniji, spent much of their time in the crowded shopping center parking lot meeting fans, posing for photos and signing autographs.
KU's newest head coach, the third one to appear and speak at the event since 2014, was glad to see so many fans out.
"It's nice to understand that these people expect us to do well," Miles said. "As we expect us to do well."
Though he didn't talk much football at the fan-friendly gathering, Miles did share with reporters that the Jayhawks have "been fortunate to have a very grueling camp, but we've been injury free. And that's important."
While briefly addressing the crowd at the pep rally, Miles said he and the players are looking forward to showing fans "how to play football the Kansas style."
According to the story Miles shared with the fans in attendance, he asked the players some time ago what kind of team they wanted to have. Miles said the Jayhawks replied that they want to change the culture of the program.
"There was one thing they left out," Miles added. "They need to play dominant football. And they know it. So I just want you to know, the guys that I enjoy taking the field with every day — certainly in the last month, every day — I can tell you, they're ready to play. They're looking forward to playing another team, not just their teammates. And they're looking forward to representing a great school, a great community, Lawrence, Kansas."