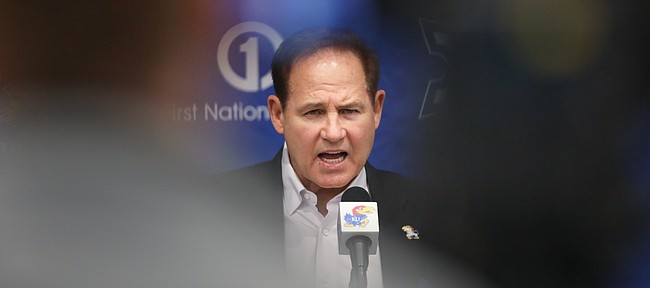 It doesn't matter where you look or who you talk to, everybody wants to make the upcoming Kansas football season about new head coach Les Miles.
Except Les Miles.
Nearly every time he has been available to the media since his hiring last November, Miles has been asked how his presence or his name or his know-how will impact the KU football program and get the Jayhawks back on the winning track.
And nearly every time, including most recently during a post-practice press conference Tuesday afternoon, Miles has made sure to point out that neither the 2019 season nor what's beyond will be about him.
"I've always kind of enjoyed me (being) taken out of the picture," he said Tuesday. "Because what I'm going to do is I'm going to set up an environment that allows players and coaches to play and coach and an environment that encourages success."
He went on to call that process an "excellent way to put that team together," and history shows that he probably has a point.
Thirteen times in his 17-year run as a head coach, Miles' teams have won eight or more games in a season. If we're taking Miles at his word, we imagine he utilized this same philosophy for all of them.
And he's doing it here at Kansas as well.
This is not to say Miles isn't embracing his role and his part in all of this — he is. After all, it's those eight letters and all of the history and past achievements associated with them that have people outside of a 100-mile radius paying attention to Kansas football in a different way.
All of a sudden, there's national interest in the Jayhawks.
Several national publications already have produced articles about Miles' new undertaking. And media giant ESPN already has jumped on board for two notable Miles projects — the first, part of the E:60 series, will air at 8 a.m. Sunday and the second, a Hard Knocks type of weekly KU football series titled "Miles To Go," debuts on Aug. 29 on Big 12 Now and ESPN+ and runs for 18 weeks.
Neither of those ideas would've seen the light of day without Miles.
So taking him entirely out of the equation is not exactly possible.
But credit the veteran coach for wanting this program to be run and built and held accountable by the dozens of players and coaches putting their sweat into it day in and day out.
"It's going to be the players, the assistant coaches and a team," Miles said. "And it's not going to be anything else. I'm complimented when people think too much of me and I'm mad when somebody thinks too little. But the reality is it's the team."
If Miles has it his way, that team will represent the wall full of principles and philosophies that are written on the east wall inside Mrkonic Auditorium where the players gather for film sessions and team meetings.
Dozens of buzzwords from things like disciplined and tough to national champions and 100% graduation adorn the gray wall that all eyes in the room are facing from their seats.
But the word that is written the largest on that wall is a made-up word that KU tweaked the spelling of to emphasize that team-first mentality.
"Dominant KUlture," it reads.
"Spelled exactly the right way," Miles noted. "That's the core."
"Now, to be a dominant football player, to come in and win games and have dominant experiences and historically be able to review your commitment to a team and (see) that how you played was dominant, that's what we need to do," Miles said. "And that's the center. That's the core. There's a lot to (it) and that's done by the players in this room, not me."
Added Miles when asked to assess the process of changing the vibe around Kansas football: "I think there's a feeling that they have changed since they walked in that door. And that wasn't me. That was their commitment to this room and this team."