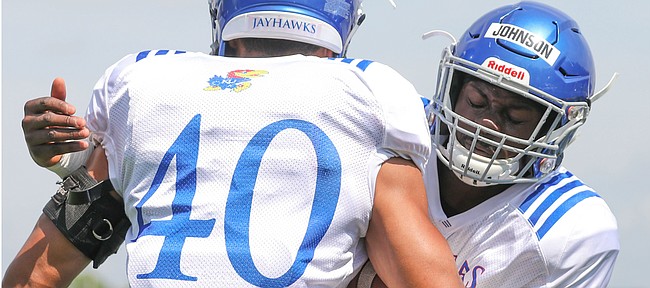 It has become a routine during preseason camp.
At the end of each day, Kansas inside linebackers Dru Prox and Kyron Johnson head back to their room. The two roommates then go over film together from that particular practice, and test each other on any new plays added by the coaching staff.
"I think that since we both have that drive and want to get better, I think that is what helps on the field so much together," Prox said.
After they are done dissecting film, the two juniors usually listen to music before getting ready for bed. Johnson forces them to listen to old-school music, though it is something that Prox has come to enjoy since sharing a hotel room with his fellow inside linebacker.
"It reminds me of being back home because that is what my mom listens to," Prox said. "Kyron will be singing, he likes to sing and stuff. It is real entertaining."
Replacing former linebackers Joe Dineen Jr. and Keith Loneker Jr. will be no easy task, particularly their chemistry. Long before the duo racked up 210 combined tackles last fall, they were both making plays on the same football field at Free State.
There is no replicating a lifelong bond like that, but Johnson and Prox have formed a budding friendship during preseason camp.
"Those guys, they have been working a lot together," said Mike Ekeler, who coaches the inside linebackers and special teams. "I think our room in general, we have phenomenal room. We have great chemistry, guys are pulling for each other."
It is a bond that didn't seem possible until recently. Johnson, who has moved around on KU's defense in his collegiate career, was pushed back inside after playing outside linebacker last year. Johnson added bulk this offseason, while also maintaining his esteemed speed.
"He's your prototypical inside linebacker," Ekeler said. "He runs a high 4.4, he's 235 pounds and he's got hips like butter. He's extremely smart, and he's very instinctive."
Prox, meanwhile, is preparing to embrace a bigger role than he's ever had at the collegiate level. Last season, Prox played in all 12 games on specials teams and linebacker. He finished with four tackles, including three stops in the game against Rutgers.
During the offseason, Prox has worked on making the correct reads and the new defensive scheme under defensive coordinator D.J. Eliot has helped with that. Prox said he's able to sit back and let the play develop, rather than just plugging a hole right away.
"You get a better feel for what it is going on," Prox said. "You can read the play faster when you are doing it that way. I think everybody likes the direction he has taken this defense."
Most of all, though, it helps when Prox can trust his fellow inside linebacker to make a play. For now, it appears that might be the case with KU's latest tandem.
"He's probably the best guy I had chemistry with since I have been here playing linebacker," Prox said. "Me and Kyron are a great match to be side-by-side."