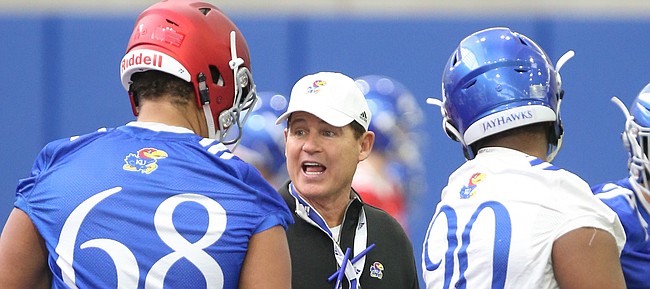 Any Kansas football fans who have looked forward to getting some behind the scenes glimpses of Les Miles and the Jayhawks through a new ESPN+ series will have to wait another week — and then binge watch the first four episodes before the season kicks off.
Miles appeared on ESPN's "Get Up" Wednesday morning in part so the network could reveal the previously announced 18-part series, called "Miles To Go," will be available to stream beginning on Aug. 29. That's when the first four episodes will go up on the Big 12 Now channel of the ESPN+ platform.
The documentary style series over which KU has some editorial control will have weekly installments after the first four episodes drop two days before the team's Aug. 31 opener versus Indiana State.
Miles joked while appearing on "Get Up" that he does have some rules for the film crew that has spent the past several months following him for the series.
"I'm not a guy that just has to worry about where the camera is. But I find myself many times telling them, 'Hey, listen. The restroom's off limits. There's things that I have to do that you don't need to be involved in,'" Miles cracked. "I certainly have enjoyed that crew. They're a fun group.
KU's head coach spoke a little more seriously on the topic at his Tuesday press conference, when he admitted he didn't know whether he would really let the video cameras capture everything that goes into running the program.
"Sometimes it's private," Miles said. "Sometimes it's about as private as getting out of your bed, right? I'll probably tell them no some. I already have. But they've got a lot of yeses, too."
For example, Miles said he "never" before had invited outsiders into one of his team's meeting rooms unless they were family members or part of the athletic department's academic personnel. That obviously changed when KU agreed to let JM Associates and Sport & Story, which is producing the show for ESPN+, behind the scenes.
"Because it is a private place," Miles explained. "It is where we say, 'You weren't good enough today and we need you to be good enough for us to win.'"
KU fans interested in the upcoming KU football series will need an ESPN+ subscription to watch "Miles To Go."
An ESPN spokesperson said the episodes will last approximately 18 to 20 minutes, generally, but the first four installments may be a bit longer.