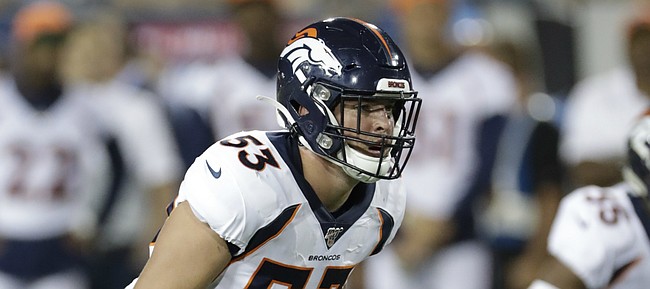 A hand injury he suffered during Denver's Monday Night Football exhibition earlier this week is expected to keep former Kansas linebacker Joe Dineen out for the remainder of the NFL's preseason.
While making his third appearance for the Broncos, Dineen broke a bone in his right hand.
Mike Kils, of 9 News, in Denver, reported Dineen, a Lawrence native and graduate of both Free State High and KU, broke the fourth metacarpal in his right hand and will be out two weeks.
Kils also reported that Dineen, who joined Denver as an undrafted free agent, "figures to be a strong practice squad candidate" for the team, despite the setback.
Dineen, who is scheduled to have surgery on Thursday, was coming off a productive preseason outing for the Broncos the previous week. Against Seattle Dineen recorded four solo tackles and assisted on four others.
Dineen is KU's all-time leader in career tackles for loss (45.5) and ranks fourth in the program's record books in total career tackles (386).