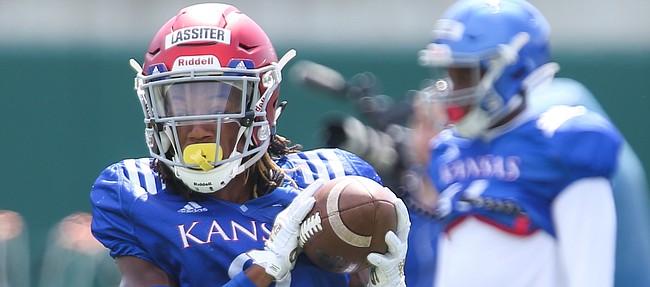 Even though the Kansas football team lost three of its top four receivers from 2018, with the departure of Steven Sims Jr., Jeremiah Booker and Kerr Johnson, junior wide receiver Kwamie Lassiter II doesn't see KU's receiving corps falling off this year.
"I learned a lot from them," Lassiter said. "The things they helped me with, I'm going to bring them up come game time."
Lassiter credits Sims as an influence who helped him out a lot.
"I still talk to him this day about releases, pretty much slowing down the game," Lassiter said of his discussions with Sims, who is trying to make an NFL roster with Washington after joining the team as an undrafted free agent.
In 2018, Sims led the Jayhawks with 53 receptions for 535 yards and four touchdowns. Booker (31 catches, 344 yards, five touchdowns) and Johnson (30 catches, 309 yards, two touchdowns) ranked third and fourth, respectively.
But Lassiter isn't alone in filling the hole left by those three departures. Senior Daylon Charlot and juniors Stephon Robinson and Andrew Parchment all have shown improvements and ability in fall camp so far, according to KU head coach Les Miles.
According to Robinson, the receivers also have adopted a "next man up" mentality.
"No matter who's on the field, they're going to compete to their best ability," Robinson said. "Whether it's Kwamie, Daylon, me, whoever it is, we don't really see a face. If you're on the field, we expect you to make a play."
These once young receivers turned veteran leaders "feed off each other" Robinson said, and have turned into a close-knit group over the offseason.
"So if somebody does a route we haven't done before, we're gonna try to copy what he does," Robinson said. "Take from each other's technique and add to our bag as a receiver."
Lassiter explained further, calling the group "real tight" and "a family."
"I can trust them," Lassiter said. "I can go out on the field and know I don't have to worry about any other side of the field, because they're going to make their plays when it comes to them.
"With all the help I'm getting, Andrew helps me, Stephon helps me, we help each other to get better on the field."
Both Robinson and Lassiter attributed the group's improvement and potential future success to the guidance of new wide receivers coach Emmett Jones.
"Coach Jones knows what he's doing," Lassiter said. "He's improved my game so much in this little amount of time. When the season comes, it'll all show."
The receivers also do individual and group cone drills before and during practice to work on specific techniques such as route releases, footwork and timing.
But Lassiter said there's also another important element that Jones "preaches" that doesn't involve receiving. 
"If you can't block, you can't play," Lassiter said. "I know I need to play so that's something I work on."
Lassiter said his run blocking is "getting there" and that he needs to be able to "open up holes for my brothers" in the running game. Lassiter also said the Jayhawks have the best running back group in the nation, led by sophomore Pooka Williams, junior Dom Williams and senior Khalil Herbert.
"Regardless of what we're doing I think we're going to do it right, make plays on the field," Lassiter said of the offense. "We're going to have the best receiving corps in the nation, too, so I think it's going to go smooth."
And that ideology is what Lassiter and his teammates think will help the receivers build on Sims' and Booker's previous successes, while also writing a new chapter in 2019.