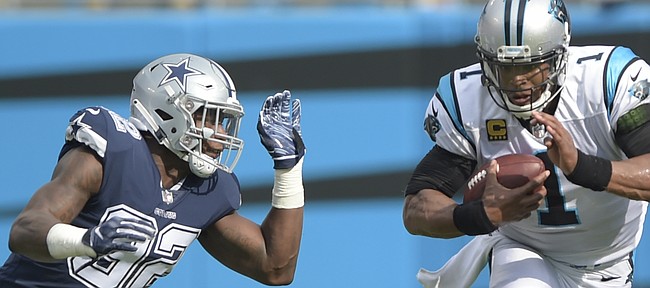 The first time Dorance Armstrong suited up for a football game and found himself wearing the iconic Dallas Cowboys' uniform instead of the crimson and blue of the University of Kansas, emotions hit the defensive end from Houston hard.
"Man, I was real nervous," Armstrong recalled earlier this week during an interview with reporters at the Cowboys' training camp, in Oxnard, Calif.
That was a year ago, when the 6-foot-4 pass rusher selected in the fourth round of the 2018 NFL Draft had no way of truly knowing what was in front of him.
"But now I'm ready. I feel like I actually have been here before, so I know what to expect," Armstrong said in a video interview posted to the Cowboys' website. "I know how to be prepared, and I'm ready for it."
Now listed at 255 pounds, Armstrong said he went through a lot of weight lifting and running leading up to training camp in order to join the team "in the best shape that I can be in."
And ahead of the Cowboys' preseason opener Saturday against San Francisco, Armstrong feels positive about his performances during camp practices and scrimmages.
"I've been able to show my talent, to be able to pass rush, and also to play the run," Armstrong said. "Just to be able to be in this defense and know how to play it. I think I've (moved) a level forward."
Due to some issues for the Dallas defensive line, Armstrong's career could get fast tracked if he impresses the team's coaches in the weeks ahead. The NFL earlier this week suspended Cowboys defensive end Robert Quinn for the first two games of the regular season for violating the league's ban on performance enhancers. Meanwhile, D-end DeMarcus Lawrence is reportedly out until the season begins after undergoing offseason shoulder surgery.
"The next person always has to be ready," Armstrong said of the possibility he will see increased reps as a result of the situations facing Quinn and Lawrence. "You never know when somebody's going to go down, and that's how I've always thought about it."
In 2018, Armstrong played in 15 games, started one and finished his debut year with eight solo tackles, five assists, one tackle for loss, three quarterback hits and was given credit for 0.5 sacks.
Now he figures to have his best chance since becoming a pro to prove himself worthy of a larger role.
"You have to. If not, next man up or somebody else will come in and get that spot," Armstrong said.
Armstrong said he wanted to show that the defensive line can play without any dropoff in production or effectiveness when he's on the field.
According to the Star-Telegram, Armstrong, in Lawrence's absence, has ascended to the first string at left D-end.
Cowboys head coach Jason Garrett told the Star-Telegram Armstrong continues to develop up front for the defense.
"He's come in and been a real determined guy right from the start," Garrett said. "You love his spirit. You love his attitude. You love his work ethic. And he's a sneaky good rusher. He doesn't overwhelm you with physical traits. But technically he's pretty good. He has a good little pass rush repertoire. We saw that in college. We saw that last year."
Including Armstrong and his Dallas teammate, undrafted rookie Daniel Wise, 11 former KU football players were on NFL rosters entering the first weekend of the preseason.
Jayhawks on NFL preseason rosters
Dorance Armstrong — DE, Dallas
Joe Dineen — LB, Denver
Chris Harris Jr. — CB, Denver
Bradley McDougald — FS, Seattle
Tyler Patmon — CB, Miami
Steven Sims Jr. — WR, Washington
Fish Smithson — S, Jacksonville
Aqib Talib — CB, Los Angeles Rams
Shakial Taylor — CB, Indianapolis
Daniel Wise — DE, Dallas
John Wirtel — LS, Chicago