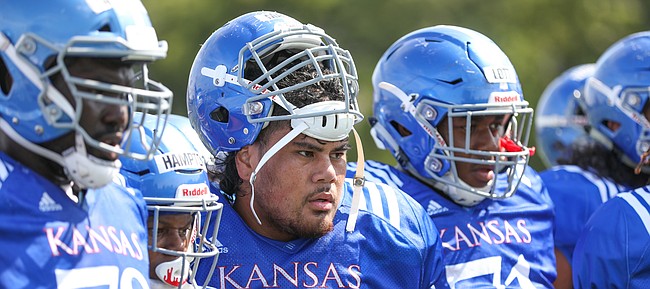 On an offensive line that Kansas football coach Les Miles professes to be encouraged by during the team's closed preseason practices, the man at the focal point of it all is catching the head coach's eye for the right reasons.
"Api Mane is probably a little bit ahead of the other group, the other guys," Miles said of the Jayhawks' likely starting center, when asked who has stood out on the interior of the O-line.
A 6-foot-3, 327-pound junior, Mane downplayed this week his probable position atop the depth chart, despite his head coach's public approval.
"Right now I'm fighting with all of them," Mane insisted regarding the center competition at camp, which also includes senior Andru Tovi and sophomores Joey Gilbertson and Jack Williams.
Photo Gallery
Kansas Football Practice-Friday Aug. 9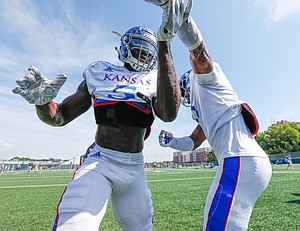 View a gallery of photos from Friday's Kansas football practice
"We all have our flaws and we all have our strengths," Mane shared. "Somehow they all equal out. It's still in the air. We're all competing, but also we're all pushing each other. We all want each other to get better when we mess up. The next person tells us what we did wrong and we build off each other. It's not a selfish thing. We're trying to get each other better."
The center's modesty may originate from being so new to the position. The previous coaching regime recruited Mane from the College of San Mateo (Calif.) as a guard, and that's where he played during his first season at KU. In 2018, Mane appeared as a reserve O-lineman in all three of the Jayhawks' nonconference games. But he ultimately sat the remainder of the year and took a redshirt, giving him two more years of eligibility at Kansas.
In the time since Miles, once an offensive lineman himself, took over and Luke Meadows became the program's new O-line coach, Mane said he has learned "a lot" from both of them.
"Switching from guard to center is a whole different story," Mane explained, adding that Meadows and Miles taught him numerous tricks of his physical trade. "My football IQ went up."
As his confidence in playing the position grows — Mane made the move to center ahead of spring practices earlier this year — and the constant teaching fosters his development, he admits not everything comes naturally.
The KU offensive playbook, for example, doesn't stick to shotgun formations. Sometimes the quarterbacks line up under center for snaps.
"For me, personally, I think it's harder. I'm just not used to being in that position," Mane said of mastering the more direct center to QB exchange. The trick, he said, is getting used to each QB's hand placement, which may be to the left or to the right of where another QB takes the snap. "I just have to adjust to what quarterback it is."
Even so, Miles reported earlier this week that snapping has not been much of an issue for Mane and the other centers.
"We had a pretty decent day today," Miles said Thursday, during his most recent session with reporters, "and then the back end of the practice we had a couple that hit the ground. But I don't know that it was the center's fault as much as maybe the quarterback's."
No one outside of the Kansas football program's facilities will know exactly how well Mane and the offensive line perform in team settings until the Jayhawks make their debut on Aug. 31 versus Indiana State. Their head coach seems upbeat about their chances.
"I think the offensive line is more physical and in better shape and really going to give us great play," Miles pronounced.
Individually, Mane, while maintaining an unpretentious tone about his own skill set during interviews, does confess to be developing well. The man likely to snap the ball for KU's offense also happens to think that the O-line has plenty more like him.
"There's other guys on the team who are just as good as me," Mane said. "Everybody's competing and there's still more time. Everybody's still developing and everybody still has a chance."