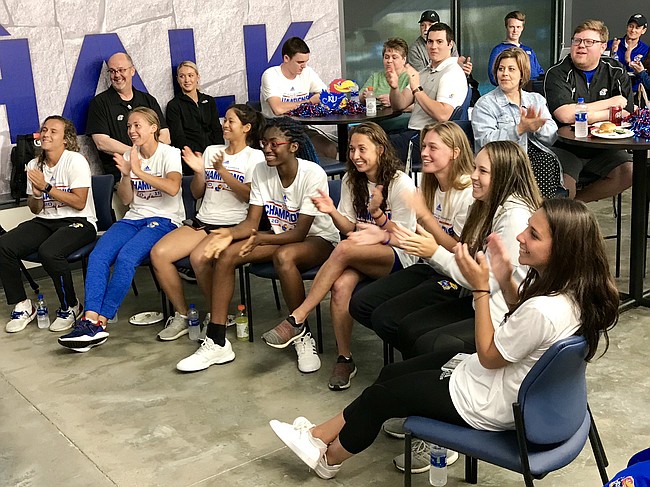 Huddled around a television set inside the Jayhawk Tennis Center on Monday night, the Kansas women's tennis team learned its NCAA Tournament fate and celebrated with flair.
The Jayhawks are in this year's field of 64 as the No. 14 overall seed.
They'll play host to Denver University at 1 p.m. Friday.
And freshman Malkia Ngounoue was not about to hide her emotions as the Jayhawks' name appeared on the screen during Monday's NCAA Tournament selection show, streamed live online.
As soon as the broadcaster said, "the Pioneers earn a trip to Lawrence, Kansas," Ngounoue jumped to her feet and did a short dance that was worthy of a spot on "America's Got Talent" and only surpassed by a performance of hers at an athletic department talent show earlier this school year.
"That's just something you see every day," senior singles star Anastasia Rychagova said after the show. "That was calm. It's usually a lot worse. I'm surprised she didn't jump through the TV."
Ngounoue was the only Jayhawk who stood up during the announcement, a sign that many of the seven others, who simply clapped and cheered, had been there before.
In fact, it was one year ago, when the Jayhawks (19-4) found themselves in a very similar position, facing DU in Round 1 of the NCAA Tournament at Pepperdine.
Kansas won that match and bowed out in the second round. And this year's group, which features a fully healthy Rychagova and one of the top-ranked doubles teams in the country, in seniors Janet Koch and Nina Khmelnitckaia, is hoping to stick around a little longer this time around.
First, though, all eyes are on Friday's first-round opponent.
"Denver's tough," KU coach Todd Chapman said. "That's who we played last year and it came down to the very last match. They're very well coached. And they're the best No. 4 seed in the whole tournament so we'll be tested right away."
Following their recent run to the Big 12 tournament title that included victories of top-seeded Texas and No. 2 seed Oklahoma State, the Jayhawks enjoyed an off week last weekend and watched from a distance as others around the country tried to jockey for position in this year's bracket. Five of the 10 Big 12 women's tennis programs are included in this year's field.
KU's wins over Texas and OSU, which also came at the shiny, new Jayhawk Tennis Center, powered Kansas to sure-fire host status for this weekend. And while that fact took some of the nerves and uneasiness out of Monday's bracket unveiling, the feeling of seeing their team included in the NCAA Tournament field for the fourth consecutive year — this time as one of the 16 host programs — was still a thrill for everyone involved.
"I had an idea we were going to host," a still-smiling Rychagova admitted. "But I was still waiting for them to actually say we were hosting."
Added Chapman of the honor of hosting: "I think it's just a reward. It's been a long time coming. We've worked for this and these are the things you work for when you build a program. Early on, it was for us to make the NCAA Tournament. And then the next goal is you want to win in the NCAA Tournament, which we were able to do last year. And then it becomes setting a goal of hopefully getting to host and play on your home courts."
The Jayhawks are unbeaten on their home turf this season and will be playing in their 11th NCAA Tournament. KU is 9-9 all-time in NCAA Tournament matches.
Well before Chapman's arrival six years ago, the Jayhawks had one other stretch of four consecutive trips to the NCAA Tournament, from 1996-99.
Florida and Boston College also are headed to Lawrence this weekend, with the winner of that match (4 p.m. Friday), facing the winner of the KU-DU match at 1 p.m. Saturday for a trip to the Sweet 16.
"We've talked about it. And we think this team's built for more than what we've accomplished (so far) this year," Chapman said. "And we have a lot of tennis left in us if we approach things the right way and compete to the best of our ability."