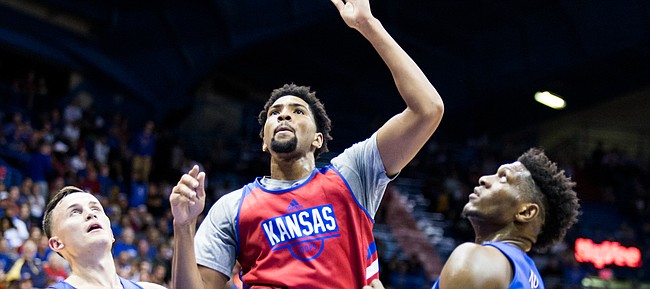 Let the record show that the first basket of the Late Night scrimmage on a team loaded with McDonald's All-Americans and high-profile players came from a freshman guard, who, until April, was not even ranked in the Top 150 by Rivals.com.
Oh, and sophomore K.J. Lawson, who led all 15 Jayhawks who played with 11 points on 4-of-6 shooting, was not even one of the first 10 players on the floor.
"The reason he wasn't one of the first 10 didn't have anything to do with where he is," KU coach Bill Self clarified after the scrimmage. "I decided to play him as a big so we had three bigs on each team."
It may be a while before the 2018-19 Kansas basketball team comes together and all of the Jayhawks' talented pieces find their places. And there might be more than a few peaks and valleys along the way. But this team, from the outset, has the look of a group that could find a different way to surprise people on any given night.
"A lot of people really don't know us," admitted Agbaji, referencing a Kansas team that features more newcomers (nine) than players returning with any kind of experience at Kansas (six) following the Crimson squad's 46-37 victory over the Blue team on Friday night. "We're really deep. We have a lot of talent and we're really big this year and it's just cool to learn from these guys every single day and work hard with them."
On a night filled with juice in the building, jumping in the bleachers and rap star 2 Chainz rocking the microphone for a whopping 10 songs and 35 minutes — which prompted KU coach Bill Self to say, "I actually thought he was pretty cool. He came in and talked to our team beforehand and he obviously likes ball. We'll get him back out here for a game." — it was Agbaji who scored the first actual basket of Late Night 2018 on an alley-oop pass from Lagerald Vick to open up the scoring.
Sure, the Blue squad lost to the Crimson team by 9, but the final score was of no concern to anyone on either side, save for a couple of days worth of bragging rights for victorious Jayhawks Marcus Garrett, Dedric Lawson, Quentin Girmes, Devon Dotson, Udoka Azubuike, K.J. Lawson and Elijah Elliott.
"I expected a big crowd, for it to be really hype, loud. And that's what I got," an always-smiling Agbaji said after the scrimmage. "But it was fun. Good experience."
The freshman from Oak Park High in Kansas City, Mo., finished with 7 points in 15 minutes for the Blue team and consistently showed off his explosive athleticism and physical frame while battling with his teammates.
K.J. Lawson, meanwhile, showed that both his confidence and shooting touch were right where they needed to be entering the season, cashing 3 of the 4 3-pointers he shot and finishing with 11 points, four rebounds, one assist and one steal in just nine minutes of the 20-minute, running-clock scrimmage.
"I think the team will hopefully have a little depth and different guys can step up and give us something that, maybe, we don't expect," Self said after the game. "And K.J.'s certainly capable of doing that."
Somewhat expectedly, Self was less than pleased with the overall look of the scrimmage, which, throughout the years, has become as much a showcase event as an actual indicator of how anything will play out.
But if there was one area that made him smile, it was the team's overall 3-point percentage of .413 after a 12-of-29 shooting night from the outside.
"I thought our guys, even though it was bad ball, without question — awful — at least made a couple of shots," Self said. "So if there's a positive out of it ... We were 12 of 29 from 3 (and) that's pretty good for this group because we haven't shot it very well."
After three consecutive days of practice, counting Friday's Late Night fun, the Jayhawks will take Saturday off before jumping back in on Sunday for another three-day stretch of practices, when the real work begins.
After years of Perry Ellises, Frank Masons, Josh Jacksons and Devonte' Grahams, both leading the way and representing the face of the KU program, it was not even entirely clear which Jayhawk drew the loudest cheer during the Late Night introductions. Senior Lagerald Vick, junior Udoka Azubuike and freshman Quentin Grimes seemed to be the top three.
"It feels so much younger and not a whole lot of experience," Vick said Friday after dropping in 10 points on 4-of-7 shooting in 18 minutes for the Blue team. "It definitely feels different."
CRIMSON (46)
Marcus Garrett 1-3 0-0 3, Dedric Lawson 4-8 0-0 8, Quentin Grimes 3-7 0-0 7, Devon Dotson 2-4 0-0 4, Udoka Azubuike 3-6 1-2 7, Elijah Elliott 2-2 0-0 6, K.J. Lawson 4-6 0-0 11. Totals: 19-36 1-2 46.
BLUE (37)
Charlie Moore 3-6 0-0 7, Silvio De Sousa 4-4 0-0 8, Lagerald Vick 4-7 0-0 10, Ochai Agbaji 3-4 0-0 7, Mitch Lightfoot 1-5 0-0 2, Chris Teahan 0-2 0-0 0, Garrett Luinstra 1-1 0-0 3, David McCormack 0-1 0-0 0. Totals: 16-30 0-0 37.
---
• Check out Matt Tait's latest Tale of the Tait blog for a complete, player-by-player breakdown of every Jayhawk during Friday's Late Night scrimmage.