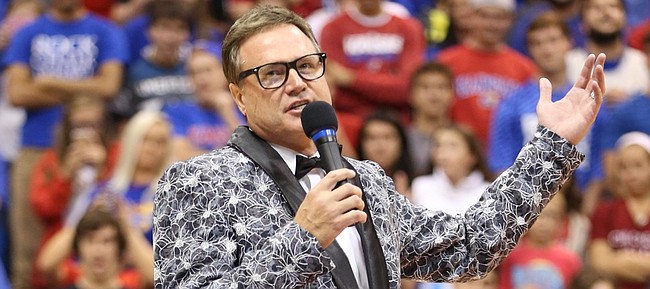 For a coaching staff that features four assistants who have spent time at more than a dozen different Division I basketball programs, veteran KU assistant Norm Roberts' memories of his first experience with KU's Late Night in the Phog sure stand out.
"I'm blown away by it every year," said Roberts in a recent interview with the Journal-World. "But my first year, I just remember I kept saying, 'Is anybody going to come?' And they were like, 'Will you just relax? Yes. They'll come.'"
Come they did. Just like they do every year. And Roberts has a clear memory of the moment he realized they would.
"Earlier that day, I was on my way to workout and I walked by the court and there was no one there," Roberts recalled. "And then, when I came back, I remember walking from our offices and making the left to go into the arena and feeling this huge rush of air, heat, and I was like, 'What the heck?' Then, when I opened the door, you could feel it even more and there had to be 10,000 in there already. I just went, 'Oh my God, are you kidding me?' I had no idea it would be like that."
That was back in 2003, when Roberts and KU coach Bill Self were brand-new to town. And in the 15 years since their arrival, Late Night — which will unveil its 34th edition on Friday night — has not taken a step back in any way, shape or form. If anything, it has become an even bigger event than it was when they arrived.
"Late Night has definitely evolved over the years," Roberts said. "It started off with the skits being more funny and goofy for the people to see a different side to the players. And now, the skits are trying to be more entertaining, as well as funny, while also keeping with the tradition of Kansas.
"What I think's cool about Kansas is, even though they've done that, they've still kept the tradition of it being a celebration of the beginning of a new season and always kept the theme of history and people who have come before you, and why this place is what it is as an important part of the event. And that's really cool. It really is just a celebration of Kansas basketball."
Other places do it, but few even come close to matching the way the Jayhawks kick off each season.
During his six years as the head coach at St. John's, Roberts said they did something to mark the beginning of a new season, but he admitted that it was more of a fan appreciation day for the players and the student body.
Beyond that, Roberts can't recall if anything like Late Night was done at all during his days as an assistant to Billy Donovan at Florida.
And then there's Self, who on Wednesday recalled a Late Night-type atmosphere during his three seasons at Illinois dubbed Midnight Madness. But even that took place in the Illini's 4,000-seat volleyball arena, not in front of a packed house in the basketball team's main arena.
"There's not many schools who actually do it, especially at the magnitude that we do it," Roberts said of Late Night. "If you can't do it up big, then it's not really worth doing at all."
This year's event is slated to begin at 6:30 Friday and will feature all of the bells and whistles of Late Nights past, with a 2018 touch on all of it.
The fun begins at 11 a.m. with the Phog Fest outside of Allen Fieldhouse and spills inside later in the day. The skits are mostly pre-recorded videos now. The dancing by the women's and men's basketball teams is short and sweet. And Grammy-winning rapper 2 Chainz will be this year's nonbasketball entertainment, much to the delight of KU students everywhere, and even Self.
"It'll be a fun night," Self said. "And one of my all-time favorite rappers will be here."
Asked if he was familiar with much of 2 Chainz's songs, Self smiled and said, "Basically, at this point in time, they're all tied for first and probably all tied for last."
As for Friday's grand finale, that's still the scrimmage by the men's basketball team. And this year, more than most, the pick-up style showdown figures to have an elevated level of competitiveness, given the amount of depth and talent on the 2018-19 Kansas roster.
Sophomore guard Marcus Garrett even went as far as to say that he thought the Jayhawks might play a little defense during the typically offense-only scrimmage. And freshman forward David McCormack, who classified himself as "ecstatic" about the arrival of Late Night, backed Garrett's claim.
"I feel the same way as Marcus," McCormack said. "We're a very competitive group. In practice, we get after it, so Late Night's not going to be any different. We're just still going to compete against each other and push each other."
As for how the teams will be divided for the scrimmage, Self had not decided that as of Wednesday.
"I don't have any idea," he said. "It'll be a 20-minute running clock. It's not going to be great. It'll be awful, like always. But it should be better than maybe some past years, just because we've at least had a little bit of practice. But when you've got four guys trying to do it the right way and about six who still think it's for the fans and the parents and the people to see how far out you can shoot and stuff like that, it probably won't look great."
Admission is free. Doors will open at 4:30 p.m. for KU students and 5 p.m. for the general public, and the event will be broadcast live on Jayhawk TV and ESPN+.
Allen Fieldhouse doors will be closed when the arena reaches capacity. Should that happen, fans can watch the entire event on the video board at KU's baseball facility, Hoglund Ballpark, just south of Allen Fieldhouse.