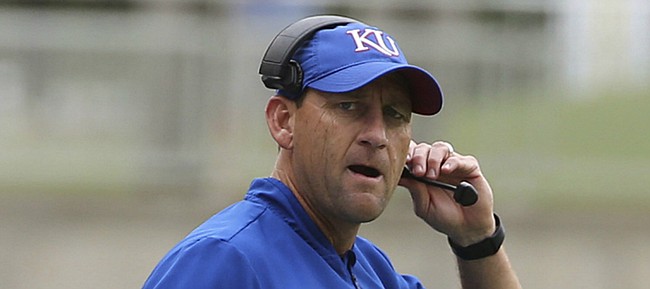 According to Kansas football coach David Beaty "there was a lot to learn" from his team's Big 12-opening loss at Baylor this past weekend.
Some of those lessons materialized as the Jayhawks handled timeouts.
Asked Tuesday afternoon during his weekly press conference to address what all led to some of KU's timeouts, Beaty said he and his staff have to "clean up" some issues.
"We're playing a lot of guys on the defensive line, and when you do that, you're rolling people in and out," Beaty began. "If you're not ultra, ultra organized, and particularly in situations, particularly if they're going for it on fourth or they're not, you've got to make sure you've got the right people in. And that reared its head in the fourth quarter last week, and that was unfortunate."
The fourth-year KU coach then said he and his assistants have a plan to address the timing in those situations.
"That won't happen again. But we have to do a better job of managing it, obviously, and I thought we really did a good job of progressing from the first game offensively and managing that," Beaty added of timeout usage.
In total at Baylor, KU used five of its allotted six timeouts. Here they are in chronological order:
• 2:38 left, 1st quarter — KU had the ball on 4th and 22 at the Baylor 31-yard line following a sack of quarterback Peyton Bender. After Beaty and the staff sent out Gabriel Rui for a 48-yard field goal, the coach used a timeout. Rui would miss the kick wide right.
• 3:47 left, 2nd quarter — Another offensive timeout, this one came on 3rd and 8 at KU's own 27-yard line following an incomplete pass by Miles Kendrick. On the next play Kendrick was sacked for an 11-yard loss, leading to one of KU's seven punts.
• 2:27 left, 3rd quarter — KU used a timeout on defense to open a Baylor drive. Beaty clarified on Tuesday that he called it because on the previous play, a 4th-and-9 incompletion from Bender to Stephon Robinson, it appeared KU's receiver suffered a helmet-to-helmet hit. Beaty thought a review of the play during the timeout might have led to a targeting penalty and a first down.
"I had a pretty good view of it down there, and I certainly — I certainly defer to our officials, and they have a really good view of it up there," Beaty said. "It was probably a hard one to call, I would imagine. But from where I was sitting, I thought I saw the guy drop his head and make contact with Stephon, I believe, right there on the side of the helmet. So we felt like we had a good case there. They were about to — we were in a situation where we didn't want them to snap that ball too quick. We wanted them to get a look at it because we were down three scores at that point, and we really needed to extend that drive. That was a big, big deal for us, so we felt like that was well used there. Unfortunately it didn't go our way."
• 7:43 left, 4th quarter — Baylor had the ball at its own 38-yard line after Osaze Ogbebor and KeyShaun Simmons sacked QB Charlie Brewer. After KU's defensive timeout Brewer completed a pass to Denzel Mims for 19 yards and a first down.
• 5:17 left, 4th quarter — Later that same drive KU used its final timeout on defense with Baylor facing 4th and 8 on KU's 41-yard line. The Jayhawks had 12 players on the field. Drew Galitz punted following the timeout.
Beaty stressed KU has to have better communication on the sidelines.
"There's no excuse. You've got to get that taken care of, and we just didn't handle it," Beaty said. "(Defensive coordinator Clint) Bowen had to take two timeouts the other day, and he had to take them because if we had not, we would have had to stay on the field, right, and that's a combination of all of us that are involved in that, players included. There's a shared responsibility there, and we've got to get it managed better."
No update on Kendrick
Regarding sophomore Kendrick, who suffered a shoulder injury during the second half of the loss at Baylor, Beaty said Tuesday, just like he did on Monday, that the QB is day-to-day with his recovery.
"So that's all I'm going to say about him. He's progressing nicely, though, so hopefully we can get him back as soon as we possibly can," the coach added.
Thomas practicing
A starter at safety in each of KU's first three games, sophomore Ricky Thomas missed the loss in Waco, Texas, due to an unspecified injury.
Beaty said he didn't yet have a clear picture of Thomas' potential availability for this coming Saturday's home game against Oklahoma State.
"He's back at practice," Beaty noted of Thomas. "Hopefully we can get him full speed. We'll see how that goes."
A transfer from Blinn College (Texas), the 5-foot-10, 185-pound Thomas has made six total tackles and an interception.
Junior Hasan Defense started in his place at BU, making eight total tackles and a tackle for loss.