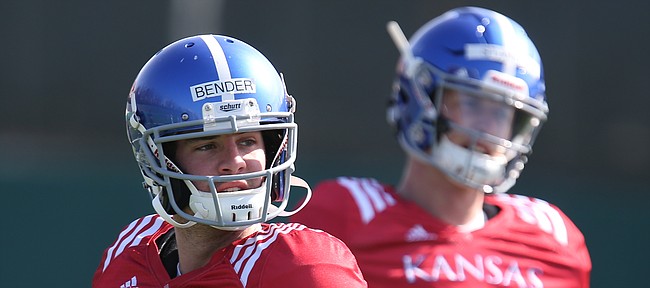 Carter Stanley's nameplate was on an empty table in the front of the Gridiron Room, where select Kansas football players do media interviews every Tuesday afternoon. The empty table reserved for Peyton Bender was tucked in the left corner of the room.
Neither player ever showed, a sure sign that something's brewing at quarterback.
It was eerily similar to when Stanley broke a bone in his hand before last season and head coach David Beaty was trying to keep it a secret because he wanted SEMO to have to prepare for both Bender and Stanley, whose name plate sat at an empty table in the front of the room when that failed misinformation campaign unfolded. Beaty tried to say he hadn't decided between Bender and Carter back then, after we had reported that Stanley couldn't throw because of the hand injury.
This time, the nameplate antics appeared more innocent, but might have been intended to keep Oklahoma State coach Mike Gundy guessing.
All three quarterbacks, including Miles Kendrick, were requested by the media. Kendrick, out with a shoulder injury, is listed as day to day, and injured players generally aren't made available to the media, so that explains that one. My guess is he won't be available this week because, if he were, Kansas would want to make that known to try to get the Cowboys to waste time preparing for him and would have had him at the press conference, showing off his healthy shoulder.
My guess is the quarterback who gives the defense the most to think about will be the one who gets the most snaps Saturday, and he happens to be the QB who has received the fewest snaps of the three so far.
The third-stringer the first four weeks, Stanley is close to as effective a runner as Kendrick and nearly as good a passer as Bender. Kendrick doesn't appear to be nearly as comfortable throwing as running, and Bender certainly isn't anywhere near as well-equipped to run as he is to pass.
Since Stanley is equally comfortable with running and throwing, then, in theory at least, he would give the Oklahoma State defense more things to keep an eye on.
The two QBs who played high school football in Florida have had roughly the same level of statistical success during their KU careers. Stanley has averaged 6.1 yards per pass attempt and has a net positive rushing total of 268 yards. On the down side, he has thrown 10 touchdown passes and 13 interceptions. Bender has averaged 5.7 yards per throw, has a net rushing total of negative-143 yards and has thrown 17 touchdowns and 14 interceptions. Those numbers tell us what we already knew, which is that Bender's a better passer, Stanley a better runner.
Face it, for KU football, the more things change, the more things stay the same, which is another way of saying things change constantly, especially at quarterback.
So back to comparing quarterbacks we go. Stanley is 1-7 as a starter, all against Big 12 competition.
As a starter, Bender is 3-9 overall, 0-6 vs. Big 12 schools.
Bender has beaten SEMO, Central Michigan and Rutgers. Stanley beat Texas.
So now, let's look at how the team performs in Big 12 play under Jordan Webb and compare it to Quinn Mecham. I'm sorry, I meant to type Dayne Crist and Michael Cummings. No, I didn't either. I meant Jake Heaps and Montell Cozart. No, wait, not that. Ryan Willis and Cozart. Nope, not that either.
Scratch all that. Let's look at how the team performs in starts made by Bender and by Stanley in Big 12 play, which is another way of saying when the Kansas offensive line is at a big disadvantage against talented, huge, fast defensive lines.
Average score in Stanley's Big 12 starts: Opponent 34, Kansas 18. Average score in Bender's Big 12 starts: Opponent 49, Kansas 13.
Why might Stanley's margin (16 points) be significantly smaller than Bender's (36 points)? KU has trouble keeping Big 12 defenders out of the backfield, which puts a premium on mobility.
After calculating this difference, I asked Beaty if maybe there is something we don't see in Stanley that made him the third-string quarterback, such as he calls too many audibles or doesn't trust the offense or whatever? Beaty sidestepped the question.
"I will say this: The race between those guys was actually really close, and the reason it was really close between all of them was that they really studied a lot," Beaty said. "They did a nice job. I attribute the reason that we've done a better job taking care of the ball at that position is because they have studied a bunch. They understand defenses now. They're not putting the ball in jeopardy as much. And that's really, really critical."
Center Alex Fontana, who made the majority of the snaps even though Andru Tovi started, has not encountered any troubles snapping since having troubles against Nicholls State. In other ways, it was a rough day in Waco for the offensive line.
Asked how he thought Stanley performed during his stint late in the Baylor game, Fontana said: "I feel like Carter played pretty well. I feel like all three of our quarterbacks came into that game prepared, but I feel like Carter handled himself really well. Moving forward this week, whether Carter or Peyton will be the starter, I feel like it's going to be a competitive week in the quarterback room and that will help our offense get a lot better."
Stanley might start, but if he doesn't, my guess is he'll get more snaps than Bender.