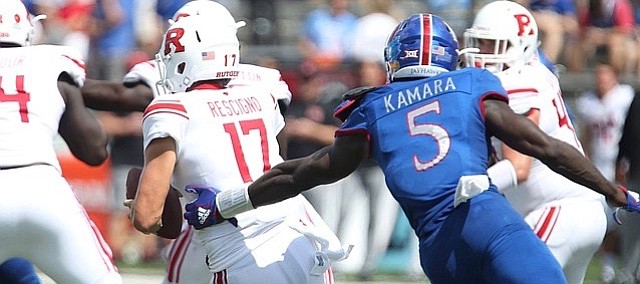 Kansas junior defensive end Azur Kamara remembers well the day he registered for his freshman year at Central High in Phoenix, a school known more for basketball than football.
The memory is just as clear for Central's head football coach, John Clanton, a nose tackle for Frank Solich's first four Nebraska teams.
"I remember walking in and seeing this tall, skinny kid," Clanton said. "I thought, 'Here we go again. Another basketball kid.'"
As in, another ideal football prospect who won't ever wear pads.
Kamara: "The football coach said, 'Do you play basketball?' And I said, 'No, soccer.' And he said, 'You're way too tall to play soccer. I'm the head football coach here. Why don't you play football? You'll never know if you're going to be good unless you come out and try it. I think you should come out for football and see if you like it.'"
Remembered Clanton during a telephone interview: "His father was with him and said, 'He's right. You should try it.' And Azur said, 'OK, I will.'"
So he did. And it's paying for his education. Kamara arrived at Kansas later than most teammates for fall camp after finishing his academic requirements at Arizona Western Community College.
Kamara spent the first nine years of his life in Ivory Coast, Africa, and lived with an uncle for the latter half of those years.
"My mother had moved to the United States five years before I did," Kamara said. "First time I got to see my mother in five years. It was an amazing feeling."
He also was reunited with two older sisters who had been living with other relatives in Ivory Coast and moved to Phoenix when he did.
His mother and stepfather had come here as refugees from the first Ivorian Civil War, and Azur and his two older sisters moved to Phoenix before the second Ivorian Civil War broke out. Kamara said that, because his mother was limited to bringing three children, he has two sisters and two brothers who remain in Ivory Coast.
Before taking up football, Kamara's dream was to return to Ivory Coast to become a soccer player for the national team. He said when he walked onto the field for his first high school football practice, he didn't have the first clue how to watch the sport, much less play it.
"When I watched a game on TV, I was so confused," said Kamara, who also speaks French and Mandingo. "My friends tried to explain it to me, but I stayed confused."
He doesn't remember one of the teams from that game, but quickly fell for the other one.
"It was the Packers, which is why the Packers are my favorite team because they were the first team I watched," he said. "Aaron Rodgers. I was like, damn, this guy is good, so ever since then, I've been a big fan of the Packers."
Kamara didn't need to know anything about the sport to know Rodgers played it better than anyone else on his TV. Even through blurry football vision, that much was clear.
"I didn't know what was going on until I actually came out and started playing," Kamara said. "That's when I started picking up stuff."
Clanton remembers those days.
"Raw?" Clanton echoed a question. "Oh my God! You had to teach him every aspect of football. But in a way, it was good because we were able to teach him the right way."
No bad habits needed to be broken because Kamara didn't have any football knowledge or experience, so how could he have any habits?
"Really raw, but his natural athleticism carried him," Clanton said. "We had to teach him how to get in a stance. He had the wrong foot forward. He would be hunchbacked, awkward. Then he'd watch a game on TV and come back with a long four-point stance and his first step he would stand straight up."
A long-armed, 6-foot-4, 225-pound athlete, Kamara has the ideal defensive end body type and has a frame that looks as if it will be able to take on the weight he'll need to become stronger.
His speed and agility stand out, and although he hasn't yet logged a sack, he comes closer by the week and had a tackle for loss, a quarterback hurry and a pass breakup in Saturday's 55-14 rout of Rutgers at David Booth Kansas Memorial Stadium. He has the look of a football player with an extremely high ceiling.
During Saturday's game, Artur Sitkowski, the visiting team's freshman quarterback, threw a pass right to Kamara. Instead of catching it, he batted it to the ground.
The reason why he made that unusual mistake possibly could be traced to the same source as why a player who out of junior college had scholarship offers from, among others, Florida State, Nebraska, Oklahoma State and Ole Miss would accept one to play football for a Kansas program that had gone 3-33 in the past three seasons.
He didn't grow up watching football, but does practice batting down passes every day. Batting the ball down is what came to mind in that instance, not slowing down to catch the football. And when weighing scholarship offers, he wasn't hardwired as to the relative prestige levels of various football programs. He just wanted to attend the school and join the football program that felt right to him and his parents. How refreshing.
"I feel like the name of the school wasn't important to me," Kamara said. "I feel like that's not the main thing. The most important thing to me is the coaching staff. When I took a visit here and walked around campus, my parents loved it and I loved it."
Nothing has changed in that regard.
"I love it here," he said. "I'm glad I chose this school. I wanted to be a part of something special, which is happening right now. I'm really grateful to be part of this program."
He laughed when asked about breaking up his own interception.
"I don't know what I was thinking," Kamara said. "I actually batted it down. That won't happen again. Next time, I'm going to catch it. I don't know what was going through my mind. It came too fast. I just kind of batted it down. That's what we practice, batting the ball down."
If his improvement comes as hastily as it did in high school, Clanton predicts big things from Kamara.
"One thing about Azur, he has that instinct where he goes 100 mph all the time," Clanton said. "He has things you can't coach. He tackles really well. He runs really well, moves really well, has the right body structure. And he's relentless. Those are the things you can't coach. You really can't teach a kid to play hard. It's what's inside them. Do they have the passion or don't they? Azur has it."
It didn't take long for Kamara to turn passion and potential into production.
"He came into his body really nicely sophomore year,f and the fourth game of season, he blew his knee out," Clanton said. "He missed the rest of his sophomore season. Junior season, last four games, he was just dominant, extremely dominant. Senior year, he set an Arizona state record with 25-and-a-half sacks."
Kamara's late start in the game and his knee injury that interrupted his progress contributed to the level at which he was recruited not keeping pace with his potential, so he headed to Arizona Western.
Kamara had 12.5 sacks, three forced fumbles, a pass breakup and a blocked kick in helping the Matadors make it to the 2017 NJCAA national title game.
"He's a guy that got here late in the summer, and that hurts your development a little bit," Kansas coach David Beaty said. "But I think he's added 10 or 12 pounds, something like that, already. And he's a guy that, really, we need him to come on for us. … He's very talented, and I can see him improving week to week. Hopefully, he'll continue that process."
As for Kamara's exact age, of that he said he is not certain.
"When you're born in Ivory Coast, we don't have paperwork," he said. "Some moms remember the dates and some don't. My mom didn't remember. So on the paperwork here, my mom, my stepdad, one of my sisters and me all have January 1 birthdates."
So when does he celebrate his birthday?
"Every day," he said with a warm smile he flashes liberally. "I'm grateful to be here."