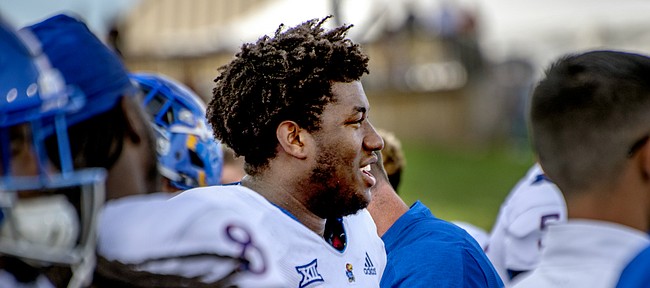 When Daniel Wise hurt an ankle badly enough to limp off the field this past Saturday during the Kansas football team's home game against Rutgers, the redshirt senior defensive tackle was adamant about checking back in.
After some evaluation, halftime rest and a little convincing of his coaches, they caved.
"All right, give it a shot," Wise related of the response he got.
The experiment lasted all of one snap in the third quarter, as Wise moved slowly by his standards and immediately checked himself out.
"I went out there and it didn't go as smoothly as I imagined," the grinning senior captain said. "But it was all good. The team was already doing well, the defensive line was getting the young guys some more experience, so it was all good."
KU head coach David Beaty described Wise's injury Tuesday as "not severe at all," and deemed the 6-foot-3, 290-pound defensive lineman "good to go," ahead of the Jayhawks' upcoming trip to Baylor.
"He'll be back at practice (Tuesday) and (Wednesday)," Beaty said, characterizing Wise's mostly inactive second half against Rutgers as a "precautionary deal."
Wise, who finished the victory with one tackle for loss and a quarterback hurry, hurt his ankle on a RU touchdown with a little more than three minutes remaining in the first half.
"It was just a little sprain and bruised up," Wise said. "But it's all good now."
As he watched his fellow defensive linemen play without him in the second half, Wise liked their consistency.
"Nobody was letting up regardless of the score," he said. "We say don't even look at the score, regardless if we're up or down. Just keep playing as hard as we were in the first quarter, first snap."
Along the D-line, senior KeyShaun Simmons led with three tackles, one for loss, versus RU (1-2). Junior Azur Kamara also recorded a tackle for loss, broke up a pass, got credit for one QB hurry and made two total tackles.
Kansas didn't come away with any sacks in its nonconference finale, and the defense only has two on the season, thanks to a QB takedown apiece from senior linebacker Keith Loneker Jr. and hybrid D-end and linebacker Kyron Johnson. But Wise said the D-line is doing enough at the point of attack to help the back end of the defense.
"We're still applying pressure, even though the numbers might not be there," Wise said. "Closing that pocket and making the QB a little more uncomfortable. That's what we're trying to do more of."
KU opens Big 12 play at Baylor on Saturday ranked No. 15 in the nation in total defense (294.3 yards allowed per game).