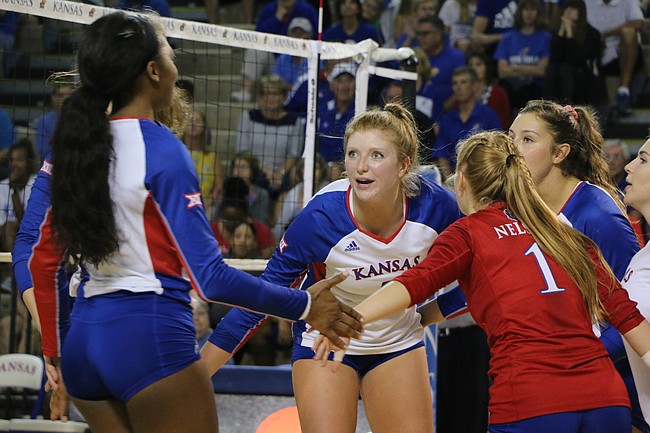 Darrin McBroom, coach of the Drake Bulldogs, kept pacing himself late in the fourth set. Kansas had just snapped a three-point run at set point, claiming a fourth-set win and the match to deal the Bulldogs their second straight loss.
Confused about the point going to the Jayhawks, the Bulldogs looked to McBroom to challenge, and Kansas didn't line up to shake hands just yet.
With McBroom continuing to argue the call, the two teams slowly lined up and tiptoed toward the net to shake hands, running into the locker room. As the stands of Horejsi Family Athletics Center started to clear out, McBroom started to head to the locker room in disbelief.
"Now we move onto the fun part," Kansas coach Ray Bechard said of his team approaching conference play.
Kansas (7-4) claimed a 3-1 win (25-15, 25-22, 22-25, 25-20) over Drake (11-3) Tuesday night. With the victory, the Jayhawks have won nine of their last 10 sets after a pair of sweeps against UNC Greensboro this past weekend.
Both freshman Rachel Langs and senior Gabby Simpson went on to assist on seven of the Jayhawks' season-high 16 blocks. Kansas has now recorded double-digit blocks in eight of its last 10 matches.
"We're blocking at a good level right now," Bechard said. "Then we have some good action behind the block, too. That combination will serve us well moving forward."
Langs opened up the match starting on the Jayhawks' front line for the second time this season, and instantly delivered two kills and a block to spark an eight-point cushion midway through the set. Kansas finished the set on a 7-3 run to seal a 25-15 first-set win.
To close the second set, freshman Audri Suter served up a two-point run to reach the Jayhawks' second set point of the night. Unable to close it out right away, Kansas gave up two late points to the Bulldogs to put the set at 24-22, forcing a timeout.
Finding a plan after the timeout, Ashley Smith found Drake libero Kylee Macke in the back row, and sent a ball that deflected off her and out of bounds, taking a two-set lead.
Tied at 19 in the third set, Kansas allowed Drake to go on a 5-2 run to reach its first set point. A reversed challenge on a Bulldog touch put the Jayhawks within two points of forcing Drake to go into extra rallies, but Drake went on to force a fourth set with a kill by Natalie Fry.
Six kills from Jada Burse and three from Smith led Kansas to a .375 efficiency in the fourth set. Bechard said that Smith had made an adjustment on her shot after the third set, which led her to success.
Burse, Smith and junior Zoe Hill each finished with double-digit kills. As the Jayhawks go-to attacker, in place of six-rotational player Patricia Montero, Burse led the Jayhawks in swings with 36. She only made two errors on a .444 attacking percentage.
"If we can get three kids bringing it every night, that's hard to defend," Bechard said.
Kansas will play host to TCU at 1 p.m. Saturday.
"There'll be times in the Big 12 that (the third set loss) will bite you," Bechard said. "(If you) got a chance to close a team out, you got to do it. Our team is still formulating, our team is still trying to identify who they are. We're closer to who we want to be, but we got no choice now."