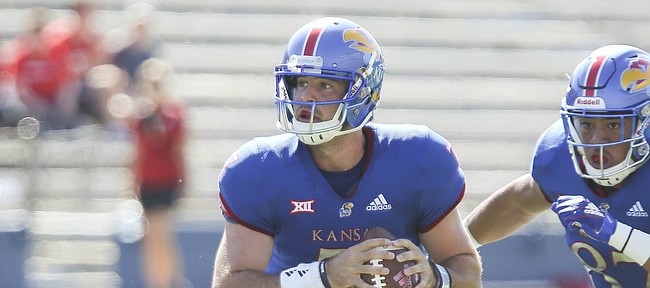 The third start of his senior season began in similar fashion to the previous two weeks for Kansas quarterback Peyton Bender, with him watching from the sideline on occasion while backup Miles Kendrick took over for the offense.
However, unlike the past two games, Bender didn't play at all after halftime Saturday in KU's 55-14 drubbing of Rutgers.
All of the third-quarter snaps at QB went to Kendrick. Bender, in the first half, completed 8 of 12 passes for 73 yards, with no interceptions or sacks, but a few missed throws to open receivers.
According to head coach David Beaty, KU (2-1) didn't play Bender in the second half because of something the coaches saw in Rutgers' defensive structure. The packages KU had in place for Kendrick, a dual-threat sophomore, Beaty said, fit in well.
"And he had a pretty good command of it from what we saw from the sidelines," Beaty said of Kendrick's first half. "So it really worked out that way."
The sophomore completed 6 of 11 throws for 66 yards and a touchdown, while also rushing for 28 yards on six carries with one TD in the victory.
"We were about to put Peyton back in there, because we had a lot of time left in the fourth quarter, and then that next drive on the defense it took a little while and we just felt like it was time to get, from an injury perspective, moving into the next phase, we felt like we had to, we felt like we had the game in control," Beaty said of going to another backup, Carter Stanley, in the fourth quarter. "We wanted to make sure that we got some other guys in the game and kept those guys healthy."
Stanley completed his lone pass attempt for 5 yards. He also rushed three times for 26 yards.
Asked whether Bender would remain KU's starter for a Week 4 trip to Baylor, Beaty declined to answer.
"The good news is we have got several of them that we can use and I'm not going to announce the starter right now just because I don't know that I want to give Baylor an advantage," KU's fourth-year head coach said. "I think that we can use all of them. We just need to get a good look at the tape and see what it behooves to us use."
Wise injured
Redshirt senior defensive tackle Daniel Wise suffered an injury late in the second quarter against Rutgers, during the Scarlet Knights' two-yard touchdown run by Jonathan Hilliman.
Wise limped off the field on his own. He attempted to play in the third quarter, but moved slowly and returned to the bench after one snap.
Photo Gallery
KU football vs. Rutgers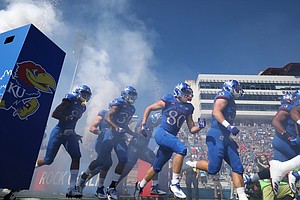 Kansas improved to 2-1 on the season with a 55-14 rout of Rutgers at David Booth Kansas Memorial Stadium on the day Todd Reesing's name joined the program's Ring of Honor.
"He's good. He's going to be good. It's nothing," junior safety Mike Lee said of Wise's status afterward.
Fellow captain and redshirt senior Joe Dineen said when he asked Wise about getting banged up the lineman told him he was "fine."
Wise was credited with one tackle for loss and a QB hurry in the win.
Homecoming of sorts for RU assistant Blazek
At least a swath of the 28,044 fans in attendance at David Booth Kansas Memorial Stadium came to support Rutgers offensive line coach and assistant head coach AJ Blazek.
A native of Wichita, Blazek's father, John, now lives in Lawrence and serves on the Parks and Recreation Advisory Board. But the RU assistant had more than family in the stands to support him. Blazek, whose college football playing days began at Butler Community College, in El Dorado, told NJ.com earlier this week he expected to have more than 40 people he knows at the game.
"The O-line I played with in junior college, they're all coming up," Blazek said. "My O-line coach. It's going to be fun to go out and keep doing football with those guys around, see them afterwards and chat for a little bit. Old players are coming from (Fort) Hays, my first job."
Following an All-American and Academic All-American career at Butler, Blazek was a two-year letterwinner at center at Iowa, where he earned All-Big Ten Conference honors in 2000 and was a co-captain during that 2000 season.
Blazek is in his third season as offensive line coach and second season as assistant head coach for the Scarlet Knights. He is friends with KU defensive coordinator Clint Bowen.
"This is home," Blazek told NJ.com earlier this week, ahead of the trip to Kansas.
Rutgers wide receiver and holder Cole Murphy, who was put on scholarship this season, played at Olathe North. Rutgers tight end Travis Vokolek's uncle, Terry Allen, served as the Kansas head coach from 1997 to 2001.
This and that …
Rutgers, "The Birthplace of College Football," is in its 149th season of competition since 1869. The program has played the most games in the history of the sport (1,340).
• KU freshman running back Pooka Williams is the first running back in program history to record back-to-back 100-yard rushing performances to start his career. He totaled 158 yards in his second game as a Jayhawk.
• Sophomore QB Kendrick threw his first career touchdown pass to Jeremiah Booker. It was Booker's first touchdown reception of the season and third of his career. Kendrick also recorded his first career rushing touchdown, an eight-yard rush.
• Senior linebacker Dineen finished with 10 tackles, marking the 18th time in his career he recorded double-digit stops.
• For the first time since 2001, KU returned two interceptions for touchdowns in the same game, as Bryce Torneden and Lee returned one each in the first half. Quincy Roe and Carl Ivey returned interceptions for touchdowns against Missouri the last time KU pulled it off.