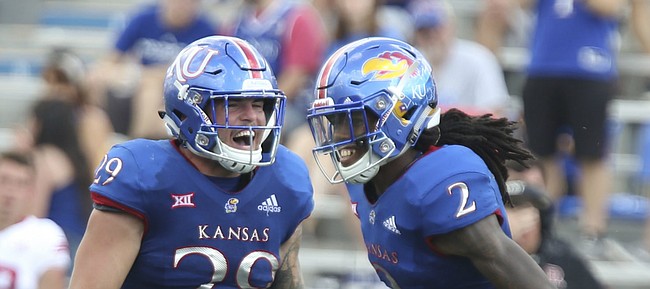 Rutgers freshman quarterback Artur Sitkowski chose a bad time to throw in the direction of University of Kansas safety Mike Lee.
On the second snap of the second quarter, Lee already had witnessed enough Saturday at David Booth Kansas Memorial Stadium to commence scheming.
KU's takeaway-happy defense left the field with possession of the ball three times in the first quarter alone. Then, during the timeout leading up to the second quarter, former KU star quarterback Todd Reesing capped his Ring of Honor ceremony by leaping and delivering one of his signature fiery fist pumps.
The stage, Lee felt, was set for his big moment. And he pounced with an interception that he doggedly returned 31 yards for a touchdown, further inciting the Jayhawks to drub visiting Rutgers, 55-14.
"He pumped me up," Lee said of Reesing's crowd- and sideline-pleasing antics. "Also Bryce (Torneden) had pumped me up, too. He caught his pick six (in the first quarter) and I felt like I was the only DB out there without an interception. So I felt like my time's gonna come and my time came. I felt like I had to make a play and I did."
Lee juked to avoid at least four different Scarlet Knights while following a group of KU defenders to the goal line, setting up an early 17-point lead.
"I tried to tell them I've got running back skills," a grinning Lee said of previous joking conversations with KU's coaching staff. "But they don't listen to me. They see now."
By the conclusion of the biggest Kansas rout of a Power Five opponent since, appropriately enough, Reesing and the Jayhawks dismantled Baylor, 58-10, in 2007, the defense had six takeaways, replicating the blueprint for an easy victory that they discovered just a week earlier. Seven days after six KU takeaways keyed a win at Central Michigan, the Jayhawks somehow pulled it off again in front of a home crowd of 28,044.
"Obviously it gives our offense more opportunities to score, which is huge," redshirt senior linebacker Joe Dineen said of the improbable takeaway feat. "But for the defense, just in general, it's building momentum and keeping that spark alive. It really helps when you're taking the ball away. Guys start having more fun, you start playing better together. It's a huge part of our defense and that's a credit to (defensive coordinator Clint) Bowen for getting us in the right spot at the right time."
The enjoyment began for the defense early in the first quarter, when junior nickelback Torneden secured the first of KU's three interceptions on the day. In the midst of trying to disrupt a receiver's route with his hands, Torneden turned back toward the line of scrimmage, remembering one of Bowen's points of emphasis, to keep his eyes on the QB.
"The ball was in the air and he threw it right to me. Just green grass," Torneden said of a 39-yard TD return that gave KU a 10-0 lead less than five minutes in. "I took a couple looks around me, but I wanted to be sure. I got kind of paranoid."
Dineen, a high school teammate of Torneden at Free State, as well, said his teammate "better have" scored on the play.
"I'm just kidding. Bryce has been all over the field for us," Dineen went on, after Torneden finished with six total tackles and a fumble recovery against RU (1-2). "He's really stepped up for us this year and he's a leader on the field. Obviously he's a hell of a football player," the captain added, mentioning Torneden's three takeaways in the past two KU wins. "That's not too bad for a nickel back. That's not too bad at all."
The KU defense added a Corione Harris interception, a Dineen fumble recovery and a Willie McCaleb fumble recovery to its afternoon joy ride. Shak Taylor and Kyron Johnson received credit for forcing fumbles, as well.
Rutgers left with 274 total yards in the loss, compared to KU's 544, a number boosted by a 400-yard day for the rushing attack — freshman Pooka Williams took off for 158 yards on 18 carries, with a 52-yard touchdown run in the fourth quarter.
Head coach David Beaty praised both sides of the ball following his third victory against an FBS program in 35 games.
"Now we got a couple of pick sixes which was great and the byproduct sometimes is you got to go back on the field a few times quick. And they played a lot of plays in the first half. That first quarter felt like it took forever. I'm not sure how long it lasted, but there was a time in there right there towards the end of the first half that we had to find, we had to get a gut check going and make sure that we hunkered down and we went and answered offensively," Beaty said.
Photo Gallery
KU football vs. Rutgers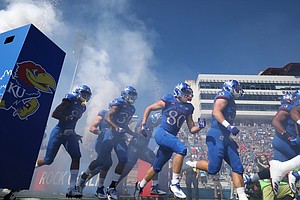 Kansas improved to 2-1 on the season with a 55-14 rout of Rutgers at David Booth Kansas Memorial Stadium on the day Todd Reesing's name joined the program's Ring of Honor.
It was about that time that junior running back Khalil Herbert took off for a 59-yard rushing touchdown, providing the Jayhawks (2-1) with a 31-14 halftime lead.
Starting quarterback Peyton Bender, who shared repetitions with Miles Kendrick in the first half before watching the whole second half from the sideline, said KU's knack for defensive touchdowns — it has three in the past two weeks — made the offense's job much easier.
"Man, it is awesome. It's great to see them have another incredible game," Bender said. "I feel like it carried over from last week. And it gives you a little bit of relief for the offensive side. They scored two pick sixes today and set us up in great field position off multiple turnovers. Makes it easier for us. It's definitely awesome to see that. Hopefully they can continue to play like that."
Torneden, who came up with his first career interception, said pressure up front form KU's defense linemen and linebackers made the secondary's interceptions possible.
Takeaways, he added, were an emphasis for the defense in 2017, too.
"It's just we're playing better. We're playing collectively as a unit more so than we did last year," Torneden said. "We need to continue to maintain this going into conference play."
Before Beaty even made it to KU's locker room after the program's first back-to-back wins since 2011, the captains were addressing their teammates about the 2-1 showing in nonconference play.
Daniel Wise, fellow captain Dineen shared, drove the message home.
"Don't get complacent. We haven't arrived yet. And there's a lot of room for us to get better and grow," the linebacker shared of the subject addressed. "Obviously enjoy the win, because it's a good feeling for sure. But keep in mind that we have a lot of football left to play and we've still got to get better."
Sophomore Kendrick, who completed 6 of 11 passes for 66 yards and a TD and rushed for 28 yards and another score, reiterated that sentiment.
"It's an awesome feeling coming off the field. And dominating today was great," Kendrick said. "This is what we work for. And we want more, so we're going to keep going."
KU plays at Baylor this coming Saturday.
SCORING PLAYS
FIRST QUARTER
11:22 — Gabriel Rui 49 field goal. Six-play drive for 41 yards, in 1:57. (KU 3, RU 0.)
10:30 — Bryce Torneden 39 interception return. Rui kick. (KU 10, RU 0.)
9:06 — Deonte Roberts 64 return of blocked field goal. (KU 10, RU 7.)
4:46 — Jeremiah Booker 6 pass from Miles Kendrick. Rui kick. Ten-play drive for 75 yards, in 4:20. (KU 17, RU 7.)
SECOND QUARTER
14:10 — Mike Lee 33 interception return. Rui kick. (KU 24, RU 7.)
3:07 — Jonathan Hilliman 2 run. Justin Davidovicz kick. Nine-play drive for 86 yards, in 2:58. (KU 24, RU 14.)
2:29 — Khalil Herbert 59 run. Rui kick. Two-play drive for 75 yards, in 0:38. (KU 31, RU 14.)
THIRD QUARTER
6:08 — Kendrick 8 run. Rui kick. Five-play drive for 25 yards, in 1:34. (KU 38, RU 14.)
3:38 — Rui 34 field goal. Five-play drive for 19 yards, in 1:21. (KU 41, RU 14.)
FOURTH QUARTER
14:51 — Pooka Williams 52 run. Liam Jones kick. Five-play drive for 66 yards, in 2:09. (KU 48, RU 14.)
9:28 — Deron Thompson 55 run. Jones kick. Six-play drive for 82 yards, in 2:59. (KU 55, RU 14.)