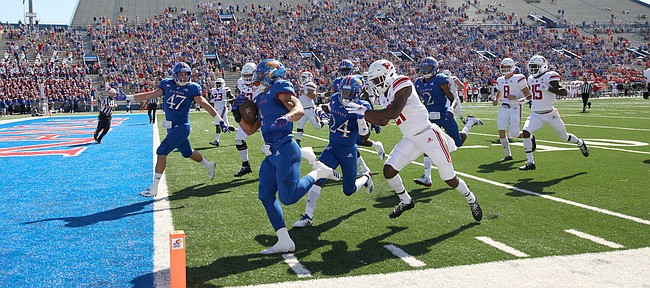 For the first time since 2011, members of the Kansas football team can say they've won back-to-back games.
The Jayhawks followed their road losing streak-killing victory at Central Michigan by closing nonconference play with a 55-14 home drubbing of Rutgers on Saturday.
Although Peyton Bender started at quarterback, Miles Kendrick (6-for-11 passing, 66 yards, one touchdown throw and one rushing TD), subbed in on multiple possessions in the first half and replaced Bender (8-for-12 passing, 73 yards) in the second half.
Neither QB, though, needed to do much for the offense, as the Jayhawks rushed for 400 yards in a rout.
Here's a quick look back at some of the action:
• The game turned when: The Jayhawks, just like they did at Central Michigan a week earlier, made takeaways look easy.
It all began on Rutgers' second possession of the game, when KU junior safety Bryce Torneden picked off an ill-advised Artur Sitkowski pass and promptly took off in the opposite direction for a 39-yard touchdown return.
By the end of the first quarter, KU's defense already has three takeaways.
Then, a minute into the second, safety Mike Lee came through with the Jayhawks' second pick-six, taking another Sitkowski misfire 31 yards for a TD.
Lee's score put KU ahead 24-7, and by halftime the Jayhawks led 31-14, a margin padded greatly by four first-half takeaways — Willie McCaleb and Torneden recovered RU fumbles.
• Offensive highlight: It didn't even result in a score, but freshman running back Pooka Williams, playing inside David Booth Kansas Memorial Stadium for the first time, gave the fans quite a show on one play in particular.
After breaking a run outside and down the left sideline, the freshman tried to jump completely over a defender, and nearly pulled it off.
Isaiah Wharton realized an airborne Williams' intentions just in time to shove him out of bounds. The leap ended with Williams losing the ball but it, too, fell out of play, resulting in a 25-yard run and jump.
With the help of a 56-yard rushing TD to open the fourth quarter, the freshman from Louisiana finished with 158 yards on the ground.
Photo Gallery
KU football vs. Rutgers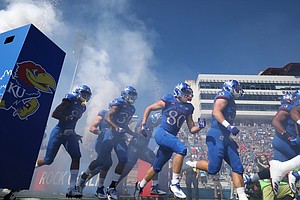 Kansas improved to 2-1 on the season with a 55-14 rout of Rutgers at David Booth Kansas Memorial Stadium on the day Todd Reesing's name joined the program's Ring of Honor.
• Defensive highlight: With so many key plays made by the takeaway-happy defense, it was difficult for just one to stand out.
However, the determination by Lee on his interception return set it apart.
Lee could have just plowed ahead after securing the pick, but he saw an opening and decided to break back across the field and see what he could make happen. He followed his fellow defenders and made some cutbacks that gave the already confident Jayhawks even more juice.
• Key stat: Kansas (2-1) finished the victory with six takeaways.
The turnovers fueled what proved to be a relatively easy home win, which aren't exactly a regular occurrence for the program.
• Up next: The Jayhawks open Big 12 play at Baylor next week.
SCORING PLAYS
FIRST QUARTER
11:22 — Gabriel Rui 49 field goal. Six-play drive for 41 yards, in 1:57. (KU 3, RU 0.)
10:30 — Bryce Torneden 39 interception return. Rui kick. (KU 10, RU 0.)
9:06 — Deonte Roberts 64 return of blocked field goal. (KU 10, RU 7.)
4:46 — Jeremiah Booker 6 pass from Miles Kendrick. Rui kick. Ten-play drive for 75 yards, in 4:20. (KU 17, RU 7.)
SECOND QUARTER
14:10 — Mike Lee 33 interception return. Rui kick. (KU 24, RU 7.)
3:07 — Jonathan Hilliman 2 run. Justin Davidovicz kick. Nine-play drive for 86 yards, in 2:58. (KU 24, RU 14.)
2:29 — Khalil Herbert 59 run. Rui kick. Two-play drive for 75 yards, in 0:38. (KU 31, RU 14.)
THIRD QUARTER
6:08 — Kendrick 8 run. Rui kick. Five-play drive for 25 yards, in 1:34. (KU 38, RU 14.)
3:38 — Rui 34 field goal. Five-play drive for 19 yards, in 1:21. (KU 41, RU 14.)
FOURTH QUARTER
14:51 — Pooka Williams 52 run. Liam Jones kick. Five-play drive for 66 yards, in 2:09. (KU 48, RU 14.)
9:28 — Deron Thompson 55 run. Jones kick. Six-play drive for 82 yards, in 2:59. (KU 55, RU 14.)