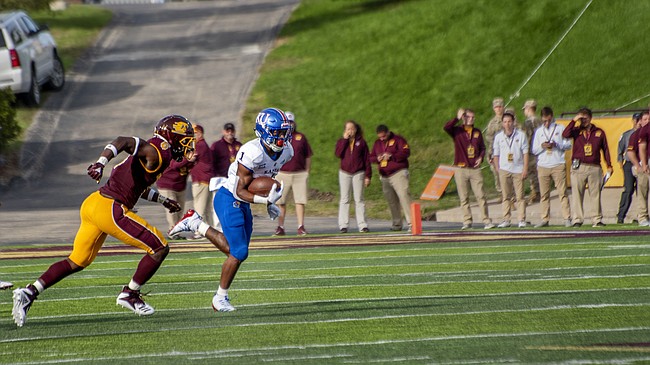 Mount Pleasant, Mich. — Exactly what kept Pooka Williams out of the Kansas football lineup a week earlier remained unclear following the freshman running back's debut Saturday, which sparked a 31-7 road win at Central Michigan.
Shortly before kickoff of the Jayhawks' season opener, the team announced Williams would not play against Nicholls State due to an undisclosed, non-disciplinary matter.
Following KU's victory at Kelly/Shorts Stadium seven days later, head coach David Beaty did not offer many specifics when asked how it was determined Williams could suit up and participate in the game at CMU.
"I think the easiest thing for me to do is to talk about he was available today, and that's about all we can say from there," Beaty said after Williams rushed for 125 yards and two touchdowns in his KU debut. "I don't really have any other information other than he was available today, which was great."
Photo Gallery
KU football at Central Michigan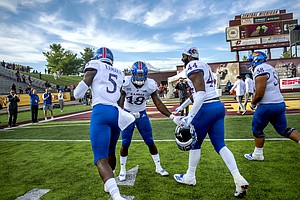 The Kansas football team broke a 46-game road losing streak with a 31-7 victory at Central Michigan, on Sept. 8, 2018, at Kelly/Shorts Stadium, in Mount Pleasant, Mich.
According to Beaty, he was informed "late, late" Friday night Williams could play.
What kept the star freshman out in the first place?
"That's all they told me I could say at this point," Beaty reiterated.
Williams became the first KU freshman to debut with 100 rushing yards since James Sims ran for 101 yards against Georgia Tech on Sept. 11, 2010. Additionally, Williams was the first freshman to score two touchdowns in his first KU game since JaCorey Shepherd had two receiving scores against McNeese State on Sept. 3, 2011.
Williams also was the first Jayhawk to rush for over 100 yards in a debut since Ke'Aun Kinner went for 157 rushing yards against South Dakota State on Sept. 5, 2015.
New look on O-line
After center Alex Fontana had issues with putting his snaps on target in KU's Week 1 home loss, he didn't retain his starting position at CMU.
Junior Andru Tovi, a starter at left guard the previous week, replaced Fontana at center in the starting lineup. Redshirt sophomore Malik Clark started at left guard.
The other three starters from the previous game, junior left tackle Hakeem Adeniji, senior right guard Dwayne Wallace and junior right tackle Kevin Feder, remained the same.
Fontana played as a reserve, though, and showed no problems snapping the ball effectively. He entered for the first time on KU's third drive, along with sophomore Chris Hughes and junior Api Mane at the guard spots. Mane also took some snaps at center later in KU's road win.
More debuts
Williams wasn't the only Jayhawk playing his first career game for KU.
Redshirt freshman receiver Takulve Williams, junior cornerback Elijah Jones and junior corner Elmore Hempstead Jr. also made their debuts.
Takulve Williams recorded his first career reception on a pass from Peyton Bender for a 10-yard gain in the second quarter. Jones was credited with one total tackle and Hempstead didn't record a statistic.
This and that …
• Senior KU receiver Kerr Johnson Jr. recorded a touchdown reception for the second straight game, on a 31-yard reception from Bender that gave the Jayhawks a 7-0 lead over the Chippewas.
• KU's defense recorded four interceptions, marking the first time since 2014 against Southeast Missouri that the Jayhawks have grabbed three or more interceptions. Senior linebacker Joe Dineen, senior corner Shak Taylor, junior safety Jeremiah McCullough and sophomore safety Ricky Thomas made the picks.
• Junior fullback Caperton Humphrey caught his first career reception on a pass from Bender for two yards in the first quarter.
• Sophomore punter Kyle Thompson kicked a career-high five punts inside the 20-yard line against the Chippewas.