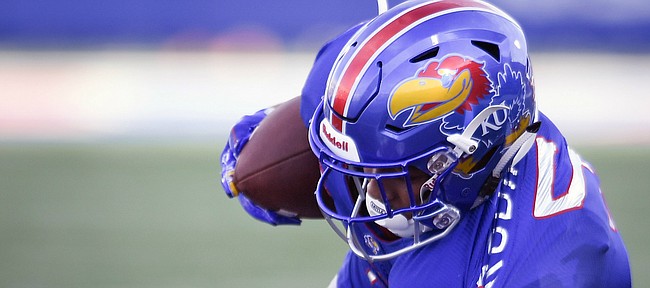 Not one other Power Five program actively recruited Stephon Robinson Jr.
Yet, there the sophomore junior college transfer was Saturday in his Kansas football debut, tying for the team lead in receptions and blocking a punt on special teams.
After a standout freshman season at El Camino Community College, during which the 5-foot-10 Robinson accumulated 1,274 receiving yards and eight touchdowns in 11 games, Youngstown State, Montana State, Hawaii, Middle Tennessee, Old Dominion and New Mexico State were the only other football teams showing interest in him, Robinson said.
"When I was about to sign (this past December), teams tried to come in late. But I was like, 'Where were you guys before?'" Robinson recalled. "I'm not really sure how the recruiting thing goes fully, but KU gave me a chance and I just took it."
Offensive coordinator Doug Meacham recruited Robinson, rated a three-star juco prospect by Rivals, to Kansas and it didn't take the West Coast transplant long to feel at home, with the help of his new teammates and receivers coach Justin "Juice" Johnson.
With that comfort came significant progress, too, once he joined the program this past spring. Half-joking, the 170-pound receiver who starred in high school at Narbonne, in Harbor City, Calif., said some there and at El Camino C.C. called him a slow-skill player.
"People really didn't start calling me fast until I got here," Robinson went on. "I was confused. Maybe it's because, in Cali, we're a lot faster out there."
It's those types of statements that keep his teammates laughing. Senior receiver Steven Sims Jr. said Robinson's impression of Jacksonville Jaguars cornerback Jalen Ramsey's "you tell me" line from a postgame interview is a favorite.
But the Jayhawks are learning quickly that Robinson can contribute more than some positive chemistry around the locker room.
The sophomore receiver proved to be one of the few bright spots during KU's Week 1 home loss to Nicholls State. Robinson caught four passes for a team-high 43 yards. Even more crucial, he blocked a fourth-quarter punt, with KU trailing.
And while Robinson hasn't raced Sims or Pooka Williams to determine if he's the fastest player on the team, he said his quickness made his effective debut possible.
"Even with the blocked punt, it was because of speed, I believe. I didn't really get touched. It was just my speed to get back there to block the punt," said Robinson, who thinks his best trait improved with the help of KU strength coach Zac Woodfin and his staff during the offseason. "A much slower player probably wouldn't have been able to get back there."
Believe it or not, Robinson doesn't exactly have a track record in that category.
"Never in my life," he replied, when asked if he had blocked a punt previously. "That was actually the first time I ever attempted it in a game."
Although Robinson had experience on special teams, he was usually back to return a punt, not up on the line of scrimmage chasing after the punter.
He said special teams coach Kenny Perry believed in him and put him in the right position to pull it off.
As his team attempts to recover from its home loss to an FCS team in time to face Central Michigan on the road (2 p.m. Saturday), head coach David Beaty now knows Robinson can be "explosive" for KU in the weeks ahead.
"We saw that on tape when we recruited him. We knew the dude could fly," Beaty said. "And he plays a little bit bigger than what he is. And I like that about him. He's actually a lot stronger than you think, and he can go. He's got a great burst to him. I think that's what helped him the other night."
Starting quarterback Peyton Bender said he didn't learn anything new about Robinson in the opener, because what he saw mirrored how the receiver played during preseason camp.
"He's really explosive, has the ability to make people miss in the open field," Bender said. "You saw that on that little flat route I threw him on the half roll. He kind of just put his foot in the ground and is a quick-twitch guy and the type of guy you want to get the ball to."
In fact, Bender targeted Robinson on nine occasions against Nicholls. So KU's first-year receiver isn't exactly satisfied with his Division I premiere, even if he outperformed the expectations those outside the locker room had for him.
"I didn't play perfect at all. I had missed assignments. But those things are correctible. I believe I'm going to bounce back and the receivers are going to bounce back from the way we played," Robinson said. "Overall, I think I played OK. I could do much better. But there's a lot to look forward to."