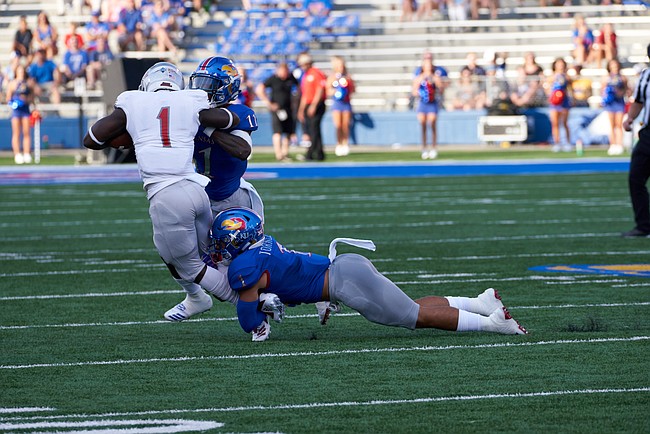 It happens all the time in sports. It starts to occur to the underdog from the smaller conference that it's about to score a significant victory. The moment becomes too big. The jitters set in. The underdog makes one too many mistakes and the bigger school escapes with a victory.
That seemed to be what was happening to Nicholls State, the 17th-ranked school in the FCS. The Colonels botched a snap, a play that gave Kansas two points. One of Nicholls' better players, Damion Jeanpiere, fumbled a punt that led to another seven points.
Nine points gift-wrapped from Nicholls to Kansas and it still wasn't enough for fourth-year Jayhawks coach David Beaty to win for the fourth time.
After a Saturday night game at David Booth Kansas Memorial Stadium that so loudly drove home the point that this is a football program stuck on a hamster wheel, forever promising progress, yet never showing it, Beaty repeatedly mentioned afterward that the "sun will come up tomorrow."
This was not the time for sunny talk. Nor was it time to praise the opponent because the next 11 games are against FBS schools that have a limit of 85 scholarships, as opposed to 63.
Nicholls had just defeated Kansas 26-23 in overtime, meaning Beaty has won 50 percent of his games vs. FCS competition and 3 percent (1-32) of them vs. FBS foes.
Those sort of results don't allow a football coach to keep his job, but with 11 games remaining on the 2018 schedule, what's an athletic director to do? Stay away from reading social media? Hire Les Miles now instead of waiting to choose a coach in the offseason?
Twitter, where emotions rage, blew up with #FireBeaty sentiments even before KU fell behind, 17-10. Diehard Kansas football fans who showed up because they love their school and want to believe the worm will turn filled the air with boos on at least five occasions. Even they have had it and their patience with the program has been extraordinary.
Alex Fontana, the new KU center, a graduate transfer, had the shanks snapping the ball and was booed after his third crooked groundball during his marathon of a night.
He showed up for the postgame interview session — not all athletes in his position would have — and booed himself louder than any crowd ever could.
"Everything was self-inflicted on our part, especially I had three bad snaps, that's minus 25, 20 yards, and that's unacceptable," Fontana said. "That just in and of itself makes me feel responsible for this loss. I've never felt so bad before. I've never felt so responsible for a loss before and if there are any fingers that need to be pointed, they can be pointed right at me. I feel like everything that happened to make us lose, I was responsible for it."
He meant what he said and he did have an unusually poor game, but wasn't correct in saying he was solely responsible.
KU looked disconnected for so much of the night in so many ways.
A KU defensive player could be heard passionately airing his frustration over how slowly the plays were being sent in.
Quarterback Peyton Bender received little help from blockers, had trouble spotting blitzes, and was sacked six times. Repeat: six times.
Beaty's indecisiveness resurfaced: Go for it. No, wait, timeout. Punt. Burn another timeout later to ice kicker Lorran Fonseca, who ended up making the 43-yard field goal that tied the score, 20-20, which was where it stood when the game went into overtime.
Nicholls, warts and all Saturday night, continued its remarkable turnaround from the 18-game losing streak that fourth-year coach Tim Rebowe inherited. The streak grew to 23 games after Rebowe started 0-5. The Colonels are 17-13 since then.
In contrast, Beaty's Jayhawks are stuck on the hamster wheel, 3-34 since he inherited a program that had gone 3-9 the year before he took the job.