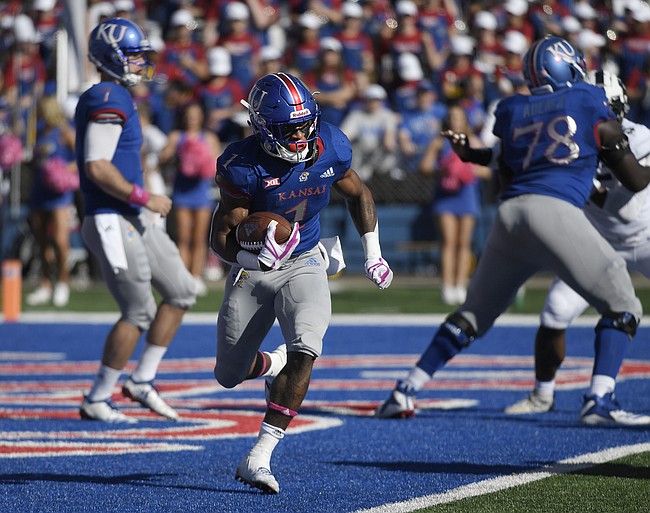 The University of Kansas football team ended another streak.
Kansas scored on its first four drives in the second half to claim a 27-26 win over TCU Saturday at David Booth Kansas Memorial Stadium. With the win, the Jayhawks (3-5, 1-4 Big 12) snapped a 14-game losing streak against Big 12 foes. It marks the team's first conference win since KU defeated Texas in November of 2016.
Freshman Pooka Williams delivered the go-ahead score with a 28-yard touchdown catch from senior quarterback Peyton Bender, which gave the Jayhawks 27-24 advantage with 4:19 remaining.
On the ensuing possession, the Horned Frogs (3-5, 1-4) marched down the field before fumbling the ball inside KU's 10-yard line while driving for a potential go-ahead score with 58 seconds left in the game.
Williams finished with seven catches for 102 yards and two scores, while Bender completed 19 of 29 passes for 249 yards and a pair of touchdowns against the top pass defense in the Big 12.
SCORING SUMMARY
FIRST QUARTER
9:24 — Khalil Herbert 1 run. Gabriel Rui kick. Eleven-play drive for 75 yards, in 5:36. (KU 7, TCU 0.)
SECOND QUARTER
12:49 — Jonathan Song 31 field goal. Eight-play drive for 39 yards, in 2:12. (KU 7, TCU 3.)
2:47 — Jalen Reagor 56 pass from Michael Collins. Song kick. Six-play drive for 92 yards, in 2:14. (TCU 10, KU 7.)
THIRD QUARTER
9:17 — Pooka Williams 7 pass from Peyton Bender. Rui kick. Eleven-play drive for 77 yards, in 4:42. (KU 14, TCU 10.)
5:36 — Collins 2 run. Song kick. Nine-play drive for 81 yards, in 3:36. (TCU 17, KU 14.)
2:28 — Rui 34 field goal. Nine-play drive for 58 yards, in 3:08. (TCU 17, KU 17.)
FOURTH QUARTER
14:58 — Rui 27 field goal. Five-play drive for three yards, in 1:44. (KU 20, TCU 17.)
10:38 — Collins 3 run. Song kick. Eleven-play drive for 75 yards, in 4:20. (TCU 24, KU 20.)
6:13 — Williams 28 pass from Bender. Rui kick. Nine-play drive for 79 yards, in 4:19. (KU 27, TCU 24.)
0:01 — TCU team safety. (KU 27, TCU 26)