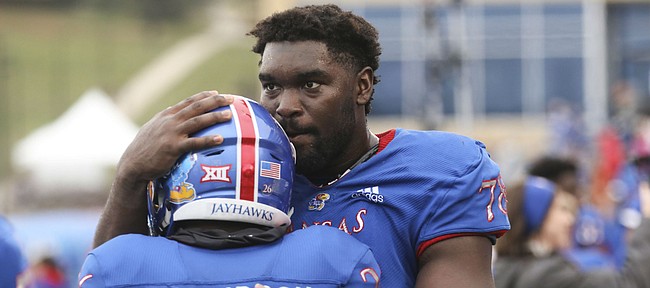 On several occasions during his introductory press conference, new University of Kansas football coach Les Miles mentioned the number 85.
It's an important figure for FBS programs, because it represents the maximum total of scholarship players a team is allowed to carry in a season.
And it is a number KU has been chasing since long before Miles even thought about joining the Jayhawks.
In the course of his first day on the job, on Nov. 18, Miles was asked for his thoughts on the health of the program he was inheriting, particularly as it related to scholarships.
"I recognize the key piece for us is to get our scholarships up to 85 and 85 with quality recruits, not 85 with turned and given to walk-ons that were not necessarily deserving," Miles began, adding he isn't opposed to placing walk-ons who prove themselves on scholarship. "But getting to 85 and doing so with quality recruits and guys that can play. That to me is the biggest battle."
Podcast episode
Now that the Les Miles era of KU football has officially arrived, KUsports.com and Lawrence Jouranl-World beat writer Benton Smith is joined by Matt Tait and Shane Jackson to discuss all that Miles has been working on already and answer your questions regarding the future of the program, recruiting, Pooka ...
As Miles referenced in his response, KU won't be anywhere close to an ideal standing with its scholarship players in 2019, his first season in charge.
While his predecessor, David Beaty, rarely identified specific players as walk-ons or scholarship athletes publicly, some educated guesswork reveals next year's roster could only include approximately 53 returning true scholarship players — not walk-ons who were awarded a scholarship after contributing to the program.
Looking at KU's 2018 roster, it appears Beaty's last team had roughly 11 freshmen, 14 sophomores and 28 juniors (53 total) among its recruited scholarship players.
However, Miles won't even be able to add the NCAA maximum of 25 scholarship athletes to his 2019 recruiting class. Miles told the Journal-World on the day he was introduced that he expects to be able to offer about 15.
Over the past few years, Beaty and his staff utilized blueshirts, athletes who didn't sign letters of intent but joined the program on scholarship and counted toward the following year's recruiting class. That strategy is finally catching up with KU.
So if all of the nonsenior scholarship players stay healthy and decide to remain with the program instead of transferring, the Jayhawks should have about 68 true scholarship athletes on the team in Miles' first season, if you include 15 2019 signees.
This past July, Beaty stated that when he took over the program in December of 2014, KU only had 39 scholarship players.
"By the time we hit spring ball, we had 28," Beaty added.
It's worth noting that a football program's scholarship numbers are always at their lowest in the spring, when the previous year's seniors are gone and the full incoming signing class has yet to arrive. If Beaty's numbers are accurate, KU would have fielded a roster that included roughly 53 scholarship players (including the 25 members of the 2015 recruiting class) in his first season leading the Jayhawks.
KU's scholarship numbers suffered unusual blows prior to Beaty's arrival, with players leaving for various reasons as the program transitioned from head coach Mark Mangino, to Turner Gill, to Charlie Weis, to Beaty.
Now, it appears Miles will need some time to get the Jayhawks on a level playing field with the rest of the Big 12 in terms of scholarship athletes, because the program will lose roughly 28 more when next season's seniors exhaust their eligibility.
If KU were able to sign 25 players in both 2020 and 2021, it still wouldn't be able to zero in on its target of 85 before the 2022 season, which would be year four of Miles' five-year contract.
KU's projected returning scholarship players for 2019
2018 juniors (28):
OL Hakeem Adeniji
DT Jelani Brown
CB Julian Chandler
WR Dayton Charlot
DT Codey Cole
CB Hasan Defense
WR Evan Fairs
LB Denzel Feaster
OL Kevin Feder
OL Antione Frazier
CB Elmore Hempstead
RB Khalil Herbert
CB Elijah Jones
DE Azur Kamara
S Mike Lee
OL Reuben Lewis
OL Api Mane
CB Kyle Mayberry
DE Willie McCaleb
OL Clyde McCauley
S Jeremiah McCullough
DE Darrius Moragne
S Shaq Richmond
TE James Sosinski
QB Carter Stanley
DE Najee Stevens-McKenzie
S Bryce Torneden
OL Andru Tovi
2018 sophomores (14):
OL Earl Bostick
OL Malik Clark
OL Cam Durley
S Davon Ferguson
WR Quan Hampton
OL Chris Hughes
LB/DE Kyron Johnson
K Liam Jones
QB Miles Kendrick
LB Dru Prox
WR Stephon Robinson Jr.
S Ricky Thomas
P Kyle Thompson
RB Dom Williams
2018 freshmen (11):
LB Kenny Bastida
LB Jay Dineen
OL Joey Gilbertson
CB Corione Harris
OL Jacobi Lott
RB Ryan Malbrough
OL Jalan Robinson
CB Robert Topps
RB Pooka Williams
OL Nick Williams
WR Takulve Williams