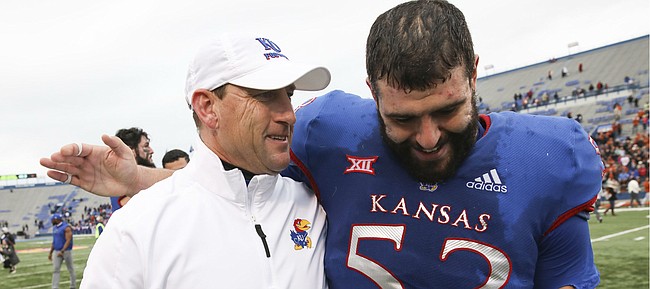 Former Kansas football coach David Beaty hasn't traded in his crimson and blue gear for burnt orange.
But, according to Texas head coach Tom Herman, Beaty, who spent his final days with the Jayhawks preparing to try and defeat the Longhorns, now will at least play some small part in helping them out.
During Monday's Big 12 Championship Teleconference, Herman was asked about a report from Orangebloods.com that Beaty would be consulting the UT coach as he and his staff prepared for the Longhorns' conference title game matchup with Oklahoma.
"Any time you have an opportunity to gain some knowledge of what an opponent saw of you in their breakdowns of you, you want to see that," Herman said. "It's pretty standard stuff. I don't know why it's that big of a deal."
Reached by the Journal-World, Beaty declined to comment on the reported arrangement.
Herman and Beaty worked together closely as assistant coaches at Rice, in 2007. Herman was the offensive coordinator and quarterbacks coach, while Beaty oversaw receivers and was the passing game coordinator.
During his Monday press conference, Oklahoma head coach Lincoln Riley was asked about Herman seeking input from Beaty.
"Coach Beaty can do what he wants to do. I don't like the precedent of it, of being able to bring in somebody from the league from the same year. I don't think that's good for the conference. But it's not against the rules, and if they want to do it, that's fine," Riley said.
Would Riley have someone coming in to help out OU?
"No comment," a smiling Riley replied.
Rui KU's most accurate kicker
A senior for KU in 2018, kicker Gabriel Rui leaves the program as its all-time leader in field-goal percentage, having connected on 78.4 percent of his attempts (29 of 37) these past two seasons.
Rui, who transferred to Kansas from Northeastern Oklahoma A&M;, also tied the program record for PAT percentage, making 100 percent of his tries in both 2017 and 2018.
A Hinton, Okla., native, Rui made a careerlong 54-yard field goal in the season opener, against Nicholls State. That puts him tied for seventh all-time in KU's record books for longest field goal made.
Dineen semifinalist
Redshirt KU linebacker Joe Dineen was named a semifinalist for the Lott IMPACT Trophy.
Dineen was joined on the list of Lott semifinalists by Kentucky linebacker Josh Allen, Boston College defensive lineman Zach Allen, Washington linebacker Ben Burr-Kirven, Utah linebacker Chase Hansen, Duke linebacker Ben Humphreys, Cal linebacker Jordan Junaszyk and Clemson D-lineman Christian Wilkins.
Voting for the winner and finalists will take place in November and the 15th annual awards banquet will be Dec. 9.