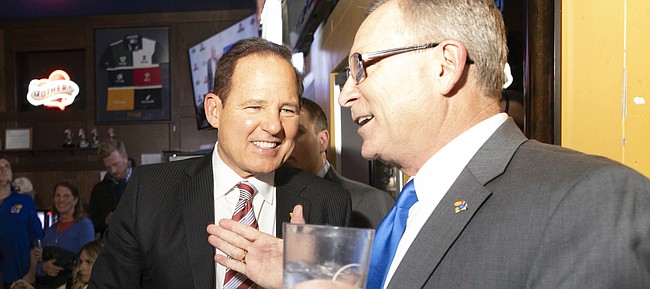 Les Miles set the tone on the importance of recruiting during his introductory press conference one week ago.
Miles, of course, will likely not be targeting the same type of recruits at Kansas that he was going after during his time at LSU. The Jayhawks, who have just one commit from the 2019 class, have a limited number of available scholarships to hand out.
"This place is a recruiting class or two away from being a very special football team," Miles said.
Fans are understandably excited about Miles' ability to recruit in Louisiana, which is home to multiple KU players such as the rookie duo of Pooka Williams and Corione Harris. Both players were four-star recruits out of high school and made an immediate impact for the Jayhawks in 2018.
But Miles has plenty of talent in his new backyard, and it might just be the most opportune time to make that a priority.
Bill Snyder has dominated in-state recruiting during his time at Kansas State, and it is often evident during Sunflower Showdowns. This season, in fact, K-State needed a game-winning drive in the fourth quarter to claim a win over KU.
On the drive, quarterback Alex Delton (Hays) delivered the go-ahead touchdown and Alex Barnes (Pittsburg) recorded a key run on fourth down. Dalton Schoen, who is from Overland Park, also had a crucial catch to keep the drive alive.
Snyder's situation remains uncertain, however, after the team finished 5-7. Multiple outlets have published columns insisting that Snyder should hang it up. Miles, meanwhile, is arguably the biggest name Kansas has ever had as a head coach and can subtly show off a national championship ring when meeting with recruits.
"What we're going to do is we're going to work a 500 mile radius and we're going to get to those, and we're going to win in that group," Miles said.
Miles backed that up in his first week on the new job, as St. Thomas Aquinas defensive back Jayden Russell tweeted that he had been offered by Kansas again under the new head coach.
Russell, who is a three-star recruit, is the third-best Kansas player in the 2019 class via Rivals. This past weekend, Russell helped the Saints capture their first state title in program history with a 49-28 win over Wichita Northwest.
But Kansas is home to a multitude of D1 players, including at least four at Free State High School. Keenan Garber is verbally committed to play receiver at K-State after scoring 20 offensive touchdowns in his senior season.
Turner Corcoran, a four-star offensive lineman, has received a scholarship offer from nearly every big-time program in the nation. With Miles at the helm, KU should make it a priority to land the FSHS junior, who is ranked No. 11 at his position in the country.
The Kansas faithful got a good look this year at how much in-state players can impact a program.
Joe Dineen, KU's all-time leader in tackles for loss, was considered one of the best linebackers in college football this season after playing his high school career at Free State. Keith Loneker and Bryce Torneden, who were also Firebirds, finished in the top 3 in total tackles along with Dineen.
Sure, fans should be excited about the prospect of Miles adding to "Louisianimals" in the near future. But there is room for some much-needed attention on the players in the program's own state.
And now seems like the perfect time for the Jayhawks to beat the Wildcats for recruits in their backyard.