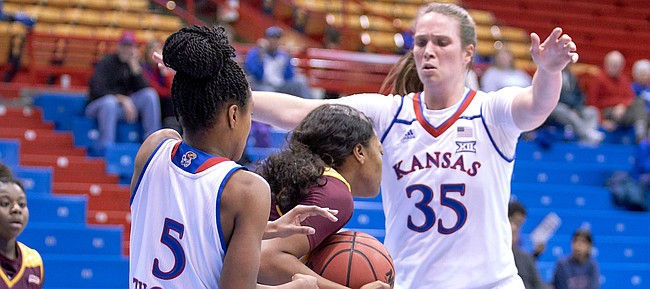 Leading by 30 with less than a minute to go, the one thing the Kansas women's basketball team was most excited about Sunday night was a late turnover on Iona to close out a 75-44 win.
All smiles from starters Jessica Washington, Kylee Kopatich and Bailey Helgren, the trio watched as the Jayhawks successfully held their opponent to under 45 points, which was a game goal.
"I thought our players that were on the court were really invested in getting stops, even though it was a big lead," said coach Brandon Schneider. "Sometimes it's not good enough just to win. We've got to try and play each possession as if it were game point. We've done a terrible job at doing that. We did better in some stretches today in having that mentality."
Taking advantage of a one-win Iona team, Schneider substituted in Mariane De Carvalho for her Kansas debut and gave extended minutes at center to redshirt freshman Brittany Franklin.
Franklin was sidelined last season alongside Washington, both with knee injuries. She appeared in three games before Sunday with 14 minutes against George Mason, but had yet to take a single field goal attempt.
On Sunday, she closed out the game for Helgren and took her first shot as a Jayhawk halfway through the third quarter. When it went in, Franklin said it felt like a weight was lifted off her shoulders.
"OK, you got this now, let's go get it," Franklin said of the feeling when she scored.
She went on to grab seven rebounds and score 9 points on 4 of 5 shots with two blocks and a steal.
"When you just play like your hair's on fire, sometimes some good things can happen," Schneider said of Franklin. "I thought she fought to get every rebound and was active on the defensive end. There's still a lot for her to learn, the game is a little fast for her, still. As she becomes more comfortable with what we're doing, becomes more confident, the game will slow down for her."
With a pair of free throws to close out the half, Washington scored her 12th point of the game to give her at 1,000 points between her two seasons at North Carolina and four at Kansas.
Washington had 988 points in her career heading into Sunday afternoon, 451 from North Carolina and 537 from Kansas. She had scored more in her first season with Kansas than her entire career with the Tar Heels, and continuing a 20-point average, Washington doesn't plan on slowing down anytime soon.
Kopatich, who scored a team-second 15 points alongside three defensive rebounds and four steals, notched her 1,000-point mark on Wednesday against George Mason. Washington and Kopatich become the 29th and 30th Jayhawks to reach the career milestone.
"It's a heck of an accomplishment for any collegiate basketball player to do that," Schneider said. "Those are two players that spend a lot of time, have throughout their life, in the gym working on their game and particularly just taking thousands and thousands of shots."
Likewise, Washington is excited for what's to come. Both reached a mark that's a milestone for any player after just five games – two of which Washington didn't even play in.
"It's not even just about scoring, it's about my teammates getting me those shots," Washington said. "It's the little victories, but it's also the little details. We don't come into the game setting these goals just randomly … We have high standards and high goals this season, and we're going to reach them."
Kansas travels to face LSU at 6 p.m. Friday.