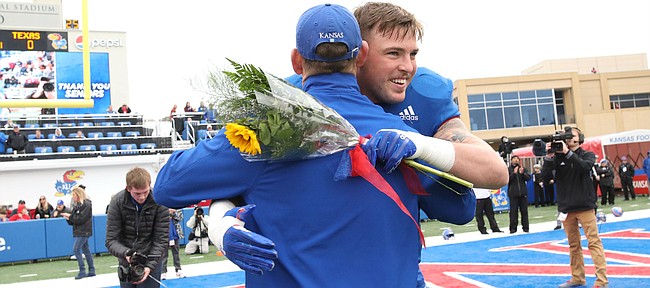 On Friday afternoon inside the Kansas football locker room, David Beaty had the floor one final time.
Fired 19 days earlier, the outgoing head coach had plenty to tell his players after their final game together, a home loss to Texas. But Beaty also asked every assistant on his staff to speak, too. And while the messages from the head coach and his staffers included words of gratitude and love, they also urged the Jayhawks who have a chance to play for the next coaching staff to consider what could still be accomplished at KU.
"There wasn't a single man who didn't talk about how they can honor these seniors by staying together and really building on this," Beaty said.
In those moments, the KU football program wasn't Les Miles' quite yet. So the chief point Beaty delivered during his ultimate postgame speech meant a lot to the seniors who, like their coach, hoped to accomplish more before their time in Lawrence was done.
Senior quarterback Peyton Bender shared his version of the scene, and it came across as one in which Beaty and his staff encouraged the team's juniors, sophomores and freshmen to stay put instead of transferring.
Photo Gallery
Kansas football v. Texas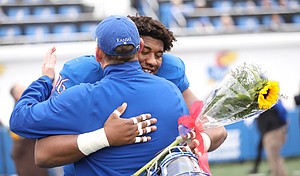 View a gallery of images from Friday's game between the Jayhawks and Longhorns at Memorial Stadium in Lawrence, Kan.
"Don't go looking for other places — the grass isn't always greener on the other side," Bender related of the conversation's gist. "You know, honor these people that have been here by sticking together and getting this thing turned around."
While that advice wasn't for the seniors, Bender said they appreciated it and the delivery showed what type of person Beaty is.
"At the end of the day he cares about the players and he wants the best for his players," the QB said. "I think he just wants to see us succeed as young men. All the struggles that this program's been through — you look at guys like Joe Dineen and Steven (Sims) that have been here for four years and just all the ups and downs. These kids deserve to have something positive. And sticking together, you know, we've got the talent down there to do it. You saw that. This year I thought we were a lot more competitive. We were right there close in a lot of games and I think if they just stick together they've got the guys to get it done."
The senior leaders who are leaving the program behind are on board with Beaty's departing message.
Asked what his advice would be for the program's prominent non-seniors, such as junior safety Mike Lee, linebacker Dineen said he will implore them to lead.
"It's your team. Guys like him, Bryce (Torneden), even guys like Pooka (Williams, KU's star freshman running back), it's their team now. And they've got to take it over in the locker room," said Dineen, a team captain.
The fifth-year senior from Lawrence also echoed his head coach's suggestion that the returning players for 2019 stick together.
"Throughout my career here there's been a lot of changes just in general, and the one thing you can control is your commitment level to the team and how hard you work. You can choose to waver or you can stay strong," Dineen said. "My advice would just be stay strong and stay committed."
Redshirt senior defensive tackle Daniel Wise, also a team captain, said he and other team leaders already had started having conversations with Lee and key members of the team who have eligibility remaining.
Wise hopes that the most important non-seniors on the roster, in one sense, follow the path he and Dineen took.
"That's kind of what we've been doing, how me and Joe have been sticking it through, through and through," Wise said. "Things from the outside looking in may not look appealing, may not look good. People may be saying things, hearing things here and there like people are leaving. But the guys in that locker room, that brotherhood has to stick together in order to get this thing turned around. I think we've got a chance next year and in years to come."
At the conclusion of his four-year stay, that included a 6-42 overall record and 2-34 mark in the Big 12, Beaty wasn't interested in publicly discussing what his successor, former LSU and Oklahoma State head coach Miles, was about to take on at Kansas.
However, on his last day as head coach, Beaty preached to his Jayhawks in private how important it will be for them to stay at KU and play for the man hired to replace him.
"I just think he really loves this university," Dineen said of Beaty. "Some of you guys that cover it probably know that when he first came in it wasn't in a good spot. It didn't show in the win column, but he turned this thing around. He's handing it over in pretty good graces to Coach Miles. I just hope we can get some wins around here. It'll be a little bit weird being a fan now, but I'm a Jayhawk for life."