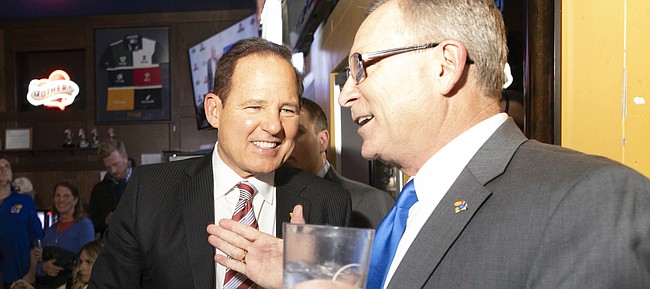 Still feeling the buzz generated this weekend by the University of Kansas hiring Les Miles to take over the football program, KU basketball coach Bill Self opened his Monday press conference with the gridiron on his mind.
"I'm supposed to announce we're going to run the triple option next year," Self joked.
The university's two highest-profile coaches, both owners of national championship rings, met briefly Sunday, Self said, as Miles and his family made their way around campus.
Photo Gallery
KU football introduces Les Miles as next head coach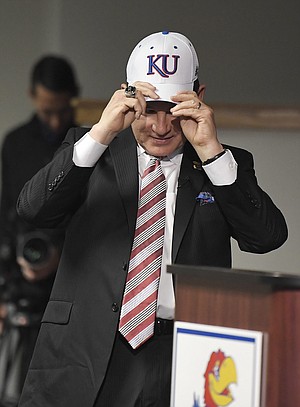 Les Miles was introduced as the next KU football coach Sunday afternoon.
"I'm excited. I think everybody who supports us should be excited," Self said of Miles signing a five-year contract to take over the football program.
"It's kind of a very happy thing. But it's also bitter for a guy and a staff you've come to know well over the last four years," Self added of what the transition means for acting head coach David Beaty and his assistants. "Hard decisions have to be made in this profession."
Since Self took over KU's storied basketball program in April of 2003, he has seen the athletic department hire four different football coaches — all of those changes coming in the past nine years.
After a previous regime forced Mark Mangino out following the 2009 season, KU hired Turner Gill, who would be fired after two years with a 5-19 record.
Next came the Charlie Weis experiment, which also failed. Weis went 1-11 in his first season, 2012, 3-9 the next and was fired at 2-2 in Year 3, leaving the program with a 6-22 record.
Beaty took over ahead of the 2015 season, and carries a 6-41 record into his KU finale, a Black Friday matchup with No. 11 Texas (11 a.m. kickoff at David Booth Kansas Memorial Stadium).
Asked whether anything about Jeff Long, KU's first-year athletic director, bringing in Miles felt different from the previous four football hires, Self couldn't point to any sure contrast at this juncture.
The basketball coach, instead, reflected on some of the different challenges Miles' predecessors encountered.
Podcast episode
Moments after Kansas introduced Les Miles as the program's 40th head coach in team history, the KU Sports staff did an emergency podcast at Allen Fieldhouse. KU football reporter Benton Smith is joined by Matt Tait and Shane Jackson to discuss Miles' introductory press conference and where the Jayhawks go ...
"It's hard. I've been a first-time head coach or coming from Oral Roberts to Tulsa," Self said, drawing the parallel to Beaty taking his first college head-coaching job at KU and Gill leaving Buffalo to go to Kansas.
"Even though Charlie had been in the business a long time, he hadn't been a head coach very long," Self added of Weis working for five years at Notre Dame, "even though it was as a high level."
Miles, of course, spent 11-plus seasons at LSU, where he went 114-34 and capped 2007 with a national title. Prior to that, Miles' Oklahoma State teams finished 28-21 during a four-year rebuild, as Miles inherited a program that had experienced just one winning season in the previous 12 years.
"Les' credentials are off the chart," Self said.
"This guy is competing with Alabama each and every year for the right to play for an SEC Championship," KU's basketball coach recalled of Miles' time at LSU, when the Tigers played in two national-title games, as well as the Sugar Bowl and Cotton Bowl, as Miles accumulated a 7-4 postseason record.
"I think that is terrific. He's brought home the gold before," Self added, again referencing LSU's national title, "and there's not too many guys out there, recruits, that get a chance to play for a national championship coach that are presently coaching."
In fact, Miles is one of just five active college coaches with a national championship on his résumé, along with Alabama's Nick Saban (whom Miles replaced at LSU ahead of the 2005 season), Clemson's Dabo Swinney, Ohio State's Urban Meyer and Texas A&M;'s Jimbo Fisher.
"And, certainly, I think it's not a good choice — it's a home-run hire," Self said, adding he expects Miles' arrival will "energize" KU's fan base.